Subscribe to blog updates via email »
Robbie Abed (@robbieab) is author of Fire Me I Beg You: Quit Your Miserable Job (Without Risking it All). Robbie is also one of the early influencers on LinkedIn's publishing platform, he's had over 500 coffee meetings, and he's one of the key catalysts – along with James Altucher – behind why this podcast exists at all. (You'll hear the story.)
How would you feel if you got fired today? If the answer is "relieved," you should re-think your job.
I took a short visit to Chicago, and sat down with longtime friend Robbie Abed. In this conversation, you'll learn;
Thinking about quitting your job? What's one question you should ask yourself to know if you should pull the trigger?
How do you quit your job without committing career suicide?
Robbie says "Never lie on your resume, but lie like hell in your exit interview." Find out why.
New Weekly Newsletter: Love Mondays
Start off each week with a dose of inspiration to help you make it as a creative. Sign up at: kadavy.net/mondays
Join the Patreon for (new) bonus content!
I've been adding lots of new content to Patreon. Join the Patreon »
Subscribe to Love Your Work






Listen to the Robbie Abed Interview
Theme music: Dorena "At Sea", from the album About Everything And More. By Arrangement with Deep Elm Records. Listen on Spotify »
Thinking of writing a book?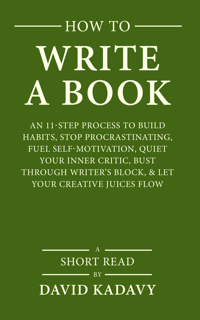 Download your FREE copy of How to Write a Book »
(for a limited time)