Subscribe to blog updates via email »
Dr. Robert Lustig (@RobertLustigMD) is Professor emeritus of Pediatrics, Division of Endocrinology at the University of California, San Francisco (UCSF), where he specializes in the field of neuroendocrinology – in other words, how the brain regulates hormonal activity in the body. His research and clinical practice has focused on childhood obesity and diabetes.
Dr. Lustig believes the food business has hacked our bodies and minds to pursue pleasure instead of happiness, by pushing processed food loaded with sugar. As you'll see, the way sugar triggers our brain chemistry isn't a whole lot different from the way technology triggers our brain chemistry, which is relevant to prior discussions I've had on the podcast about how technology shapes behavior. Dr. Lustig points to this confusion between pleasure and happiness as having fostered today's epidemics of addiction and depression.
Getting your creative work out into the world, and finding a way to love your work, both require that you have a healthy relationship with your mind, and your definition of happiness. This is why I was extremely excited to come across Dr. Lustig's book, The Hacking of the American Mind: The Science Behind the Corporate Takeover of Our Bodies and Brains. It really brought a scientific explanation to much of what I've been searching to explain here on Love Your Work over the past few years.
In this conversation, you'll learn:
Why are pleasure and happiness neurologically different phenomenon? How do we confuse them for one another?
How does the pursuit of pleasure reduce your ability to experience pleasure? The more pleasure you pursue, the harder it becomes to be happy.
You've heard that Coca Cola used to have one addictive substance in it – cocaine. Hear the story Coke doesn't want you to know about why the original formula had FOUR addictive substances.
New Weekly Newsletter: Love Mondays
Start off each week with a dose of inspiration to help you make it as a creative. Sign up at: kadavy.net/mondays
Join the Patreon for (new) bonus content!
I've been adding lots of new content to Patreon. Join the Patreon »
Subscribe to Love Your Work






Listen to the Dr. Robert Lustig Interview
Theme music: Dorena "At Sea", from the album About Everything And More. By Arrangement with Deep Elm Records. Listen on Spotify »
Thinking of writing a book?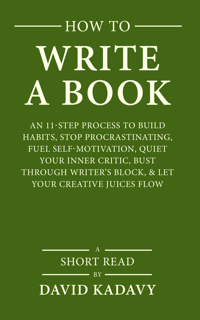 Download your FREE copy of How to Write a Book »
(for a limited time)