Subscribe to blog updates via email »
Scott H. Young (@scotthyoung) is best known for learning the entire MIT Computer Science curriculum, on his own, in only a year. He did it through "ultralearning", It's a way of organizing your learning so each moment you spend learning is much more effective than it would be otherwise.
If you're like me, you love to learn new things. If you're like me, you'd also like to learn more in a shorter amount of time. In Ultralearning, Scott shares how to break down learning projects into their component parts, and how to choose the most effective ways of learning each of those individual parts.
In this conversation, you'll learn about:
How can "meta learning" – or planning your learning projects – make the process more enjoyable, and prevent burnout and procrastination?
Learn why when you feel like you're learning more, you may actually be learning less. Which is right for you? Free recall, or repeated review?
If you're like me, the term "ultralearning" may sound a little exhausting. Learn how you can apply ultralearning principles to even the most casual learning projects.
You can use ultralearning principles to learn a new language, learn to dance, or to get more bang for your career-building buck.
Thanks for sharing my work!
On Twitter, @martinstellar, @DaveCohencomedy, @kosherjellyfish, @mischievousmali. On Instagram, @alexandbooks_, @icoknick, @nathan.guitar. Elsewhere, thank you to Al Chen for building the todos by mental state Coda template, and Mavericks Thoughts for including me in the article, How 10 Top Writers on Medium Start Their Day.
New Weekly Newsletter: Love Mondays
Start off each week with a dose of inspiration to help you make it as a creative. Sign up at: kadavy.net/mondays
Join the Patreon for (new) bonus content!
I've been adding lots of new content to Patreon. Join the Patreon »
Sponsors
LinkedIn Jobs: Find the right person meant for your business TODAY with LinkedIn Jobs. Get $50 off your first job post at https://linkedin.com/loveyourwork
Upcoming webinar: How can you find the motivation to make it as a solopreneur? I'll be sharing my tricks in my upcoming webinar. Learn more at http://kadavy.net/motivation.
Subscribe to Love Your Work






Listen to the Scott H. Young Interview
Theme music: Dorena "At Sea", from the album About Everything And More. By Arrangement with Deep Elm Records. Listen on Spotify »
Thinking of writing a book?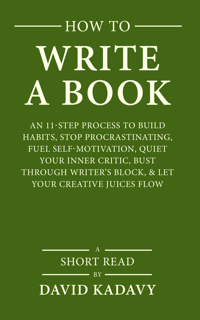 Download your FREE copy of How to Write a Book »
(for a limited time)