Subscribe to blog updates via email »
How do you market something when you don't know what it is, or who it's for? If you're anything like me, you feel driven to create, but it's only through the process of creation that your vision takes form. It's only through putting that creation out into the world that you begin to realize what it means.
This makes it a challenge to market your creations. If you don't know what it is, you don't know how to sell it. If you don't know who it's for, you don't know how to speak to those people.
I'm honored to have the legendary Seth Godin back on the show. His first appearance was exactly one-hundred episodes ago, on episode 77. My first conversation with Seth proved to be a breakthrough moment for me. The things Seth said to me gave me the courage to self publish The Heart to Start, as well as other, shorter books.
I'm still digesting this conversation, but I think it will prove to be another breakthrough. It helped me answer a lot of questions I had from reading Seth's most recent book, the instant classic, This is Marketing.
In this conversation, you'll learn:
What are "status roles," and how can you use them to help your product spread? Seth will tell you why status is more than just money and materialism.
Why is "specific" a kind of bravery? If you don't know "who it's for," you might simply be hiding from a fear of failure.
Seth calls me out with very direct advice that will stick with me for the rest of my life. Find out why Seth doesn't want me to sell out to easy money.
What should be our next Patreon goal?
Take our survey at kadavy.net/goals. Start supporting Love Your Work at patreon.com/kadavy.
Join the Patreon for (new) bonus content!
I've been adding lots of new content to Patreon. Join the Patreon »
Subscribe to Love Your Work






Listen to the Seth Godin Interview
Links and resources mentioned
Theme music: Dorena "At Sea", from the album About Everything And More. By Arrangement with Deep Elm Records. Listen on Spotify »
Thinking of writing a book?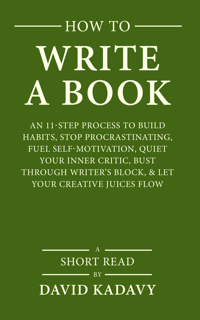 Download your FREE copy of How to Write a Book »
(for a limited time)