Subscribe to blog updates via email »
You've heard about the importance of working with people who come from different perspectives. But will that automatically lead to great work?
It's not so simple. Our guest today, Shane Snow, was curious about why diverse teams are supposedly so powerful, when they're in fact hard to pull off.
That's why he wrote this new book, Dream Teams. In this book, Shane really breaks down what makes a truly great team. How can you have just the right amount of conflict to have better ideas and go farther as a team, without the relationships turning sour.
Even though I work by myself, I really enjoyed this book. It's full of great stories of dream teams throughout history, and it really made me think about how to seek out differing perspectives in improving the work I do.
In this conversation, Shane and I talk about:
Do we always have better ideas working with a team? What are the key components of making something great as a group?
We also talk a lot about writing. How did Shane turn his curiosity for one subject, into a marketable idea about Dream Teams?
We also trade tips about how we do research for the books we write. Hear exactly Shane and my different approaches to doing research and collecting ideas to write about.
Join the Patreon for (new) bonus content!
I've been adding lots of new content to Patreon. Join the Patreon »
Sponsors
Skillshare: An online learning community with over 18,000 classes in design, business and more. Get two months of unlimited premium access – for only 99¢! Go to http://skillshare.com/loveyourwork.
Weebly: Start your beautiful, modern, easy-to-build Online Store. Get 15% off at http://weebly.com/loveyourwork.
Earth Class Mail: Transforms the daily piles of mail, checks, invoices, and correspondence into digital documents that you can act upon. Get 10% off 3 months (or 8% off a whole year) with the promo code LOVE at http://earthclassmail.com.
Subscribe to Love Your Work






Listen to the Shane Snow Interview
Theme music: Dorena "At Sea", from the album About Everything And More. By Arrangement with Deep Elm Records. Listen on Spotify »
Thinking of writing a book?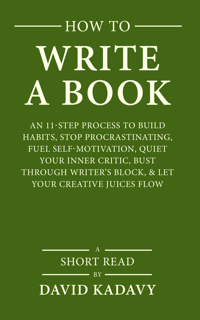 Download your FREE copy of How to Write a Book »
(for a limited time)