Subscribe to blog updates via email »
I have now been living in Silicon Valley for just a little over six weeks. It has no doubt been an extremely positive experience thus far. The company I'm working for is growing at a very fast pace and has a very laid back work environment. I haven't even unpacked my alarm clock yet, nor much else for that matter, and the work is challenging and interesting to me. We have hired enough people that we recently moved to a new office and are celebrating our successes as we grow. Hopefully there will be many more celebrations to come.

The apartment is incredible. It's a luxury condo that I'm getting for a pretty good price right in the heart of downtown San Jose. It's about four blocks from the office, which I push a razor scooter to every day. It's a good leg workout and the fuel is very affordable. Ha.
While San Jose doesn't have the most active downtown, I can definitely say that downtown living is just my style. There are tons of restaurants and grocery stores nearby so I rarely have to drive. Actually, I haven't even really bought groceries yet. I usually eat out or grab something from a nearby taqueria, which downtown San Jose has many of. It sounds expensive, but really, look at how many groceries you buy that end up going to waste.
Of course, the ridiculous weather keeps this desirable. It is sunny every day, and the temperature usually calls for whatever you might wear indoors, with a light jacket for mornings and evenings. Though San Jose is extremely diverse, having no true majority, San Francisco is the real melting pot that people look to for cultural events, or really to have a good time at all. SF really steals the thunder of much of the bay in terms of attracting creative people. As a result, if you want to see a decent concert, it will likely be in San Francisco, and usually on an inconvenient night such as a Sunday or a Wednesday. I have made it up to "the city"'Äì as people call it here 'Äì several times, and it really is quite a town. I will have to live there sometime in the next few years.
The thunder-stealing has left San Jose a pretty lame place in terms of night life. Unless you are into dance clubs that play top-40 rap, or you want to cruise in your Escalade with 20-inch rims, you're probably better off making the hour drive to San Francisco. Unlike Omaha, there's no Sokol Auditorium or Old Dundee Bar and Grill. But, every town has a few eccentrics in it, so I've managed to meet some interesting people and hopefully I can round up a posse somewhere near as cool as the one I had in Omaha.
People really are different here, as so many "warned" me before I moved, but I like it that way. I rarely hear anyone speak ill of how anyone lives their life, or how many tatoos they have, or the fact that they don't really care about the Huskers. With such an accepting culture, it's no wonder to me that San Jose leads the nation in patent generation 'Äì it's very liberating to know that no idea you have will be too wacky to be expressed.
As with any culture, the California culture comes with some annoyances, too. Californians don't seem to be concerned with using their turn signals, even in situations where it might be crucial. Actually, people in California just generally suck at driving, however motorists are peculiarly respectful of pedestrians. Californians are also noticeably flaky. If you make plans with a Californian, a) don't expect them to actually hold those plans and b) confirm with them right up until the moment of the meeting in question. I've discussed this with other foreigners, and it turns out this isn't just my imagination. By my very nature I happen to be prone to behaving this way, however the midwest has programmed me otherwise. It will probably just take me a bit to adjust.
Thinking of writing a book?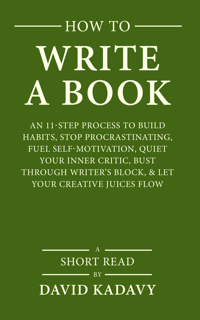 Download your FREE copy of How to Write a Book »
(for a limited time)