Subscribe to blog updates via email »
Srini Rao (@unmistakableCEO) is host of the Unmistakable Creative podcast, and author of the new book, Audience of One: Reclaiming Creativity for Its Own Sake. In Audience of One, Srini gives you the tools and encouragement you need to stop focusing on external validation, and to reconnect with your creative spark.
In a world where you can publish your creative work to more people than ever, it's easy to lose sight of why we create. If you're dead set on your work reaching a lot of people, ironically, you'll lose touch with that special something that makes your work resonate with others in the first place.
In this conversation, we'll talk about:
How do you follow up a success to reconnect with "Creativity for Its Own Sake?" We'll hear about how Srini's self-published book hit the Wall Street Journal bestseller list, and we'll hear about how he has struggled to reconnect with the true source of creative work that resonates with others.
How do you ask a question that gets right to a great story. Srini asks great questions on his podcast, The Unmistakable Creative – in fact, I was on there recently, and he got stories out of me that I had never told before. So I loved digging into his questioning style. His thoughts on this could be as useful for a first date as they are for a podcast interview.
What has Srini learned from hosting more than 700 podcast interviews? He'll break down the best tips and ways of thinking that he's gleaned from creators, bank robbers, drug dealers, performance psychologists, and more.
Join the Patreon for (new) bonus content!
I've been adding lots of new content to Patreon. Join the Patreon »
Sponsors
Gusto: Refreshingly easy payroll, benefits, and HR for the modern small business. Get 3 months free once you run your first payroll http://gusto.com/loveyourwork.
EveryPlate: EveryPlate's chef-designed meals are just $4.99 per serving. That's like a cup of coffee! For 50% off your first box of EveryPlate with the code LOVEYOURWORK http://everyplate.com.
Earth Class Mail: Transforms the daily piles of mail, checks, and invoices into digital documents that you can act upon. Get 8% off the monthly plan or 10% off an annual contract with the promo code LOVEYOURWORK at http://earthclassmail.com.
Subscribe to Love Your Work






Listen to the Srini Rao Interview
Theme music: Dorena "At Sea", from the album About Everything And More. By Arrangement with Deep Elm Records. Listen on Spotify »
Thinking of writing a book?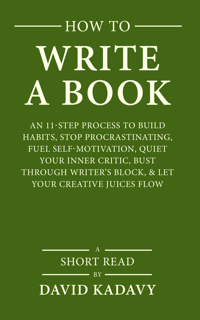 Download your FREE copy of How to Write a Book »
(for a limited time)