Subscribe to blog updates via email »
Dr. Terry Wahls is an inspiring example of turning a struggle into an opportunity, but I was more interested in her area of expertise.
You may have already seen the inspiring TEDx talk of Dr. Terry Wahl's. She has MS, and was confined to a wheelchair for 4 years. But, using her knowledge of biology, Dr. Terry engineered a diet based upon paleo and ketogenic principles to feed the power centers of her cells. Now, she rides her bike to work, and is out of the wheelchair.
Dr. Terry is now running clinical trials based upon her diet protocol, and has written a book. I recently picked up, The Wahl's Protocol to seek relief from chronic inflammation, and I've implemented her diet with great results. I have less pain, more energy, and I've also noticed my mental performance improve. You can pick up the book at https://kadavy.net/wahls
In this interview, we cover some of the building blocks of Dr. Terry's diet: What really does "paleo" mean? How does this "ketosis" thing you've heard about so much lately really work, and what does it mean for your health – especially for epilepsy and cancer? What does someone really mean when they say a diet is "detoxifying," and how does detoxification work?
What are the challenges in proving and implementing dietary treatments, and how do you evaluate the potential upsides or downsides of experimental approaches in general. We'll even talk about stem cell transplants, fecal transplants, and the microbiome.
If you or anyone close to you is battling an illness, you may find something useful in this interview, and even if you are healthy, you'll hear interesting and exciting things on the frontiers of health.
Sponsors
WP Engine: Save mental energy managing your WordPress site with easy-to-use DIY features from WP Engine's managed WordPress hosting. Visit wpengine.com/loveyourwork for up to 4 months free.
ActiveCampaign: Want to maximize your email marketing? You should try ActiveCampaign. I switched last year from MailChimp and I LOVE it. With email marketing, marketing automation, AND a sales CRM – it's a powerful, intuitive, and complete platform. Claim your 14-day free trial of ActiveCampaign at activecampaign.com/loveyourwork
Audible: Choose from over 180,000 audiobooks on any subject you can imagine. Claim your free audiobook at kadavy.net/audible
Subscribe to Love Your Work






Listen to the show
Show Notes
Thinking of writing a book?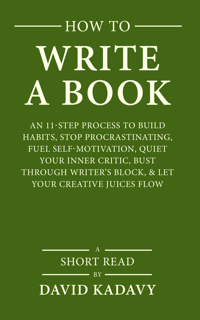 Download your FREE copy of How to Write a Book »
(for a limited time)