Subscribe to blog updates via email »
Tucker Max is best known as a self-proclaimed "asshole." He has written three NUMBER ONE New York Times best-sellers, including I Hope They Serve Beer in Hell. He is only the third writer EVER to have three books on the nonfiction best-seller list at the same time.
Tucker is a book marketing GENIUS, and it shows in this interview. Since I've been trying the crack the positioning code for a new book lately, it was such a privilege to get Tuckers insights on what makes a book successful.
As Tucker will dissect for us, there's a big difference, psychologically, between an article someone will click on and read on the web, and a book that they will dig into their pockets to pay for. It's absolutely essential to understand this if you plan on writing a book.
By the way, this psychology is relevant to the conversation I had on episode 21 with Nir Eyal: just think of how differently Facebook would be designed if you were PAYING for it!
Anyway, Tucker is using his book marketing Jedi-mind tricks to run a really exciting new business called Scribe Media. They help you take your knowledge, and turn it into a book. It's not ghost writing, which we'll get to in the interview.
Amongst many things, Tucker will dissect for us the difference between a good "click bait" title, and a good book title, how to feel fulfilled in your life to break free of social media, and how Hillary and Trump brilliantly "flip the frame" on each other.
In case you couldn't tell by now, this episode is more NSFW than usual. Enjoy it with your headphones on.
If you've been wondering: should you make your bed?, Tucker shares his philosophy.
Sponsors
Treehouse: Take your career to the next level with 1000's of training videos from experts. Treehouse is offering our listeners a free trial. To claim your free trial, and support the show, just go to https://kadavy.net/treehouse
Audible: Choose from over 180,000 audiobooks on any subject you can imagine. Claim your free audiobook at https://kadavy.net/audible
ActiveCampaign: I recently switched from MailChimp to ActiveCampaign. Stop worrying about your email marketing by making sophisticated automations in an intuitive drag-and-drop interface with ActiveCampaign. Claim your 14-day free trial at https://kadavy.net/activecampaign
Subscribe to Love Your Work






Listen to the show
Show Notes
Thinking of writing a book?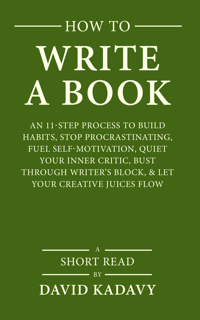 Download your FREE copy of How to Write a Book »
(for a limited time)