Subscribe to blog updates via email »
UPDATE: January 18, 2009: The Twitter badge options have been updated, so you're probably better off using their options than TwitBlog.
Twitter allows you to keep your friends – and the world – updated on what you're up to from the comfort of your own mobile device.

There's lots of living to be done, so my time and ambition to craft well-considered blog entries has grown thin. To tide over my thirst to shout it out, I bring you my Twitter feed. I've also syndicated my latest twits to my blog using Magpie RSS, and a little script I wrote, which you can download here for your own use.
Keep in mind, I'm not exactly a hardcore "developer" so it's probably not the most perfect script. Feel free to improve it, and let me know at david (at) kadavy (dot) net. It would be cool if it could say "5 hours ago" etc. like it does on the Twitter site. It would also be cool if the times of my twits weren't completely wrong…I'm working on that.
Yeah, I could have used the Twitter badge, but c'mon, we design types need a little more control.
UPDATE: March 25, 2008: TwitBlog has been updated.
Thinking of writing a book?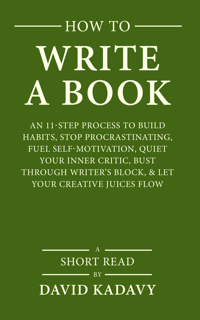 Download your FREE copy of How to Write a Book »
(for a limited time)