Subscribe to blog updates via email »
Vinnie Lauria found his calling after backpacking around Asia. He had just sold a company. He had just gotten married. He feared that if he spent a year traveling, he'd run out of money, and he'd run out of momentum. He worried it would be career suicide.
But his wife, Kristine, pushed him to seize the day. They sold everything, gave up their apartment in The Mission and hopped on a one way flight across the Pacific, planning to come back in a year.
Throughout his travels, Vinnie kept doing what he does best. He was meeting entrepreneurs everywhere he went – Korea, Japan, China, Indonesia, India, you name it – all over Asia.
Along the way, he stumbled across a unique opportunity. He noticed there was a gap in funding for entrepreneurs in Southeast Asia. All of the Venture Capital firms were risk averse, and didn't invest with a Silicon Valley mindset. Meanwhile, there was an explosion of early-stage startups hungry for funding.
So, with no investment experience to speak of, Vinnie partnered up with some friends and started a Venture Capital firm. Golden Gate Ventures is an early-stage VC firm in Southeast Asia. They've invested $60 in over 30 companies in 7 countries, including TradeGecko and Redmart.
He and Kristine now live in Singapore, with their two children. They never did move back to San Francisco.
---
Vinnie is a really close friend of mine. A year after I moved to California, I was pretty lost. I didn't like living in San Jose, and I didn't like the direction my startup was going in. I couldn't bear to give up and move back to Nebraska. Meanwhile San Francisco was just up the road, if only I had the courage to make the move.
Around that time, I met Vinnie, and spent a lot of time with him and his now wife, Kristine. They were both adventurous, and had a bold perspective on living life. I did move up to San Francisco, and fulfilled a life-long dream of living in a bustling city.
Vinnie always offered inspiration when I needed it. You'll see he's not afraid to do things that many people consider risky. He values adventure, and he's a big advocate of putting yourself in a situation where you have no choice but to succeed. As Vinnie likes to say "when you jump, the net appears."
Listen to this episode for inspiration on making big changes in your life. Vinnie will share his story of quitting a secure job at IBM and moving across the country with no plan. We'll talk about how he used to live and work with as many as 12 people in a 3-bedroom apartment. He'll share his unique methods for managing the roughly 1,000 new people he meets every year, and how best to connect them. Overall, you'll hear how a guy from Long Island ended up founding a VC firm in Singapore.
Sponsors
ActiveCampaign: I recently switched to ActiveCampaign from MailChimp, and I love it. Claim you free 14-day free trial of ActiveCampaign at https://kadavy.net/ac
Freshbooks: When you're billing your clients, the last thing you want to waste your time and mental energy on is creating invoices. FreshBooks customers get paid an average of 5 days faster. Get your free 30-day trial at https://kadavy.net/freshbooks
Treehouse: Take your career to the next level with 1000's of training videos from experts. Treehouse is offering our listeners a free trial. To claim your free trial, and support the show, just go to https://kadavy.net/treehouse
Subscribe to Love Your Work






Listen to the podcast episode
Thinking of writing a book?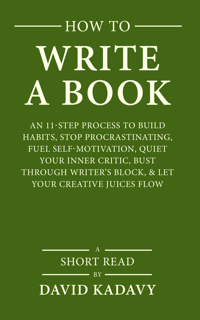 Download your FREE copy of How to Write a Book »
(for a limited time)