Subscribe to blog updates via email »
Is this the summer you'll finally achieve your creative destiny?
Do you daydream about writing a book? Recording an album? Starting a company? What stands in your way?
Sometimes we're our own biggest obstacle.
I've got just the books for you.
I'm teaming up with The War of Art author Steven Pressfield. Pressfield wrote The Legend of Bagger Vance as well as many other screenplays and books. His book, The War of Art, identifies that mysterious force that threatens to keep you masterpiece inside of you:
Are you paralyzed with fear? That's a good sign. Fear is good. Like self-doubt, fear is an indicator. Fear tells us what we have to do.
Mr. Pressfield personally gave me a stack of The War of Art paperbacks to give away to my community. I'm giving away copies of The Heart to Start right along with it.
There will be ten winners, and I'll send the books to any address in the U.S. Here's how to enter:
Sign up here with your email address.
Click on the link in the confirmation email you receive. You'll see a confirmation page with your "lucky" link.
Share your lucky link with your friends and followers. The more people you refer, the better your chances of winning!
Thinking of writing a book?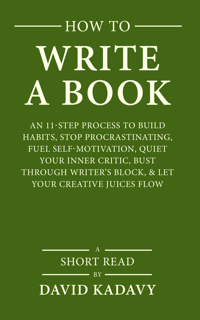 Download your FREE copy of How to Write a Book »
(for a limited time)