Subscribe to blog updates via email »
Maybe you've noticed that my posts have slowed down a little. It's not that I have a shortage of things to say in this blog: I have many many ideas in my head…all that require more time and energy than I have at the moment. Work has been pretty busy lately. What do I do at work? Well, my job description, like many employees at RDG Planning & Design, is non-existent (I view that as a good thing). Over the course of my two years there, my duties have included:
Redesigning and maintaining the website
Developing Flash-based interactive CDs for the various focus markets
Guiding the firm through a rebranding, and putting together the many elements that weren't attended to by the Graphic Design firm that developed the new branding system
Managing an image library with a wonderful in theory, not so wonderful in practice, piece of software called Cumulus by Canto
Architectural graphics: coloring floor plans/site plans, touching up renderings, creating materials for 3D renderings
IT for my computer, seeing as I am fortunate enough to have the only Mac in my office
Training other people in the office on Illustrator and Photoshop, and serving as a resource for the myriad graphics related questions that come from a technologically advanced Architecture firm such as ours
Developing a color management workflow (Monaco EZ Color is a great product for this)…yes, I now understand what all those Photoshop Color Warnings are about
Creating promotional boards for showcasing completed projects, creating concept boards for competition entries
Putting together "promos" for responding to RFPs
Determining the optimum printers to have for in-house printing (the DesignJet 5500 from HP is good for the big stuff and we have a great Minolta Laser Copier/Printer/Scanner but I don't remember the model…there are so many options), and keeping those printers running smoothly
"Scan monkey" and "print monkey" duties ("David, can you scan this/print this?")
Designing PowerPoint presentations
Designing dedication plaques for buildings
Designing brochures
Creating exterior paint schemes for buildings
Answering the occasional computer question
Making sure various displays around the office support our brand
So, as you may have noticed, I have been almost entirely overhead for much of my days there, and that has kept me busier than your average 9-to-5-er. So far, my record is 67 hours in one week (keep in mind that I still have the book club, other AIGA stuff, and occasional AIA events, too). Well, these last couple of weeks, in addition to having these duties, I have been blessed with some clients. RDG Graphic Design is finally, as I originally intended, bringing in revenue, and as anyone would do, I will make sure that when those clients' projects are done, there will be no second thought as to whom they will come next time they have a project. Some of the projects I have in progress, or coming up, include a booklet, promotional CD, exterior building signage application, wayfinding, museum catalog and a newsletter redesign.
Fortunately, not ALL of the above duties are still duties of mine. Many people have learned enough Illustrator and Photoshop to do alot of the coloring of floor plans, sight plans, and renderings, we hired a great marketing/writing person to concentrate on promos and color management hasn't been an issue as of late. Some of the things will seemingly never get attended to, such as the image library (it's never done!).
Thinking of writing a book?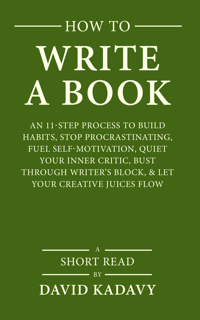 Download your FREE copy of How to Write a Book »
(for a limited time)