Subscribe to blog updates via email »
Back when I was writing my first book, I was shocked how hard it was. I was spending all day just trying to get into that flow state.
So, here's one way I've found to help make that flow state happen on demand.

Sponsors
WP Engine: Is your WordPress site fast? Get a free speed report at wpengine.com/speedy
Treehouse: Take your career to the next level with 1000's of training videos from experts. Treehouse is offering our listeners a free trial. To claim your free trial, and support the show, just go to https://kadavy.net/treehouse
Audible: Choose from over 180,000 audiobooks on any subject you can imagine. Claim your free audiobook at https://kadavy.net/audible
Subscribe to Love Your Work






Listen to the podcast episode
Thinking of writing a book?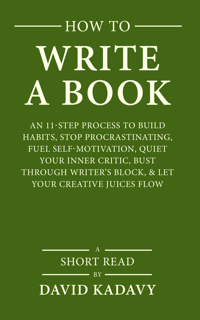 Download your FREE copy of How to Write a Book »
(for a limited time)