Subscribe to blog updates via email »
As I was trying to assemble a dance playlist for a recent party that I hosted, I realized the shortcomings of the traditional use of the iTunes rating format: the only songs I rated were the songs that I _liked_ – resulting in a large mass of 4-star and 5-star songs – some of which were not uplifting enough to dance to. Thankfully I found enough danceable ones to make the party a success, but clearly I needed a better way to categorize my music.
After much thought, I have devised an emotion-based rating system. Here it goes:
1-star: Melancholy
These songs are friggen' depressing, and with no hope of recovery. I was surprised at how few of the songs in my collection really fall into this category, so maybe I need to be more liberal in my categorization. What isn't a surprise is that most of the songs that fall into this category are either Elliott Smith or Bright Eyes songs: "Angeles" and "Lua", respectively, for example.
2-stars: Wistful
These songs are actually more depressing to listen to than the 1-star songs because they tend to allude – through lyrics, sound, or both – to things just lost or out of reach. This category seems to be dominated by Stars, Bloc Party, and Arcade Fire: "Lover's Spit," "Kreuzberg," and "Intervention" as respective examples.
3-stars: Stable
Given that most modern music is based on The Blues, these may still be a little depressing, but are generally more soothing to listen to. These songs tend to mix subtle happiness and sadness for an overall "Stable" feel. This is where you start to see some Spoon and The Strokes show up: "Lines in the Suit" and "Automatic Stop," as respective examples.
4-stars: Cool
Now we get into things that are perhaps danceable and have a generally more active feel. The spiraling bass line and breathy vocals of "Stars and Sons" by Broken Social Scene put that song in this category, and that crazy video-game sounding guitar solo in "Born Under Punches" by The Talking Heads is undeniably "Cool." "Happy" and "joyous" songs would probably go in this category as well.
5-stars: Indestructible
These are those songs that make you want to dance, run really fast, lift heavy objects, leap tall buildings, etc.. This is where much of my hip-hop collection ends up, with N.E.R.D.'s "Brain" and Dr. Dre's "Nuthin' but A 'G' Thang" being a couple of favorites; and "Abra Cadaver" (no, not "Kadavy") by The Hives, and Gang of Four's "Natural's Not In It" reppin' other Genres. The ultimate "Indestructible" song goes – of course – to Spoon with "I Turn My Camera On."
While there may be some criteria – or even specific characteristics of a song – that I point to to justify my ratings, _it's music_ and thus this rating system is by no means scientific. I may even rate a song "Cool" today and later decide that it makes me feel "Indestructible" – it may depend upon my mood at the moment I rate the song. I have found the mood-based playlists this rating system yeilds to be pretty reliable. Does it work for you?
P.S. If you change computers, you'll of course need to transfer your iTunes music library to retain all of these song ratings.
Thinking of writing a book?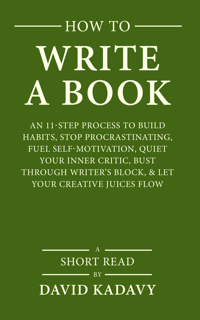 Download your FREE copy of How to Write a Book »
(for a limited time)