Subscribe to blog updates via email »
March was the highest-revenue month in two and a half years, February was "scarily bad," but April was sort of in-between. I made $4,023.66, with $2,707.36. But I had the anomaly of a $1,147.00 accounting bill related to tax time, so actual profit was a bit higher.
Colombian visa drama
The period from mid-April to mid-May was one of those periods that really tests your resolve. The main stressor was my immigration status in Colombia.
First, my visa application was processing slowly, so I had to make an emergency visit to the local immigration office to apply for an extension on my previous visa. Because of this, I had to cancel a podcast interview with a high-profile guest (who now hasn't been responding to my reschedule requests).
Then, I was called to Bogotá for an interview. So, I had to make an emergency visit to the Ministry of Foreign Affairs – plane, hotel, etc..
Then, my visa application was rejected (despite the fact that I made a nearly $30,000 investment in a Colombian business), so I had to make an emergency trip out of the country, unsure whether I would be able to reenter as a tourist.
Amidst all of this, BookBub rejected my promotion, another high-profile podcast guest cancelled, repeated attempts were made to hack my email account, an employee at my Bogotá hotel committed fraud with my credit card, medicine that I need for my health problems was being held up at customs for over a month, and I had an RSI flare-up in my forearm bad enough that I had to lay off writing almost entirely for a week.
---
These are those times when you feel like the cartoon character with a storm cloud directly over his head – as if the whole world is out to get you. I know better than that, though. Sometime a whole bunch of really inconvenient stuff happens at the same time, bits of rejection are completely necessary to get anything meaningful done, and visa drama – and delayed shipments – comes with the territory of the expat life. It all could have been much worse.
Fortunately, I had a lot of support from listeners, readers, friends and family. Friends put me up in Chicago for a week during my temporary exile (and I was even able to do a live podcast interview with one of them). Podcast listeners came through big to help on Patreon – monthly contributions jumped about 30%. I was able to reenter Colombia as a tourist, get a new credit card, and my medicine arrived today. I'm typing with a wrist brace, and trying to obey my Anti RSI software when it tells me to take a break.
I'm sure the solid month of chaos I had will bear some kind of fruit. In some ways it was an interruption I needed, as routines and habits can carve ruts that are hard to get out of. I had to step back and do way less writing. Less production-mode, more higher-level thinking. I feel like interruptions of routines get you doing all of that stuff you were curious about or wanted to do, if only you hadn't been baring full speed ahead toward something else.
There will be a bit more chaos. My tourist status in Colombia means I really need to watch the number of days I spend in the country. I'll have to travel a bit to get me to the end of the year, when I can reapply. There's certainly a lot of unexpected expenses with the surprise travel to Bogotá and Chicago, and wherever I decide to go burn two weeks to buy myself some time on my tourist visa. Oh, and not getting a visa after investing nearly $30k stings a bit, too.
At least I had set up "visa snafus" and "emergency travel" savings accounts, inspired by my friend Ramit Sethi's "dumb mistakes" savings account – sometimes unexpected expenses aren't so unexpected.
Life-saving podcast production
Even though I had to cancel an interview, had an interview cancelled on me, and had to make emergency trips, the podcast didn't skip a beat. I had fortunately just implemented a new production strategy for podcasts. It involves trying to do all interviews during a couple of "seasons" when interviews tend to be easier to do, and locking down sponsors by a certain day each month to prepare all of each month's episodes just before that given month.
The downside is you lose a little immediacy in updates in intros, but I have started dropping in "notes" – little recordings all about one thing, such as getting kicked out of Colombia. The upside is huge because it means I can take blocks of a couple of weeks at a time when I don't need to work on the podcast, and can instead concentrate on books or other projects. Hopefully I can keep it up.
New AWeber Review
I have some email marketing platform reviews that help people make wise decisions on their email marketing platforms. I recently released an AWeber review, which includes an extremely-detailed video. I already have comparisons of MailChimp vs. ActiveCampaign and ConvertKit vs. ActiveCampaign.
My hope was to do many more of these, but I once again struggled to delegate – I couldn't find a reliable freelancer to complete the screencast, and ended up finishing it myself. I worked really hard on this review, but it may be awhile before I do the next one.
Coming up short on the webinars
I held two live webinars on the same day in April, to promote D4H Video. After bringing in $4,573 from my Blog 2 BLING! beta product in March, I predicted my April webinars would bring in $2,500. They did not. I came up short with only $1,739 sold of D4H Video for the month. I think I'm starting to saturate my customer base on D4H Video – the majority of leads who would have bought D4H Video have in fact bought it. I don't bring in a huge number new leads each month, as that's not something I have worked on a great deal.
Breaking down book promotions
Book sales appear solid with $754.97 total revenue from all books. But when I consider that I spent $635.85 advertising books, that number doesn't seem quite as impressive. That comes out to $119.12 profit. Granted, $40 of that was a pricing promotion I did with BookSends, and $50 was spent on a Facebook ad that was almost a guaranteed loss.
I priced How to Write a Book at 99¢ for a couple of days, and did a BookSends promotion as a test. I have been planning on doing a promotion of The Heart to Start on BookBub. BookBub is the ultimate discount book promo email list. So, I've been trying to figure out what kind of numbers I could expect if I stacked a BookBub promo with simultaneous promotions on a bunch of other book discount sites. If I could get around 3,000 sales in one week – even at a price like 99¢ – that would put HTS in the running to hit the Wall Street Journal Best-seller's list.
---
There's a Catch-22 situation in planning an "ad-stacking" promotion like that: You don't know how many sales you can expect from each discount book list, and once you've promoted a book on a list, you are restricted from promoting that same book to that same list for anywhere from about two to six months – plus, everyone on that list has now already seen your book, so you probably can't expect as many sales the second time around.
So, I decided to do a pricing promotion of WAB to get a feel for what to expect from such promotions – so I can have some idea of what I might expect from an "ad-stacking" campaign.
My pricing promotion of How to Write a Book on BookSends was a loss. I sold 44 Kindle editions at 99¢ each. Since each of those sales gets me about 35¢ royalty, that's a little more than $15 from my $40 investment. I tried pricing WAB at 99¢ for a day before the promotion, too, just to see how many organic sales came through, and there was only one sale. So, most of those sales were likely from the promotion. There's no telling how many of those purchases turned into new fans or purchases of my other books.
It's worth noting that The Heart to Start would be a much more appealing sale at 99¢ than WAB (however, some cursory research of BB's past promotions suggests that $1.99 would be a better price point for a promotion). HTS's standard price is about double that of WAB, plus, HTS now has incredible Amazon reviews: 109 reviews with an average of 4.9 stars. The worst review is three stars, and there's only one of those. Compare that to WAB with 12 reviews, and an average of 4.7 stars.
To test Facebook ads, I did run a short 99¢ promotion for HTS, too. The day before the promotion, I sold 18 books (compared to 7-day average of 4.28). I then ran a Facebook ad for $50, and sold 30 books the following day. My Amazon tracking id indicated that 13 of those sales were from my Facebook ad. So that's about $4.55 revenue from a $50 investment.
I've played with Facebook ads enough to know that I'd be crazy to expect a profit from promoting a stand-alone 99-cent book – again, I'm just trying to collect data for a potential BookBub + ad-stacking promotion to make a run for the WSJ list.
---
Based upon my findings so far, I don't think I'll make a run for the WSJ list with HTS. Instead, I'll try to learn as much as I can about the effectiveness of various book-marketing methods, and hopefully I'll be more prepared to try to make such a run on a future book.
Besides, I can't take for granted that BookBub will even accept an HTS promotion. I may have mentioned before that BookBub was one of my main motivations for going "wide" with HTS. Remember, you can't have your book in the "Kindle Unlimited" program unless the e-book is exclusive to Amazon. Yet, you're not likely to get accepted as a BookBub promotion if you only have your e-book on Kindle. So, I made sure to get HTS on Google Play, iBooks, Barnes & Noble, Kobo, and other outlets.
I submitted HTS for a BookBub promotion, and it was rejected. This, mind you, is for the privilege of paying them over $700 to have the promotion sent to about 1.5 million email subscribers. So yeah, BookBub is a big deal. I can, and will, reapply every four weeks.
I'm excited to have a new short read debuting next week. Make Money Writing on the STEEM Blockchain is available for preorder right now. I hope to present my findings soon of publishing three books in six months, but one of the things I'm learning with this one is that it's impossible to have paperback, Audible, and Kindle all "launch" at the same time. So, while the official launch is next week, and the Kindle version will go out at that time, the paperback and Audible versions are already available for purchase.
Income
Gross income was $4,023.66 (down from March's $9,910.71). Net profit was $2,707.36 (down from March's $8,919.33).
Book Sales
Digital Products
Affiliates
| | |
| --- | --- |
| Patreon | $135.32 |
| Total LYW Podcast | $135.32 |
Writing
| | |
| --- | --- |
| Medium | $361.42 |
| Total Writing | $361.42 |
Expenses
General
| | |
| --- | --- |
| Accounting | $1,147.00 |
| Podcast Editing / Publishing | $240.00 |
| Outside Contractors | $208.81 |
| Software | $84.43 |
| Total General | $533.24 |
Advertising
| | |
| --- | --- |
| Amazon AMS | $530.34 |
| BookBub | $4.56 |
| Facebook | $60.95 |
| BookSends | $40.00 |
| Total Advertising | $635.85 |
Hosting
| | |
| --- | --- |
| Genius Link | $10.00 |
| Meet Edgar | $49.00 |
| Twilio | $10.07 |
| WP Engine | $43.00 |
| Namecheap | $35.14 |
| Total Hosting | $147.21 |
Thinking of writing a book?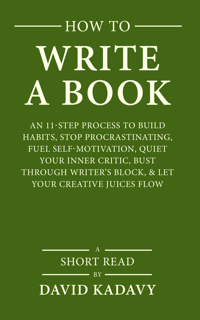 Download your FREE copy of How to Write a Book »
(for a limited time)