Subscribe to blog updates via email »
August's revenues were $6,491.13, down from July's $6,873.42. Profits were $2,348.70, down from July's $3,458.77.
As you can see, income was down only slightly, whereas profits were down quite a bit. The higher income that I've been enjoying the last couple of months is due to more books selling, which was spurred by the endorsement by Seth Godin.
Ballooning ad spend eating profits
The drop in profits is due to a higher portion of those books sales in August being driven from AMS ads. Interestingly, selling more books organically through the Seth Godin endorsement led to Amazon running my ads more.
I'm relieved to see that my income didn't immediately suffer from taking time off during my temporary exile in Peru. I had my first $4,000+ month from book sales, earning $4,097.76. However, that came along with my first $3,000+ month in ad expenses. I spent $3,210.60 on ads. Intuitively, that seems like a lot of ad spend, but that's a 28% ROI if I assume all sales are driven by ads. Most businesses would be thrilled with that ROI.
I have to admit, I'm a little excited to be able to spend that much on ads, because I have a new Chase INK Business Preferred, which is an 3x points credit card with which I'll earn 3x credit card points per dollar spent on Amazon AMS advertising, and other ad platforms (and 80,000 bonus points for signing up). Thanks to the Sell More Books Show podcast for clueing me in on that. If earning triple points on ad spend sounds appealing to you, use my referral link, and I'll earn even more points when you sign up. I hope to use these points to do some travel that will help me grow the business, whether that's to a conference, or to be a guest on some in-person podcasts.
Unfortunately, I didn't receive my card until just before September, so none of August's ad spend is on my Preferred card. But it all will be, moving forward.
All of this ad spend does make me a little nervous from a cash flow perspective. I have to pay for ads up-front (with a credit card, at least), yet I don't get the book royalties until 60 days after the close of each month. Fortunately, I have some cash in the bank for padding. If this volume of sales and ad spend is a new normal, with enough months in sequence, it would be as if I were getting paid up-front on the book sales (since I could rely upon royalties from two months prior coming in each month at the new level). I'm still not experienced with dealing with cash flow. It certainly makes it difficult to eyeball your bank account and have some idea how much money you have.
Mention by Steven Pressfield & team
In August, I also got a mention from Steven Pressfield's team. In fact, last month's income report was to thank for the mention. A friend shared with me this screenshot.
Thank you @CallieOettinger of @SPressfield's team for the thank you and income report mention! pic.twitter.com/aJOafbcQDG

— ? David Kadavy (@kadavy) August 18, 2018
I believe that mention may have had something to do with a slight boost in sales. HTS has been climbing in position as an "also-bought" for Pressfield's books, as well as other books from his publishing imprint, Black Irish Entertainment.
This mention didn't include a quote from Pressfield about HTS, so I'll have to do without a blurb from him – to go along with my Seth Godin blurb – for the time being.
Amazon Also-Bought hacking
Speaking of also-boughts, I ran a test for a month in which I tracked HTS's ranking as an also bought for several target books. I then bid very aggressively on keywords for an experimental group, while turning off any keywords associated with a control group.
The results were as follows:
Bidding group
Climbed in also-bought ranking: 6
Declined in also-bought ranking: 2
No change: 8
No-Bidding (control) group
Climbed in also-bought ranking: 2
Declined in also-bought ranking: 5
No change: 7
It appears my experiment did work to boost HTS's ranking as an also-bought for relevant book, so I expanded the technique to other books. Unfortunately, there's no way to know for sure whether bidding at a loss for some books leads to organic sales that make up for that loss. I have to settle for calculating ad-spend ROI as if all sales came from ads.
How to Write a Book 99-cent promo results
I did a 99¢ promo for How to Write a Book that resulted in a huge spike in book sales in August – I sold more than 600 copies. Since WAB is in KDP Select, I was earning 70% royalties on most of these sales, vs the 35% I earned when I did a 99¢ promotion for HTS. HTS is "wide" – or available everywhere – so it's ineligible for KDP Select.
When I originally published How to Write a Book, I never would have expected to earn $1,000 in a single month from the book. But in August, I did exactly that. The Kindle version alone earned $1,047.75. Remember when I was excited about earning $1,000 from self-published books back in March?
Lag in podcast revenue reporting
The ballooning ad spend and book sales are reflected well in this report, thanks to reporting those on an accrual basis. But categories on which I report on a cash basis are a little distorted.
You may recall from last month that Patreon had temporarily frozen my account. I contacted support and got that cleared up within 24 hours. So, last month's report had no Patreon revenue, whereas August's report has double the usual Patreon revenue, with $543.55. If you'd like to help me make that number the usual monthly Patreon revenue, please support me on Patreon.
Podcast advertising revenue is also misrepresented, yet in the other direction. I had a decent portion of my ad inventory filled in August, yet I had received payment for those ads previously. Meanwhile, I'm still waiting to get paid for some ads I ran in June, and starting to wonder if I'll ever see the money. I also have a new agency that's doing a great job filling ad spots, but it will be awhile before that's reflected in income reports.
Revisiting Getting Art Done
After a long hiatus I'm revisiting a book with the working title Getting Art Done, which is all about optimizing creative output by managing mental energy. I'm publishing regularly to the Medium Publication, and I'm also writing my fourth attempt at a draft.
This time around, I'm approaching the book as a handbook for myself: What practices and philosophies do I personally want to instill in myself, toward more creative output? This is making the writing come much more easily. I'm trying to operate by a quote I like from Neil Strass: "The first draft is for you. The second draft is for your fans. The third draft is for your haters." (Nevermind that I'm on my fourth draft).
In pursuit of writing the book for myself, I'm trying to formalize my own systems for maximizing creative output. I recently discovered Todoist on a friend's YouTube channel, and it was love at first sight. I love that I can assign tags to a task – something I dreamed up myself more than a dozen years ago, when I made mockups for a todo-list markup language I called GTDML.
So, instead of organizing my tasks by project (which I also do), I organize them by mental state. Here are my tags:
So far, this is really helping me make quick and painless progress on a large number of creative projects. It's particularly helping me stay on top of interview preparation, as I'm entering a new "season" of recording interviews. I get off track far less often when transitioning from one task to another – I merely have to see what the next task is that is available for the mind state I'm currently in, or the mind state to which I'd like to shift.
Exploring foreign rights sales for The Heart to Start
I've started to get some interest for sale of the translation rights of The Heart to Start. So, I've been investigating options for self-published authors.
Traditional-publishing agents: Don't appear to be interested. Foreign rights deals aren't lucrative enough without also representing traditionally-published English rights, which isn't an option.
Foreign-rights agents: There aren't many. I talked to one and didn't like the contract. I have reached out to one who has worked with some well-known self-published authors, but no response.
Local agents in foreign territories: I've reached out to a few. Haven't heard back. I've been contacted by one who seems to have a good reputation. Waiting to hear back now that I've sent the book to them.
Directly contacting publishers in foreign territories: This seems to be an option. I tracked down translated books in my genre, and figured out who the publishers were. I've reached out to one, and got a light response. Waiting for a follow-up response.
Self-publishing foreign translations: I had heard from Joanna Penn that this wasn't a good option, but I spoke to another self-published self-help author who has found it to be worthwhile. It seems the key is that it's a book on a topic that people search for. This author said the books sell themselves in Spanish, German, and French, in their experience.
Since self-publishing a translation of HTS seems to be a big undertaking, I'm exploring self-publishing a Spanish translation of How to Write a Book. It's short, and it should sell itself based upon the topic. I can probably also run AMS ads. It helps that I know Spanish well enough that I wouldn't be totally lost marketing the book. I still have yet to begin looking for a translator.
Colombian visa drama continues – with a new twist
I came back from a Bachata-dancing conference in the U.S. to a unpleasant surprise: I have eighteen days fewer to remain legally in Colombia than I thought I had. It turned out the extension I filed while waiting for approval for my (eventually rejected) visa application counted in a way I hadn't expected.
Fortunately, my temporary exile bought me just enough days to apply again. I will apply again on November 9th, which is both the first and the last day that I can apply before I have to leave the country. My final legal day is November 12th, which is a Monday-holiday that comes after a weekend.
I will apply in-person in Bogotá on the 9th. If I'm rejected, I have to go back to Medellín, and quickly get my things in order to leave the country for roughly two months – until I could re-enter as a tourist January 1st. That would be both another huge, heartbreaking disruption – and also a bit of an adventure – but I'm doing what I can to be prepared.
I hope that won't happen. I'm working with a more expensive and hands-on lawyer this time. This whole snafu is getting very expensive: It has led to at least three trips I wouldn't have taken otherwise, and is leading to a fourth (my application in Bogotá) – so I hope it doesn't lead to a fifth.
Income
Book Sales
Digital Products
Affiliates /Advertising
| | |
| --- | --- |
| Patreon | $543.55 |
| Total LYW Podcast | $543.55 |
Writing
| | |
| --- | --- |
| Medium | $159.15 |
| Total Writing | $159.15 |
Expenses
General
| | |
| --- | --- |
| Accounting | $275.00 |
| InCorp (Illinois Registered Agent) | $75.00 |
| IL Franchise Tax Fee | $100.00 |
| Coworking Space | $77.85 |
| Outside Contractors | $29.99 |
| Podcast Editing / Publishing | $240.00 |
| Todoist | $29.00 |
| Software | $9.53 |
| Virtual Post Mail | $20.00 |
| Total General | $856.37 |
Advertising
| | |
| --- | --- |
| Amazon AMS | $2,902.76 |
| BookBub | $307.84 |
| Total Advertising | $3,210.60 |
Hosting
Thinking of writing a book?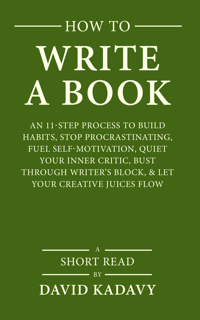 Download your FREE copy of How to Write a Book »
(for a limited time)