Subscribe to blog updates via email »
To listen to an audio version of this report, join the Patreon »
August's revenue was $7,216, up from July's $4,320. Profits were $6,165, up from July's $2,515.
This is the highest revenue and profit in four months. Still, 12-month profit has dipped below $60,000 for the first time since January 2022. Profits over the past year were $58,876, and average profit is down to $4,906. That's below what I'd call "teachers' salary."
Average self-published profits have crested and are on their way down. Probably until I release another book or something crazy happens.
Mind Management, Not Time Management Indian subcontinent deal
Revenue this month was helped along by a 70%-payment for a six-language deal in the Indian subcontinent. I received $2,250 of a $3,250 deal (15% of this went to commissions for the agent, but, like in the past, I haven't taken commissions out of my earnings. Which admittedly isn't ideal, but the precedent has been set.)
This deal includes Hindi, Marathi, Gujrati, Tamil, and Malayalam for MMT, and English for both HTS and MMT. I was reluctant to give up English rights in any territory, but the publisher is somehow able to make a paperback edition available for little more than $4. It's something like $30 to get my paperback to India, which is crazy expensive for most people living in the region.
I made sure the deal only prohibited me from selling the English paperback and Kindle in India. That's pretty easy to restrict – I just uncheck a box on KDP. For IngramSpark, I couldn't find that level of regional control.
This deal was a lesson in the value of an agent. I was negotiating with two different publishers who had approached me, and that, with rights for so many languages at stake, made me decide to bring in an agent I already knew.
A couple emails in, she secured an 80% higher advance. I couldn't see anything very different about her emails. I suppose publishers know agents know the market value better, and there are existing relationships involved somehow. Anyway, having an agent made it easier, took me less time, and got me more money, though I have to trust the agent will pass on payments when they come through.
I've now made $12,450 in foreign-rights deals for my self-published books.
35,000 copies of Mind Management, Not Time Management!
Mind Management, Not Time Management crossed the 35,000-copy threshold this month! I've sold 35,030 copies, to be exact. This 5k came in slower than the previous. I made it from 25,000 to 30,000 copies in three months. From 30,000 to 35,000 took five months.
So, sales velocity has slowed. Will it pick back up? It has before.
I probably won't bother updating the laurel wreath on the Kindle cover. 25,000 to 30,000 seemed like a more significant jump. Besides, the thumbnail on the Kindle page is still stuck at 25k. It took some back and forth with support to get it properly updated last time.
50,000 copies sold?
I'm still not sure how to count foreign-rights sales. The first print runs of my foreign-rights deals add up to 16,000 copies, across nine languages. I can't know if those actually get sold until I get paid beyond the advance on those deals. (Perhaps I could request records on a yearly basis from each publisher, but they're notoriously unreliable communicators.) Even if I do earn beyond those advances, I'm skeptical they'll actually follow through to tell me and make payment.
But, in a way, I've sold 50,000 copies!
No ad spend (almost)
One thing that seems to have helped my profits this month was running no Amazon ads. Zero Amazon ads ran, yet I made $3,105 on Amazon, and $6,545 across all self-published books. ($4,295 without that foreign-rights deal).
I did end up paying $258 for some Amazon ads that ran in July. That's the lowest ad spend since I spent $65 in March 2020. However, my ROI of 2,466% eclipses my second-best month, February 2020, when it was 1,124%.
Adventures on TikTok
If I had to guess to what I could attribute my sustained sales, without ads, I'd say it was my continued adventures on TikTok. I've been posting every day, since August 1st.
According to last month's report, I had nearly 10,000 followers on TikTok. Right now, I have over 28,000.
Wow, I'm actually surprised to see it's grown that much in the past month. In my mind, my rate of new followers had slowed.
I'm also surprised that only a month ago, I was excited about a video that had over 550,000 views. Here are all the videos I have with more views than that:
I have a couple more over 100,000.
It's terribly hard to know if and what all these views and follows are leading to. I have only 56 visitors to my website over the past 30 days from the link in my bio. My daily email sign-ups are back to about what they were before August. There's nothing exceptional going on with searches for my name.
Making for What Making Makes Me
Now that I've got a feel for the medium, I'm still trying to focus on Making for what Making Makes Me. Whenever possible, I'm testing out ideas from the book I'm working on to see what resonates and what questions they bring up.
There seems to be a lot of noise with the signal, as the majority of people who comment on my TikTok videos are the most miserable bunch of "Stew"s I've ever encountered in my life. Some of it is useful to see what objections come up, but many of the objections in the comments are so pedantic or ridiculous they're probably not worth paying attention to. I'm digging to my analytics and getting a feel for what kind of person comments on what content to see if I'm not attracting the wrong people, and, if so, if I can remedy that.
IngramSpark starts taking 33% more
IngramSpark dropped a bomb on self-published authors the last day of August. They increased the minimum wholesale discount from 30% to 40%.
This means if your book's suggested retail price is, say, $20, instead of selling it to retailers for as much as $14, now you have to sell it for no more than $12. You used to give up $6, now you're giving up $8 – a 33% difference.
There's of course print charges that come out of that $12, which makes it about 33% in the other direction, too. Print charges were also increased recently.
Incredibly, IngramSpark made this change effective immediately. So those who wanted to keep their books in distribution were forced to drop everything and go manually change their minimum wholesale discounts.
How to lose money selling books through IngramSpark
Industry-standard wholesale discount is about 55%. If you want bookstores to stock your books, supposedly that's what you're supposed to set it at. Bookstores probably won't order your book anyway, and even if they do, there's the chance they'll return the books, and you could end up losing somewhere around $2 for every book they returned, after they clawback the money. So you can actually lose money.
So, the standard wisdom amongst wide self-published authors is to set the minimum wholesale discount at the minimum, which was 30%. If someone wants to order your book from their local bookstore, they can do so, and since the bookstore isn't stocking your book and is guaranteed to sell what they order, they'll do it.
IngramSpark's weasel words
IngramSpark said in their email:
Certain booksellers and online retailers that purchase content through our wholesale distribution network now require that books purchased within the United States have a 40% minimum wholesale discount. (emphasis added)
Which is…nonsense, to put it politely. I had no problem selling books with a 30% discount.
I mulled it over for a few days, then marked up my prices on IngramSpark so that I still earn the same when my books are ordered. I also started publishing the Digital Zettelkasten paperback directly through KDP. It will probably be several months before I know the true impact of this decision.
This is extra motivation to get my Shopify store together, and start making a better margin selling direct (while offering all formats at a better price).
I'm sure this will be a hot topic of discussion at the 20 Books Vegas conference in November. I don't envy the IngramSpark representatives who will be at the trade show booth.
Shopify store progress
I'm slowly chipping away at building and improving my Shopify store. I've photographed a couple books, set up some deals – electronic formats free with a paper-book purchase and free shipping on $50+ purchases (U.S., Canada, UK). I've also set up an auto-responder to promote it to new email subscribers.
My direct sales are still unimpressive, but I want more of my attention to go there, so I'm going to share a graph of how they compare to my overall sales. Note, my directs sales are so small right now, this is on a logarithmic scale. I made $31.53 on direct sales in August.
Low ActiveCampaign affiliate revenue
ActiveCampaign affiliate revenue was really low this month, which offset the boost given by the foreign-rights payment.
I got paid only $179 this month. Payments should be back above $2,000 the next couple months.
Income
Book Sales
Digital Products
Affiliates / Advertising
Reader Support
| | |
| --- | --- |
| Patreon | $179 |
| Total Reader Support | $179 |
Services
Expenses
General
| | |
| --- | --- |
| Accounting | $295 |
| Book Printing | $61 |
| Outside Contractors | $0 |
| Podcast Editing / Publishing | $62 |
| Quickbooks | $49 |
| Total General | $467 |
Advertising
| | |
| --- | --- |
| Amazon | $258 |
| BookBub | $0 |
| Facebook | $0 |
| Influencer Marketing | $0 |
| Product Samples | $0 |
| Total Advertising | $258 |
Hosting
Thinking of writing a book?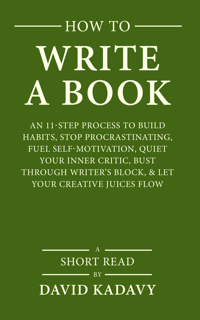 Download your FREE copy of How to Write a Book »
(for a limited time)