Subscribe to blog updates via email »
This is week 6 of Creativity Bootcamp, based upon the Eight Life Hacks for Creative Thinking. Last week, I told you to Isolate by doing an activity that strengthens your individual point of view. This week, I want you to Laugh.Not only does laughter reduce stress hormones and decrease blood pressure; but it also promotes creative thinking. Laugher is good for your health, but the very nature of jokes introduces you to non-traditional ways of thinking. And non-traditional ways of thinking are at the core of creative thinking.
To make laugher more enjoyable, give yourself permission to laugh – make it a point to laugh more over the next week. Some people experience guilt over taking time to enjoy the funner things in life, so if you're one of these people – remember what good you're doing yourself by laughing.
Some ideas to get you chuckling:
Watch some videos on YouTube: maybe your work blocks it, or you live in Pakistan, but if you can find your way around one of those things, YouTube is the ultimate place to find something to make you laugh. I enjoy Reckless Tortuga, The Onion News Network, or Wheezywaiter.
Go to a live show: the only limitation of watching a video on YouTube is you're still in your usual environment. If you go to a live comedy show – improv, sketch, or stand-up – you're in an environment with laugher in mind, surrounded by people with laughter in mind. This builds on the social aspect of laughter to get laughing even harder, and relaxing even more.
Schedule a night with friends: hopefully your friends make you laugh. If not, you need to get some new friends. If you haven't all gotten together for awhile, host a party at your place, or summon everyone to dinner. Laughter better ensue.
Laugh while you work: if you really can't get away – or are having trouble thinking creatively on a project at work, try consuming some funny media while you work. I like to watch 30 Rock on hulu on my second monitor while I work, but Podcasts are of course ideal for this. I hear that Uhh Yeah Dude is funny.
Yuck it up!
Thinking of writing a book?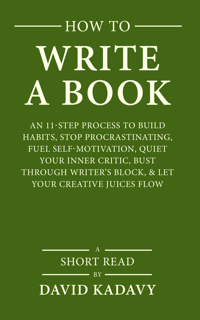 Download your FREE copy of How to Write a Book »
(for a limited time)