Subscribe to blog updates via email »
Productivity is all about mind management, not time management. If you want to be really effective at what you do best, it really helps to offload as many as unimportant details as you can. I've struggled with delegation, while watching my friends scale their impact, and their businesses, thanks to their delegation skills. In this Fancy Hands review, I'll show you how Fancy Hands helps me scale my business with limited hassle.
I recently made a breakthrough, after taking Ari Meisel's The Art of Less Doing. One of the killer tools I discovered in that course is Fancy Hands.
Fancy Hands is an on-demand personal assistant. This means that no matter when you submit a request, there is a huge network of US-based assistants who are ready to handle your request right away. It's like having an assistant that never sleeps.
Fancy Hands has not only saved me nearly 40 hours over the past four months, it has gotten me comfortable enough with delegating, that I've graduated to also having a dedicated assistant, and I also have multiple people helping me with more specialized functions through oDesk, and directly.
The more I get comfortable with delegating, the more mental energy I have for strategic thinking. My creativity has been restored, my impact is widening, and my business is growing.
Fancy Hands is great for flights, appointments, web research…
Here are some things that I've delegated with Fancy Hands:
Look up flight prices: I just shot off an email saying what dates and location I was interested in, and Fancy Hands got back to me with options. I could quickly decide if I wanted to go on the trip, before I bothered sorting through my options on Kayak.
Make a doctor's appointment: Making an appointment with my doctor is a pain in the ass because they let every call go to voicemail. Don't take my word for it, but whenever I make a doctor's appointment with Fancy Hands, the task ends up being free.
Research late-night delivery options: I knew I'd be getting home from a trip really late, with an empty fridge, but I didn't know who could delivery to my house. I told Fancy Hands what kind of food I wanted, and they told me who could deliver.
Process data in a Google Spreadsheet: I had a bunch of rows in a Google Spreadsheet that needed to be evaluated. I just made a quick screencast with Jing, and Fancy Hands worked on it for me. They can work on something as long as 20 minutes, so I just sent it a few times, and it was done. I saved myself an hour, and my sanity.
Tell me what I have to do to renew my driver's license: Rather than poking around government websites to get information, I had Fancy Hands research and give me a straight answer.
Booking meetings: Just copy the Fancy Hands vanity email address you've set up, and they'll put it in your Google Calendar (which you've also set up), invite everyone involved, and put in other relevant details. For some reason, these tasks have often ended up being free for me.
Check into Southwest flights (save $12 a pop): I fly Southwest Airlines regularly, which has an infamous check-in system: The earlier you check in, the earlier you get onto the plane to pick a seat. You can pay $15 for "Early Bird" check-in, or, you can forward your flight confirmation to Fancy Hands, and let them worry about checking in as close to 24-hours before takeoff as possible. Not only do you get to "set it and forget it," but this trick saves you $12 a pop.
Fancy Hands can help you break down the cognitive barriers to delegating
I had the hardest time learning to delegate for a very long time, but Fancy Hands was the perfect set of training wheels to get me started. These are the cognitive traps that held me back. Watch out for them:
"You paid $X for someone to make a phone call!?" Some people may be calculating the ROI on each of these tasks. It may seem like these are all trivial things, but our brains are dumb, and have a hard time thinking of the other things we could be doing with our time and mental energy. There are many other things you can be doing instead of dealing with a DMV website, that will eventually bring you much more than the $2.60 per task that it costs on the largest plan.
"They can't do a good job on X" You definitely need to pick and choose which things you are going to delegate, but recognizing that comes with practice. The Fancy Hands assistants are extremely well-trained, so usually if you don't get a good result, it's usually because you delegated the wrong thing, or didn't communicate clearly. (That said, I have gotten some facepalm-inducing responses from an assistant a couple of times. If you aren't satisfied, they'll usually refund the task or assign a different assistant.)
"This will just take me a minute" This is the worst mistake of all, and the easiest to make. We have selective attention and it's nearly impossible for us to think of the other things we could be doing with our cognitive energy. Additionally, even if something does wind up taking us the same amount of time to delegate, delegating requires less mental context switching, so it's less cognitively draining.
Tips for getting started with Fancy Hands, and becoming a delegation machine
It can be hard to get started delegating, but Fancy Hands makes it much easier than worrying about searching for and hiring someone dedicated to help out. Here are some things to think about, that will make it much easier to get yourself started.
Don't overthink your delegation
It can be very tempting to try to write out a bunch of instructions for everything that you want somebody to do, but you'll quickly find that you are saving any time or mental energy at all.
Remember, these Fancy Hands assistants are handling tasks all day, so they are very good at dealing with ambiguity when it comes to tasks that they handle regularly. For example, if you simply copy Fancy Hands on an email that mentions a meeting, they'll usually figure it out, and schedule it seamlessly.
A good way to make sure that you're getting the most out of Fancy Hands is to try to see exactly how vague you can be and still get the result that you're looking for. Sometimes they'll come back to you with clarification questions, and that's when you know you need to provide more direction next time.
Minimize friction
Fancy Hands has a great iPhone app, and web interface for submitting tasks, but there are some things that you can do to make delegation even easier. My personal favorite is that you can hold down the "New Request" button on the iPhone app and simply talk, which will create a message that will be sent to the Fancy Hands assistants.
You can also set up a vanity email address, which is an email address that forwards to Fancy Hands. It looks like you actually have an assistant, like some big shot.
Start with the biggest plan
You can try Fancy Hands with one of the smaller plans, but if you're just getting started, I think it's better to start with the bigger plan, which costs $75 a month.
If you've had midwestern frugality pounded into your brain since birth like I have, you'll balk at that idea. You'd be thinking "I don't want to pay $75 per month…for what?"
If you let that thinking hold you back, you'll never progress. Yes, I get some free tasks if you sign up through this link. If you don't believe me on this one, you can use this link instead.
The problem with trying one task, or a few tasks, is that it puts up another barrier to you learning how to delegate. You'll treat your precious few tasks like they're your last few M&Ms. You'll want to use them wisely.
But if you have more tasks, you start to think more creatively. You schedule a couple of meetings, you get some flight information, you have them research dog walkers. Then, you decide maybe you'll have them prank call your fourth grade science teacher.
The point is, as you try more things, you get a feel for what works, what doesn't, and just how expansive your assistant needs are. Then you can downgrade to a smaller plan if you see fit. If nothing else, think of the $75 as a lesson in delegation.
Thanks to Fancy Hands, I'm running for President
To get used to using Fancy Hands, it's best to delegate whatever pops into your head. I'm turning 35 soon, so that makes me eligible to run for President of the United States. I was chatting with a friend about how I'd like to announce at my birthday party that I'm running for President.
Then I became curious about what, exactly, I'd have to do to get started. So, instead of futzing around on the internet, I just talked into the Fancy Hands iPhone app:
Here's the response I got back:
Get your name on the ballot in all 50 states as an independent candidate. To do this you must have a petition in each state signed by a certain number of people (it varies by state). The number of signatures you need can vary from 2,000 (Minnesota) to 160,000 (California). It is important to get on all 50 states' ballots because of the electoral votes you need to win.

Get out there early in the election season. It is imperative to start acquiring signatures and getting your face out into the public eye early. Make sure everyone knows who you are by the time of the elections. You will probably need around 700,000 signatures nationwide, which if done early enough, may only cost you around $2.5 million dollars (for paying circulators).
So, when I get my next bi-weekly paycheck from Kadavy, Inc., I'm totally going to apply all $2.5 million towards getting enough signatures.
Well, maybe in 2020.
Like this Fancy Hands review? Try Fancy Hands. What will you delegate?
As I mentioned before, you can get a 50% off your first month Fancy Hands, though I definitely recommend getting started with a plan so you can experiment with it. So, what will you use your first task for?
How @fancyhands pays for itself every time I fly. Also I'm (not) running for President after all: http://t.co/8FRaNMMafh

— ? David Kadavy (@kadavy) March 26, 2014
More delegation resources
The Fine Art of Delegation: This is part 1 of a 2-podcast series by Michael Hyatt, where he conceptually breaks down delegation, talking about the five levels of delegation. This really helped me learn to recognize what things were easy to delegate (levels 1 & 2 are great for Fancy Hands), and what things were going to require someone with more skill and familiarity.
How to Delegate Even if You Don't Have a Staff: Part 2 of Michael Hyatt's 2-podcast series on delegation. In this episode, he explains some ways you can get organized or use resources other than staff (such as Fancy Hands) to off-load work.
The Art of Less Doing: This Udemy course by Ari Meisel restored my creativity, and really got me using Fancy Hands. Ari breaks down "the 9 principles of Less Doing," and introduces some great tools that have helped me scale up my impact, and my business.
Thinking of writing a book?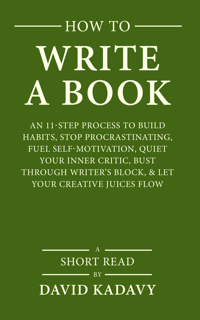 Download your FREE copy of How to Write a Book »
(for a limited time)