Subscribe to blog updates via email »
About three months after publishing my first self-published book, I got a message from Amazon, inviting me to include my book in their Great on Kindle program.
As I mentioned in my March 2018 author income report, I received this message from Amazon (note I later changed the subtitle of The Heart to Start to Stop Procrastinating & Start Creating.)
We're excited to tell you that your book, The Heart To Start: Win the Inner War & Let Your Art Shine, has been enrolled in a new Amazon beta program called Great On Kindle – a program for high quality nonfiction eBooks that make them easier for customers to discover.

The Heart To Start: Win the Inner War & Let Your Art Shine has been enrolled in Great On Kindle because it meets the program's high quality standards and includes features readers love like high resolution images, X-Ray content, Enhanced Typesetting, error free text, and more.

As part of Great On Kindle, we are experimenting with things like a detail page message that helps readers discover high quality books, Amazon-funded promotions for customers, and nominations for merchandising opportunities. No action is needed on your end to participate.

You will also have the option to select a new 50% royalty plan (in addition to the option to select from the existing 35% and 70% plans) for your Great On Kindle Books priced between $4.99 and $19.99, which does not charge delivery costs. The 50% royalty plan is optional, [update December 21, 2020: the 50% royalty plan has been discontinued] and your title will be eligible for Great On Kindle regardless of the royalty plan you select. For more information, click here.
It's always a thrill when Amazon acknowledges your book (this also happens with Kindle Daily Deals). As you can see from the message, at the time, it was a beta program. I don't think it's a beta program anymore. I did accept the invite, and I have no regrets.
How does the Great on Kindle program work?
If your book is included in the Great on Kindle program, it will be listed on Amazon as a Great on Kindle book.
On your book's page, there will be a message telling buyers that if they buy your book, they'll earn a credit toward other Great on Kindle books. (The message below shows a percentage, but lately they show a dollar amount).
When someone buys a book in the Great on Kindle program, Amazon notifies them of the credit via email, directing them to shop for more Great on Kindle books.
This credit has an expiration date, and Amazon also sends a follow up email when the credit is about to expire.
Marketing 101 says: This drives sales in a virtuous cycle. Customers are incentivized to buy Great on Kindle books to earn the credit, and once they have the credit, they're incentivized to use those credits on other Great on Kindle books.
The best part is, you still earn royalties as if they hadn't used credits at all!
UPDATE: December 21, 2020: The 50% royalty plan for Great on Kindle has been discontinued
After my latest book was accepted, I wondered why I wasn't seeing the 50% option. An Amazon representative told me this option was discontinued for books new to the program in March 2019.
Great on Kindle makes you eligible for a 50% royalty plan
As anyone who publishes on KDP knows, you generally have access to a 35% royalty or a 70% royalty. The Great on Kindle program gives you access to a 50% royalty plan. Here's what that looks like in my dashboard.
Admittedly, that's not super compelling in itself. 70% is obviously more than 50%. But the 50% royalty plan has two benefits:
You can charge up to $19.99 (minimum is $4.99).
You don't get charged a delivery fee.
Note that the 50% royalty is optional, but it could allow you to price your book higher, psychologically making it more like a traditionally-published book. I'd have to charge around $14 a book in the 50% royalty rate for The Heart to Start to earn as much as I do charging $9.99 at a 70% royalty rate.
Logically, it seems I would make fewer sales and thus less money, but since by buying my book customers would earn even more credits for Great on Kindle, that would probably boost sales a bit from what they would be otherwise at $14.
The Heart to Start is only about 140 pages, so I haven't tried moving the price that high, but if and when my latest book, Mind Management, Not Time Management, which is much meatier at 262 pages, gets into Great on Kindle, I do plan on experimenting. I'll probably charge $14.99, which would bring about 50¢ more revenue per-book. Not much, but don't forget the higher price may motivate more sales in Great on Kindle.
How do you get your self-published book into the Great on Kindle program?
There's no way to apply to have your book included in Great on Kindle. In fact, before publishing Mind Management, Not Time Management, I emailed the contact at Amazon with whom I had communicated when The Heart to Start entered the beta program, asking if they could consider my upcoming book in advance. I didn't get a reply.
Amazon has a big list of requirements they look for in books to consider for Great on Kindle. I won't go into that here – go to the source if you're curious. Generally, it includes having good formatting, and no misspellings.
Watch out for image resolution
One requirement I noticed while perusing this list is that they require images to be 300 PPI. Anyone who knows anything about computer graphics will look at that and go That's meaningless! You have to know the size something is going to be displayed at to know its PPI. Total pixel dimensions is far more useful.
They go on to explain to calculate the PPI by thinking of how big you want the image to display on the screen, and going from there. That's confusing, but generally, looks like you want your images to be at least 1200px.
Then I realized that The Heart to Start has no images, so I didn't have a problem there, but Mind Management, Not Time Management has lots of images – and they're not that high resolution! Why didn't I make them higher resolution? 1) It didn't seem necessary, and 2) I didn't want to pay a ton of delivery charges.
And lo and behold, I then noticed a "Quality Issue" in my KDP dashboard. Mind Management, Not Time Management would be eligible for Great on Kindle, if it weren't for one thing: The resolution of my images:
Now if you'll excuse me, I have some images to fix. (If you want to know whether my book makes it into Great on Kindle and how raising my price works out, keep an eye on my author income reports.)
Thinking of writing a book?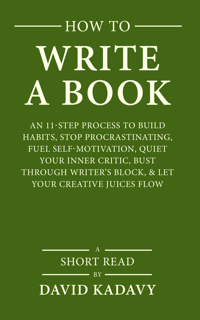 Download your FREE copy of How to Write a Book »
(for a limited time)