Subscribe to blog updates via email »
Having your book chosen for a BookBub Featured Deal is as close to a "big break" as there is in self-publishing. Today, I'll tell you how I finally got accepted for a BookBub Featured Deal after a year and a half – and fourteen rejections.
Listen to How to Land a BookBub Featured Deal
What is BookBub, and what is a BookBub Featured Deal?
BookBub is a gigantic email list that sends discounted or even free books to people. BookBub curates the deals they send to their subscribers. They send them "Featured Deals."
A BookBub Featured Deal is a chance to get your book in front of hundreds of thousands of readers – or even a million+ readers – interested in your genre. You'll sell hundreds, maybe thousands, of copies, and you may even hit a bestseller list.
However, a BookBub Featured Deal can be expensive. (It's not like a Kindle Daily Deal, which is pure gravy). My BookBub Featured Deal itself cost over $1,000. I sold over 2,500 books. (I hope to break down my full campaign results in a future article subscribe to blog post updates so you don't miss it).
A BookBub Featured Deal is not a BookBub Featured New Release, nor BookBub Ads
Note that BookBub has other ways of promoting books besides the Featured Deal. There are BookBub Ads, which are display ads you can run on BookBub's website or in their emails. BookBub does not curate these ads – any author can advertise their book with BookBub. BookBub also has the Featured New Release, for new books, which is curated but is generally not as competitive nor sought-after as the BookBub Featured Deal.
How do you get a deal BookBub Featured Deal?
Getting a BookBub Featured Deal is highly competitive, but if you stick with it, you can one day get a deal on BookBub. My book, The Heart to Start: Stop Procrastinating & Start Creating was finally accepted after fourteen rejections, over the course of eighteen months.
Here's my advice to authors for finally getting accepted for a BookBub Featured Deal.
Go wide
Many self-published and indie authors only publish to Amazon. One reason they do this is that it's more simple. Amazon makes up about 90% of my revenue from book sales, and it has nearly that share of the entire ebook market.
BookBub (generally) only selects wide books
But, BookBub rarely selects for a Featured Deal a book that is only on Amazon (though I've heard of exceptions). BookBub has many subscribers who read on other platforms, such as Apple Books, Kobo, Google Play, and Barnes & Noble. So it's a waste of email real estate for them to bother with books that are only on Amazon.
By the way, what is "wide?"
Amazon is so dominant in the ebook market that to have your book available in places other than Amazon is to be "wide." Being wide is a lot of extra work: You have to upload and manage your book on a bunch of different platforms. This means any time you fix an error in your book, you have to re-upload it to all these places.
Because Amazon matches the price of your book on other outlets, you also have to be careful not to have price discrepancies when you're wide (more on a hard pricing lesson I learned in a bit). When you consider all the different markets and currencies in which your book is available, this is a lot to keep track of!
BookBub is the best reason to be wide
BookBub Featured Deals have been one of my main motivations for bothering with all the extra work of being "wide" (That and trying to "fight the good fight" to give readers choices other than Amazon.)
Because being wide is so much work, I publish direct to Amazon, and use an aggregator to publish to all other outlets. I've tried publishing direct to various outlets, and I've tried different aggregators, but I've settled on PublishDrive. They have easy reporting, which saves a lot of energy putting together my monthly author income reports.
If you want a shot at the "big break" of a BookBub Featured Deal, start by going wide.
Rack up reviews (everywhere)
When BookBub chooses your book for a Featured Deal, they're putting their reputation on the line. Yes, they charge you money to feature your book, but they only have that privilege because readers trust them. Readers only trust them because readers know if BookBub has chosen to feature a book, it's not just because they're getting paid for it – it's also a quality book.
BookBub can't go through the trouble of reading each book that applies for a Featured Deal. So how do they decide if your book is a quality book? Reviews!
Work hard to get reviews for your book, not only on Amazon, but on other outlets as well. At the time The Heart to Start was accepted for a deal, it had about 275 ratings/reviews on Amazon (with a 4.8-star average), and a handful of reviews each on Apple Books, Kobo, and Google Play (If you check my book out, note that I've since lost some of those precious wide reviews because I switched to an aggregator. It's best to choose the right aggregator from the start.) I had and still have no reviews on Barnes & Noble.
Get reviews by asking or running other promotions
You can get reviews by sending an email to your audience and asking for it. Or, if you have a direct relationship with any of your readers who have reviewed your book on Amazon, ask them if they would kindly copy and paste their review to one of these other outlets.
Any other promotions you can run before applying for a BookBub deal can also help rack up reviews. How did I get so many reviews for The Heart to Start? It helps that when I launched the book, it was free. I gave away more than 3,000 copies, which you bet drove some reviews.
You can't fake good reviews, so write a great book
Of course, it helps if these reviews are generally positive. Having gained hundreds of reviews for my books, I can tell you there's no point in trying to fake this. If there's ever been a friend who positively reviewed my book just to be nice, it's never been as powerful as the reviews by strangers who actually liked (or hated) the book.
The takeaway underlying all this is write a great book. But that alone won't bring reviews – you have to work for them.
Keep trying
How often can you apply for a BookBub Featured Deal? Four weeks from your latest rejection. So, each time you get rejected, apply again four weeks later!
Remember, I was rejected fourteen times. It took eighteen months from my first application to my first acceptance. Why not fourteen months? Because getting rejected over and over can be exhausting!
Put your application process on auto-pilot
Make the process of applying as automatic as possible. Each time I got a rejection email, I used a tool called Boomerang to return the email to my inbox four weeks later. That reminded me to apply again.
I kept an Evernote file where I recorded the date I applied as well as the pricing and markets I chose, and comments I made in my application. I also kept links for each ebook store, ready to be copied and pasted into my application.
Once you have notes like this, you could easily delegate this process to an assistant.
Mix up pricing
BookBub wants great deals for their subscribers, but they counterintuitively don't need the best possible deal for their subscribers.
These days, most BookBub Featured Deals are $1.99. Sometimes books are selling for more than that, but there are also books on sale for 99¢ or even free.
You might think that if you are BookBub, you want to offer as many free books as possible. But keep in mind BookBub makes money from authors and publishers paying for placement in their newsletter. The higher the price for your deal, the more BookBub charges for placement.
A higher price may give you a better shot (then again, maybe not!)
So, you might have a better shot at charging 99¢ for your book than offering it for free. You might have a better shot at charging $1.99 than 99¢.
How do you know? There's no way to know for sure. These choices are up to the curators of BookBub, and their preferences change based on the activity they see amongst subscribers.
Keep an eye on books listed on BookBub in your genre. Do you see a pattern in the list prices and sale prices of similar books?
Alternate prices in your auto-pilot process
If there's not a super clear pattern, mix up the pricing in your applications. I alternated between two prices: One month, I applied to offer my book for 99¢, the next month I applied to offer it for $1.99. ($1.99 was the price that eventually got accepted.)
Don't make yourself ineligible
There are various requirements to be eligible for a BookBub Featured Deal, but the easiest to mess up is pricing.
Your proposed BookBub Featured Deal must be:
Either free, or a discount of at least 50% (It's usually more like 70–85%)
The best deal available in the past 30 days. (They also don't want you to offer it for less in the near future.)
I messed this up at one point. When I had an international deal (more on that in a bit), it turned out I had accidentally priced my book too low on the Google Play store in the UK. So, Amazon had been matching that price.
The historical list price was too low for my sale price to meet the 50%-discount requirement. So, while I was paying full price for my deal, my deal was not sent to UK subscribers, because I had accidentally made myself ineligible in the UK.
This is yet another reason I use PublishDrive to publish everywhere except Amazon. It makes it easier to avoid mis-pricing my books.
Try international first
Speaking of international deals, there's one caveat to my fourteen-rejection journey to a BookBub Featured Deal. My book was rejected fourteen times in a year-and-a-half for a U.S. deal. However, it was accepted for an international deal, after seven months and "only" three rejections.
An international deal covers the UK, Canada, Australia, and India. (With each application, you can choose to apply for an international deal, a U.S. deal, or "All"). I did apply for "All" until I had my international deal, but BookBub accepted my book only for an international deal at that time.
An international deal is practice
The performance of my international deal was underwhelming, but I'm glad I got to try it before a "big" U.S. deal. (My international deal went to 140,000 subscribers, my U.S. deal – over one million).
My international deal gave me a chance to learn and plan better for a bigger deal. I also learned that hard pricing lesson: paying the full price for an international deal, only to realize my carelessness in international pricing made my book ineligible in the UK.
Your international deal performance may prove your book to BookBub
BookBub probably watches the performance of these international deals to consider how a book will do in the U.S. Maybe the underwhelming performance of my book in my international deal was why BookBub didn't accept it for a U.S. deal for another year! On the other hand, if my book had done great, it may have increased my chances of being accepted.
To learn the ropes and maybe even to prove your book's worth in a less-competitive arena, consider applying for an international deal first. At the very least, if you're accepted for an international deal, but not a U.S. deal, take it and learn.
Include editorial reviews or notable blurbs
On the application for a BookBub Featured Deal, there's a "Comments" section. Use this section to show BookBub curators how great people think your book is.
At the advice of Craig Martelle in the 20Booksto50k Facebook Group, I included my book's review from Publisher's Weekly in the comments field of my application, starting with my twelfth application. It didn't magically get my book accepted, but within a few months, I had landed a BookBub, so it may have helped.
Don't bother copy/pasting Amazon reviews into the comments section. But if you have any good editorial reviews or blurbs from famous authors, try including them in the comments field of your application.
Create your own luck (your day will come)
The more times you apply for a BookBub Featured Deal, the better your chances you'll one day be accepted. Readers' preferences change, the publishing market changes, the world changes, and so too do the preferences of BookBub's curators. Just because you were rejected last month doesn't mean you'll also be rejected this month.
I think the coronavirus pandemic may have improved my chances of getting a BookBub Featured Deal. This is just a theory, but traditional publishers' projects were delayed, and I bet BookBub was getting fewer applications for traditional books. My business as an indie author, on the other hand, was not affected by the pandemic. It's likely I had more of a shot because there was less competition.
The publishing business is a business of breeding "Black Swans", and you never know how the world will change to bring your "big break." You have nothing to lose by applying, and everything to gain, so create your own luck by giving yourself more chances to get lucky.
Some final tips
BookBub also has tips on their website. Besides similar points to what I discussed here, their tips include:
Have a good cover
Optimize your sales pages on retailers
Be flexible with your promotion date
I'll add to these a couple honorable mentions that will probably help, and can't hurt:
Spruce up your BookBub profile. Upload a photo, fill out your profile, invite your audience to follow you, and recommend some books from your genre. It signals to BookBub you're well-known amongst their subscribers, and that you're professional. (By the way, you can follow me on BookBub.)
Run some BookBub Ads. It's good practice to learn how to use BookBub's ads, because they're useful for making your Featured Deal even more successful when you finally do get one. Plus, it can build your BookBub following, which might improve your chances of having a deal accepted.
Getting a BookBub Featured Deal is a breakthrough for a self-published author. It can feel like you'll never get accepted, but if you keep at it, it's possible – and worth the effort.
Listen to the Podcast
Mind Management, Not Time Management now available!
After nearly a decade of work, Mind Management, Not Time Management is now available! This book will show you how to manage your mental energy to be productive when creativity matters. Buy it now!
My Weekly Newsletter: Love Mondays
Start off each week with a dose of inspiration to help you make it as a creative. Sign up at: kadavy.net/mondays
Thank you for having me on your podcasts!
I've been on quite a few lately. Check me out on The Reader's Journey from Alex and Books, on Debbie Jenkins's Chaos to Creation Confessions, on Ravi Raman's The Motivated Life, and on Conor Butts's Personal Productivity.
If you'd like to have me on your podcast, please email me at david at kadavy dot net!
Join the Patreon for (new) bonus content!
I've been adding lots of new content to Patreon. Join the Patreon »
Subscribe to Love Your Work






Theme music: Dorena "At Sea", from the album About Everything And More. By Arrangement with Deep Elm Records. Listen on Spotify »
Thinking of writing a book?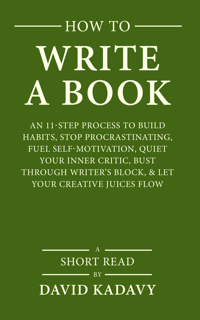 Download your FREE copy of How to Write a Book »
(for a limited time)