Subscribe to blog updates via email »
Over the past four years, I've been trying to "make it" as a creator. Yes, I was on my own for another eight years before that, but this past four years has been when I really doubled down on creating. To make the things I create not just a marketing tactic for some other thing. For the creations themselves to be the thing.
Each month for the past two years of this journey, I've been reporting my income on my blog, kadavy.net. Sometimes, it's been pretty embarrassing. These aren't your usual income reports, where someone reports making six or seven figures in a single month. These are the income reports of a creator struggling to make it.
This week, I'd like to give you a preview. This is a preview of something you get at some levels of Patreon backing. An audio version of my income report, delivered right to your favorite podcast app through your own private RSS feed.
These income reports are where I think out loud about why I do one thing, or why I don't do another thing. Hear how I build this business. Hear the exact thinking behind my decision-making, as it happens.
This is the income report for August of this year. By the time you hear this, the income report for September will be out, too. If you'd like to hear it, just go to patreon.com/kadavy, and look for the proper backing level. I would appreciate your support so much.
New Weekly Newsletter: Love Mondays
Start off each week with a dose of inspiration to help you make it as a creative. Sign up at: kadavy.net/mondays
Join the Patreon for (new) bonus content!
I've been adding lots of new content to Patreon. Join the Patreon »
Listen to the Podcast
Theme music: Dorena "At Sea", from the album About Everything And More. By Arrangement with Deep Elm Records. Listen on Spotify »
Thinking of writing a book?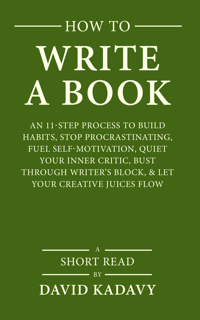 Download your FREE copy of How to Write a Book »
(for a limited time)