Subscribe to blog updates via email »
UPDATE, November 30, 2021: I've now published a hardcover of Mind Management, Not Time Management in Ingram's new case laminate, plus dust jacket option, and it looks great!
Two years after publishing The Heart to Start: Stop Procrastinating & Start Creating on paperback – through both KDP Print and IngramSpark – I decided to also publish it as an IngramSpark hardcover (aka "hardback"). So I grabbed my IngramSpark promo code, for free set up and uploaded my files. Here's my IngramSpark hardcover review.
Why did I publish an IngramSpark hardcover?
I published an IngramSpark hardcover for two reasons:
To give readers an opportunity to purchase a "souvenir." I know I like to have a hardcover edition of books I've really enjoyed. At the time I decided to create a hardcover edition, I had sold around 15,000 copies. Surely some of those readers wanted a "souvenir" copy.
As a proof-of-concept for a future book, launched directly to hardcover. I was nearing the finish line on Mind Management, Not Time Management, and I was considering skipping the paperback edition, and going straight to hardcover. (Read on to see why I didn't end up doing that.)
Now this "souvenir" edition would also sell for a little more profit. I figured that having a more expensive option available would also provide a psychological "price anchor" that would make the other editions look more affordable as well. These factors were just gravy, though – not main motivations.
IngramSpark hardcover options: digital cloth, case laminate, & jacketed case laminate (and now, case laminate with dust jacket)
As you can see on IngramSpark's calculator, there are a number of options for your hardcover – including trim size and paper type. But the big question for my hardcover was: case laminate or digital cloth?
What is digital cloth hardcover? Digital cloth comes with a dust jacket, wrapped around a plain cover printed to look like cloth.
What is case laminate hardcover? Case laminate is just the cover printed so that it adheres to the hard-cover of the book.
Note that since I released my first hardcover, IngramSpark has also introduced a jacketed case laminate option. That's a case-laminate book with a jacket. I've since tried this option with my second hardcover.
Since the jacketed case laminate wasn't an option for me, I ended up going with digital cloth. It was a toss-up decision, really. I don't personally like dust jackets – they're annoying to deal with – but I do think they make a book feel more distinguished. Since I was creating a sort of "souvenir" edition, that's the option I went with.
My IngramSpark hardcover specs
B&W 5 x 8 in or 203 x 127mm
Gray Digital Cloth™ Cover w/Jacket
White 50lb Paper (my only option)
Matte finished dust jacket
Page Count: 140
Spine Width: 0.37500 in
Weight: 0.566 lbs
My list price is $24.95. My average print cost is $9.05. The wholesale price is $17.47. So, my average profit is $8.42 per book. Here's a peek at my royalty statement from Ingram:
Notice that the list price for my paperback is $12.95. The wholesale price is $9.07, and my average printing cost is $2.90. So, my average paperback profit is $6.17.
(Note that through KDP Print, my average paperback profit is $5.26.)
What does my IngramSpark hardcover book look like?
Okay, enough details. Let's see the book! Click on any image for the highest-res my little iPhone SE can produce.
How are sales?
Unfortunately, I had a hell of a time keeping the book actually in stock on Amazon.
For a long time, Amazon was showing "ships in 1 to 2 months" for the hardcover edition – which wasn't even true! I had ordered the book myself and received it within a few days.
Obviously such a long ship-time being displayed harms sales. So, I reached out to IngramSpark support, and they blamed Amazon. I reached out to Amazon support, and they blamed IngramSpark.
Honestly, I believe IngramSpark out of those two. I can see why Amazon wouldn't want to bother fixing the ship date – I'm not sure how they make any money off of those sales. Whatever they make, it's probably less than they make selling their own POD paperbacks.
However, in recent months, the book has been showing up as in-stock and available through Prime shipping.
Notice it says "ships from Amazon.com." I wonder if this has anything to do with a "big" order I saw come through on my IngramSpark reports. I had two major sales events for this book within the span of a few months: I landed a BookBub Featured Deal through which I sold about 2,500 books, and a Kindle Daily Deal, during which I sold more than 400 books in one day.
Amazon orders these books and actually keeps them in stock. The high sales volume probably prompted them to order more hardcover copies, which led to this shipping problem getting fixed.
Whatever the reason, as of late, my book is reliably available on hardcover through Amazon Prime.
IngramSpark hardcover review: Would do it again?
As I said, a main motivation for publishing an IngramSpark hardcover was to see what the process was like, to consider launching my next book as hardcover, instead of paperback.
But, these Amazon-availability issues ruined my confidence in selling IngramSpark hardcovers with Amazon Prime shipping. So, I begrudgingly launched Mind Management, Not Time Management as paperback only – through KDP Print on Amazon, and through IngramSpark everywhere else.
It's a shame because I doubt it's Ingram's fault my book wasn't showing up in stock.
However, I would absolutely consider doing another hardcover "souvenir" edition of Mind Management, Not Time Management (and I have now done just that). Again, with the main motivation being to give people a more "solid"-feeling option – with higher per-unit profits to share in my author income reports.
Thinking of writing a book?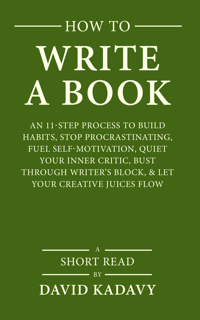 Download your FREE copy of How to Write a Book »
(for a limited time)