Subscribe to blog updates via email »
It seems like everyone wants to have more time. In a recent open-ended survey of folks on my email list, time was the second most talked about thing.
This is in a survey about design!
Time is our most precious resource. Just as soon as it is here, it is gone. Once it's gone, we can never get it back.
Do you wish you had more time?
It's okay if the answer is "yes." We suck at managing time. There are so many things that are trying to command our attention at once, but they're from different sources.
We have things we want to do (or that other people want us to do) on our to-do list
We have emails coming at us, asking us for our time
Then, that all gets interrupted by things in the "real" world
Imagine if you had all of this under control. What would that be like?
You'd wake up each morning, confident that you knew exactly what needed to be done. Interruptions would be easy to manage amongst all of the demands at work. You'd never let your goals slip: exercising enough, drinking lots of water every day, spending less time watching House of Cards.
You'd have a clear head throughout the day, giving you more space in your mind to communicate clearly, and with confidence, to your clients and coworkers.
Best of all, you'd spend more time with people whom are more important to you than any of the above.
The secret is out. Introducing Timeful.
For the past 9 months, I've serving as an advisor to a team of superstar behavioral scientists, data scientists, and product designers on building a tool to help you achieve this level of time management Zen (or rather mind management Zen).
I'm very excited and proud to finally be able to tell you about it.
One of the co-founders is the legendary Dan Ariely. Dan is a pioneer in the field of behavioral economics, and his research uncovers cognitive errors in day-to-day life. He's the author of three New York Times best-sellers, including Predictably Irrational, and The Honest Truth About Dishonesty. I've always loved his books and TED talks, so I'm thrilled to be working with him.
Now, he's using this knowledge about human behavior to help people overcome their cognitive errors when it comes to managing their time (and their minds).
Another co-founder is Yoav Shoham, Stanford professor who started TradingDynamics, which sold for $400 million, and who sold another company to Google.
Dan and Yoav have teamed up with CEO and founder Jacob Bank, a Stanford grad student who specializes in algorithms and machine learning.
We're funded by the top VC's: Khosla Ventures, Kleiner Perkins Caufield & Byers, and Ashton Kutcher (through A-Grade Investments).
Making productivity a priority is an absolute discipline of those who are successful… http://t.co/Wh02sqTUoC

— ashton kutcher (@aplusk) March 18, 2014
The rest of the Timeful team includes the best product designers and engineers, formerly from Twitter, Facebook, Google, etc..
We're Timeful, join our private beta
The Timeful team has been doing all of the really hard work, but I've been advising them on product, sharing my time management (mind management) philosophies, so I like to think that in some ways, this app is designed around the way I work. I've grown to find it invaluable, and can hardly wait to see how it improves as the Timeful vision is realized.
Everyone will get to see what the Timeful team has been working on in April. Until then, find out what your "Timeful Quotient" is by taking the TQ (my "Productivity score" is 89 out of 100, but then again, I'm using Timeful). We'll be inviting a select group of people to our private beta.
My time management type is "Timeful," (but then again, I've been using @timefulapp) What's yours? http://t.co/9MDhJcf6vQ #maketime

— ? David Kadavy (@kadavy) March 18, 2014
Thinking of writing a book?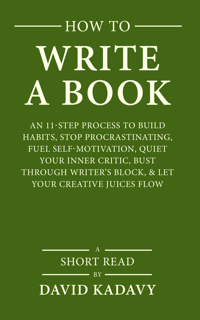 Download your FREE copy of How to Write a Book »
(for a limited time)