Subscribe to blog updates via email »
With so much fuss about the nano, I feel like the iPod Shuffle doesn't get the attention it deserves. It seems more primitive than it really is – understanding the controls is the key to realizing the Shuffle's potential. Here are some intelligent nuances that make the Shuffle very dynamic.
Fast Forward/Rewind – Don't like Adam Curry's song choice at the beginning of the DSC? Just hold down the "next track" button for a couple of seconds and the Shuffle will scan through the track. You can back up with the "previous track" button if you go to far.
Go To Top – Want to switch between music and Podcasts? Load your Podcasts at the top of the list in your Shuffle. You can listen to your songs in "shuffle" mode and if you run across a Podcast, skip it. When you're ready to listen to your Podcasts, just switch to "repeat" mode and tap the "Pause/Play" button three times. Your Shuffle will skip to the top of your playlist.
Podcast Completion Memory – Admittedly, this is more of an iTunes feature. I like to listen to Podcasts on my way to work, but when I arrive, I'm usually in the middle of a Podcast. I just plug the Shuffle into my laptop, and iTunes detects where I left off. I can then pick up where I left off on my computer using the file on my hard drive while I clear the Podcasts off of my Shuffle.
Control Tactility – The raised nature of the controls on the Shuffle make it great for listening to everywhere, even places where you may need to pause it quickly to speak to or hear someone. You can easily feel the controls in your pocket. I sometimes even wear it in the breast pocket of my shirt, which makes for an amusing visual when I hit "pause" or "next track".
I feel like the Shuffle's brilliance is overlooked. Maybe more people would buy it if they had a better idea of just how much control one can have with it.
Thinking of writing a book?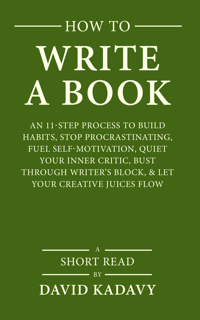 Download your FREE copy of How to Write a Book »
(for a limited time)