Subscribe to blog updates via email »
For the first time ever, I'm publishing an income report. I'm not sure if I'll keep doing these, but I thought I'd try it at least once, for various reasons.
Reason #1: How do creators make a living?
The first reason is so I can demonstrate how at least one author makes a living. I've been fascinated lately with how creators make a living. I think we've learned that the ad-supported model isn't working. It's the fast food of information. Cheap and not good for you.
There are new models emerging. I've been making money on Steemit's blockchain. I've also been earning from my writing on Medium, and from supporters of my podcast on Patreon. I'm most fascinated by self-publishing on Kindle, and have at least one experiment planned there.
Online courses were my biggest earners last year. I'm not opposed to online courses, but I do enjoy books more than I enjoy courses – both consuming and creating. Online courses remain a good way to make an income if you have a platform. I'd prefer more of that income to be from books.
Reason #2: Value is not money
Another reason for publishing these reports is to show that value is not money. I think most readers will be surprised that I don't make more money than I do. I did have a couple good years earning six figures, but the past few years I have made much less.
I make much less than I did working at a startup in Silicon Valley more than ten years ago. Yet my life has much more value.
I know many people are afraid to take a pay cut at all. But if you look for ways to get more value, instead of making more money, you can be at a net-positive. One way I've done that is by moving to Colombia. Another way is through pursuing the work that interests me most. My overall life satisfaction is far above what it was when I was working at a job.
Reason #3: What gets measured moves
Money is not a huge motivator for me, but of course I wouldn't mind making more money. Another reason for publishing this report is I'm interested to see if it causes me to make more money.
I usually don't pay much attention to how much money I'm making. If I'm compiling these reports, I will be paying more attention to that. If you pay more attention to something, maybe it gets enhanced.
It didn't make sense for me to do these reports the past couple of years. I was more interested in acquiring new skills, such as running a podcast, and publishing books. Now, I have those skills, and I'm doing activities that I enjoy doing in my day-to-day work. It's a better time for me to think about money.
Some expenses not counted
I'm just counting my main expenses in this report. You won't find my cell phone or dinner meetings counted in this report. You won't find the many books I buy counted as expenses here, nor will you find my payment processing fees. I'm following the lead of Pat Flynn's income reports. I just want a simple representation of income and expenses.
Cash-based (except some book sales)
I'm following a "cash-based" accounting method here. This means that as soon as income hits my bank account, it's counted as income. Also, as soon as a charge is put on my credit card, it's counted as an expense.
This causes a "delay" in some things. For example, many affiliate programs take two months or longer to pay out.
Also, many expenses are paid by the year. For example, in this report for January, you won't see any of the $2,295 I paid for a year of Active Campaign in December. But, you will see the $990 I paid for a year of WP Engine WordPress Hosting.
Ideally, I would do an "accrual-based" accounting method. Each dollar I earned would be counted as it was earned, and each expense would be counted when I used the service. This is just too complex for my needs at this point.
The one exception is with some book sales. You'll see I'm currently spending a lot on advertising for my new book, The Heart to Start. But, I don't get paid for my Kindle sales until 60 days after the end of the month in which sales occur. For paperback sales through Createspace, it's 30 days.
To make sure I'm advertising profitably, I'm compiling reports on these sales throughout the month anyway, so I'll include those sales in this report as they have happened.
Audiobook sales royalties are supposedly compiled at the end of each month, so if I do more reports, I'll report them as soon as I know the numbers, which I believe will be about 30 days before I actually get paid for them.
Sales of my traditionally-published book, Design for Hackers, will not be reported as they happen. I get a royalty check for D4H from Wiley each March and September, and there's no way to accurately know how much I get paid until I get that check.
Here's the report:
Income
Affiliates
Active Campaign: $782.16
Amazon: $273.46
Google Adsense: $106.74
Treehouse: $135
Total Affiliate Income: $1,297
Digital Products
Summer of Design: $40
White Hot Course: $140.51
D4H Video: $835.64
Total Digital Products Income: $1,015.15
Writing
Steemit: $2,049.31
Medium: $331.58
Total Writing Income: $2,380.89
Book Sales
The Heart to Start Kindle: $690.43
The Heart to Start Paperback: $226.04
Total Book Sales Income: $916.47
Love Your Work Podcast
Patreon: $200.80
LYW T-Shirt: $28.30
LYW Podcast Total Income: $229.10
Gross Income: $6,067.71
Expenses
General
Coworking Space: $78.18
Podcast Editing/Publishing: $240
Audiobook Editing: $300
Misc. Outsourcing (FancyHands, Fiverr, etc.): $35.99
LYW T-Shirt Production: $21.96
Total General Expenses: $676.13
Advertising
Facebook Ads: $6.42
Amazon AMS Ads: $531.35
Bookbub Ads: $83.08
Total Advertising Expenses: $620.85
Hosting
Genius Link: $10
WP Engine (1 year of hosting): $990
Namecheap: $10.87
Evernote: $34.99
Meet Edgar: $49
Total Hosting Expenses: $1,094.86
Total Expenses: $2,391.84
Net Profit: $3,675.87
Thinking of writing a book?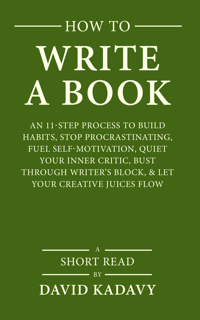 Download your FREE copy of How to Write a Book »
(for a limited time)