Subscribe to blog updates via email »
Hugh Forrest came out to introduce Frank Warren
"There are many interpretations about what happened on this stage yesterday, but it's reflective of how new media is changing every process that we are used to."
2:08pm Sia's "Breathe Me" is playing over a montage of postsecret postcards (above). A brilliant quote flashed across the screen from Frank: "there are two kinds of secrets: those we keep from others, and those that we keep from ourselves."
2:11pm He's talking about some of the variety of secrets that he's gotten: one on a Rubik's cube that was mixed up with a secret on each side. One secret: "I passed her at the store the other day. I almost had his child. I wanted to tell her."
Some of the ones that he just got from conferencegoers. "These web celebrities have never worked with clients."
"My company sent me to SXSW, but I came here to find another job."
"My company sent me here to steal ideas from startups. I'm pretending to be a freelancer."
2:20pm He's started talking about how he started Post Secret. He said it started with an exhibit. He handed out cards in DC, saying "you've been invited to participate in a community art project. Send your secrets to this address." But, after the exhibit was over, he continued to get post cards.
He told a story of a music video that wanted to use post secret post cards in exchange for $1000. He refused and instead granted them the permission if they would donate $2000 to a suicide prevention hotline. He played the video "Dirty Little Secrets," by the All-American Rejects.
2:30pm He's showing some post cards. "I like to watch Dr. Phil, Drunk." "I'm still thinking of you. (image of a penis on a BBQ)"
He's talking about the most gratifying moment he's had in his time during Post Secret. He saved a national suicide prevention hotline by posting on post secret and getting readers to donate $30k.
A postcard: "I tell myself that one day, after our spouses die and we're like 80, we'll be reunited"
He's talking about the barcode sticker that is on some post cards. Some readers want him to remove them, but he likes how they give a sense of the journey that the secrets take to his mailbox.
He's reading from one of his books about someone who posted a secret inside of a bathroom stall. She came back later in the day and saw at least 10 other secrets posted there, all on pink post-it notes.
2:40pm He tells a story about how his father, for the longest time, couldn't understand why people would send in post cards. He ended up flying his father to see one of his exhibits. On the way home in the car, his father ended up telling him a secret from his childhood.
A proposal!
Some guy just got on stage to tell a secret, and said "Natalie Thai (sp?), will you marry me?" There was a long pause, and a girl came all the way from the back of the ballroom, and walked slowly up to the stage. He said "hurry, I'm shaking up here. There's alot of people." She came up on stage and simply said "Yes."
From the audience
"When I was in fifth grade, I thought I was retarded and that my parents were paying everyone to pretend that I wasn't"
A questioner brought up a point that we are perhaps experiencing an authenticity revolution, and Post Secret is evidence of that.
A questioner asked what he would do if he received a secret admitting to a really serious crime. Frank says that he doesn't get many like that, but on the back of one of his books there is one that says "he's been in jail for 10 years for something I did, and he has 5 more to go."
A questioner asked about how many secrets he thinks are actually true. He's essentially saying that a piece of art can be good whether it is true or not – Fiction vs. Non-Fiction books as an example. He's also saying that there's a little bit of truth in any secret.
Another questioner is bringing up the issue of truth again. He's reading a post card "the secret I sent you last week was true, and now it's not."
2:58pm A girl is up there at the microphone crying, she says she has a secret. Her sister is sick and she is worried she might die. She would like for people to leave comments for her sister at her (her sister's) blog. Dang, I missed what the address of the blog was.
The girl came up on stage to give Frank a hug. The End.
Thinking of writing a book?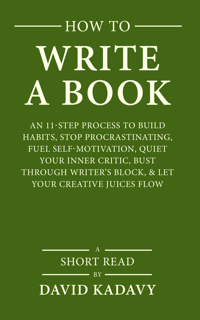 Download your FREE copy of How to Write a Book »
(for a limited time)