Subscribe to blog updates via email »
October's revenues were $6,690.83, down from September's $7,400.23. Profits were $2,057.92, down from September's $5,189.48.

Kicked out of Colombia again
As I write this, I'm waiting for my ride to the airport. This is the third emergency trip I've taken out of Colombia in the past three weeks. But this time, I can't return until 2019. My second attempt at applying for an investor visa was rejected. Apparently this is extraordinarily rare. Heartbroken doesn't even begin to describe how I feel about this.
If you are interested in hearing the whole story, listen to whirlwind of events leading up to my application, and my statement after being rejected – both "notes" are also available in your favorite podcasts app.
I'll be gone for seven weeks, sleeping on friend's airbeds in Chicago, (come to my last-minute meetup on November 19th) followed by my parent's house in Phoenix. I'm looking forward to both trips – I just wish they weren't so long, and unplanned.
After I re-enter the country again in 2019, I'll have six months of tourist stamps to get me by. I should be eligible to apply for a visa again in mid-May, and I'd better get it right this time, or I'll have to leave for the rest of the year. Finding this "home" has been a several-year-long process, and it's incredibly painful to be forced to leave time and time again.
I don't plan to try for an investor visa again. In fact, I'll be trying to re-coup my investment. I'll see what other options I have.
10 years of Kadavy, Inc.
October 31, 2018 was the ten-year anniversary of Kadavy, Inc. After a year of free-form experimentation, I moved from Silicon Valley to Chicago's Ukrainian Village, to share space with some design entrepreneurs.
I learned a lot during that period of time, including why it was important to formalize my experimentation into a company, Kadavy, Inc. I wasn't thinking much of it at the time, and founding it on Halloween day was a coincidence. It also happened to be the creation date of Bitcoin, which of course also turned ten.
This photo was taken by friend and then officemate, Ryan Halvorsen. I still remember what project I was brainstorming when this picture was taken. It never became anything. Few things every became anything, but it has all slowly added up to something.
Looking back at this picture, I can remember vividly the strong conviction I felt in my body to do things that didn't make much sense to others. I envisioned following my curiosity, seeing what stuck, then doubling down on what worked. My vision has become reality in many ways, though it's taking much longer than expected.
Book sales declined, ad spend rose
Book sales have simmered down a bit, now a couple of months after the Seth Godin endorsement of HTS. Still, more than $2,800 in self-published book sales is great. AMS spending continues to take up much of those revenues. I earned a 30% ROI on ad spend in October.
Last month, I thought aloud that maybe I was hitting the sweet spot on ad spend. This month I spent a little more on ads, and ended up with less net profit.
I've been a little more aggressive with ads, experimenting with making more Product Display ads on AMS. I continue to experiment with following simple "rules" on when to kill ads, keep them going, or even duplicate them.
Part of that ad expense is $80 that I spent to start using Prestozon again. Prestozon gives you a lot of under-the-hood information about the performance of keywords that you can't get through AMS for authors. For example, you can see exactly which keywords through which people bought your books. AMS keywords are "broad" by default, so bidding on a keyword such as "the war of art" can result in paying for clicks for a similar keyphrase, such as "the art of war."
I'm using Prestozon to experiment with a technique described on the Prestozon blog. It involves three campaigns: An Automatic campaign, a "Research" campaign, and finally a "Performance" campaign.
The idea is to take any keywords that lead to purchases, and put them in the Research campaign, as well as in the Performance campaign – as "exact matches". You also use negative keywords to isolate your efforts, slowly discovering the exact keywords that lead to sales of your book. When you isolate those exact keywords, you can optimize your bids. It looks a little like this:
Exact keywords and negative keywords have only recently appeared in the AMS control panel, and you still can't apply negative keywords to Automatic campaigns. Prestozon allows you to apply negative keywords to Automatic campaigns, and the ability to see exactly which keywords are leading to sales.
Prestozon also recommends adjustments to bids on keywords, and even has a function for automatically managing your keywords. I'm hopeful I'll get to use that feature at some point, but for now I'm merely trying to find what techniques work manually. In addition to Automatic campaigns, I posit that a good strategy would also involve periodically mining keywords from KDP Rocket to see which ones are hits.
High expenses from WebinarJam, Tribe Conference, Write a Book Spanish edition
My first emergency trip caused me to go to Jeff Goins's Tribe Conference, near Nashville. Fortunately, I still had many points that I had earned on Amazon AMS ad spend with my Chase Ink Preferred 3x points credit card, so my flights and hotel were a fraction of the price they would have been. Still, the trip cost $720. It was a fortuitous emergency trip, as I finally got to meet Jeff in person, as well as Todd Henry, and others.
I used up all of my points on that trip, as well as a follow-up emergency trip to Panama. Fortunately, the 80,000 bonus points I got for signing up for the card followed soon after, as I had to book this final emergency trip of the year.
In October I also paid the yearly membership fees for both WebinarJam and EverWebinar, which amounts to nearly $700. I also paid the translator for the upcoming Spanish edition of How to Write a Book, so that was a one-off expense that distorts the expenses a little.
I pay by the year for most software and services, and I've tried to make those payments happen toward the end of the year, so I can have the extra cash to grow the business throughout the year, but I can cut profits toward the end of the year to reduce tax liability. So, there will be some big one-time expenses in November and December.
Over $1,200 booked on webinar
I held a webinar in late October, in between finishing the emergency trip to Nashville and starting the emergency trip to Panama less than 24 hours later. Thankfully I had systems in place to run the webinar without a hitch.
In last month's report, I predicted the webinar would bring in between $1k and $2k. It ended up booking $1,216. That's not a lot, but it's a webinar that I've done several times before, so most active readers have already seen it.
You can see from the month's revenues that less than $400 of that came in the month of October. The special I was promoting ended in the first few days of November. Additionally, some customers chose the monthly payment option, so some of that revenue will trickle in over the next six months.
"Cómo Escribir Un Libro" ready to go
The Spanish edition of How to Write a Book – Cómo Escribir Un Libro – is currently on sale on Amazon. But, I still haven't really "launched" the book. I've been too busy getting my butt kicked out of Latin America to make an initial push on this book for Latin America (and Spain).
I hope to run a pricing promotion soon and let my audience know about it, once things settle down a little.
Humble Bundle revenue came through
The $753.34 payment came through for the partner portion of the Humble Bundle deal in which D4H was featured in September.
More podcast sponsorship outstanding
September had inflated podcast revenue because sponsors who had run ads as June finally paid. My accountant noticed another unpaid invoice, also for ads run in June. I reached out to the agency liable, and they should be processing that soon at $319. I'm hopeful that will show up in November's report.
Income
Book Sales
Digital Products
Affiliates / Advertising
Love Your Work Podcast
| | |
| --- | --- |
| Patreon | $361.06 |
| Sponsors | $280.00 |
| Total LYW Podcast | $641.06 |
Writing
| | |
| --- | --- |
| Medium | $37.07 |
| Total Writing | $37.07 |
Expenses
General
| | |
| --- | --- |
| Accounting | $190.00 |
| Coworking Space | $144.75 |
| Outside Contractors | $401.75 |
| Podcast Editing / Publishing | $240.00 |
| Tribe Conference | $720.95 |
| Software | $9.53 |
| Total General | $1,706.98 |
Advertising
| | |
| --- | --- |
| Amazon AMS | $2,048.92 |
| BookBub | $3.82 |
| Facebook | $23.73 |
| Prestozon | $80.00 |
| Total Advertising | $2,156.47 |
Hosting
Thinking of writing a book?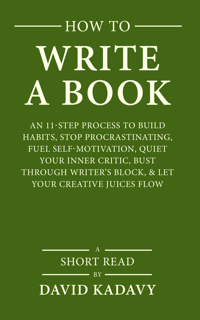 Download your FREE copy of How to Write a Book »
(for a limited time)