Subscribe to blog updates via email »
If you're going to get an edge, you have to be aware that the prevailing wisdom is almost always wrong. You have to know when to go against that wisdom.
One place I'm glad that I went against the prevailing wisdom is in my decision to not buy a house – especially when I was in my early twenties. The prevailing wisdom was that a house was "the best investment you can make." Instead, I decided to invest in myself.
This post is from more than ten years ago, and it's talking about decisions I made fifteen years ago, which makes this a fun episode for two reasons.
One, I wish I would have had more confidence in my point of view earlier on. I was definitely onto something. I'm always struggling to trust my instincts, and this is a good reminder that my instincts have been right at least one time in the past.
Two, I'm reading this as it was written ten years ago. Notice that my writing style has gotten much better – my writing was definitely not as audio-friendly, but I'll be reading it as it was written. I wasn't a good "prompt talker" as I call it. Lots more ten-cent words in this one.
Image: The Open Window, Juan Gris
New Weekly Newsletter: Love Mondays
Start off each week with a dose of inspiration to help you make it as a creative. Sign up at: kadavy.net/mondays
Join the Patreon for (new) bonus content!
I've been adding lots of new content to Patreon. Join the Patreon »
Subscribe to Love Your Work






Listen to the Podcast
Theme music: Dorena "At Sea", from the album About Everything And More. By Arrangement with Deep Elm Records. Listen on Spotify »
Thinking of writing a book?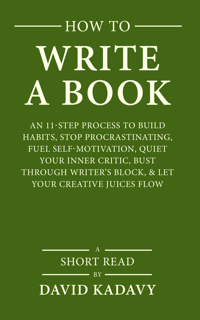 Download your FREE copy of How to Write a Book »
(for a limited time)