Subscribe to blog updates via email »
You've heard the famous quote: "If you love somebody, let them go, for if they return, they were always yours. If they don't, they never were."
Similarly, when I was a kid, naturally I would often decide I really wanted a certain toy. My mother would usually tell me that if I still wanted that toy in a few weeks, "maybe" I would get it.
This was clever, because I would usually forget about it. But sometimes, my desire would persist. Sometimes, I would maybe get the toy.
This advice is useful not only in love and toys, but also in ideas.
If you love an idea, set it free. If it comes back, you're onto something.
What's fueling your idea?
Excitement for an idea can be very powerful. It gives you the momentum to pursue that idea. But sometimes – eventually – the pursuit of that idea is no longer fueled by your love for that idea. It's fueled by all of the things that have been put in place in order to pursue that idea.
Investors, employees, leases for office space, and TechCrunch articles can have dangerously seductive qualities. They can make you feel powerful, give you the sense that your idea has merit, and that you're spending your precious moments in a worthwhile pursuit.
But these things carve grooves that only get deeper. They can create false forces that guide your actions.
You thought you were your own boss, but now you're a marionette.
This can go on for much longer than the life of that idea. Not only are you in deep, but now other people are as well. They're spending their precious moments in pursuit of your idea. The marriage persists, but the love is gone.
If you love your idea, let it go
The next time you get really excited about an idea, whether it's the healthcare portal that is going to revolutionize the industry, or that from now on you're going to drink 8 glasses of water a day, do yourself a favor: pursue it just a little bit.
Try it on for awhile. Daydream about it with a Moleskine and a glass of wine.
Then let it go. If it comes back to you, you may be onto something.
---
Ideas take time to grow. You do, too.
About 5 years ago, I decided to do a little talk to teach developers about design. It was called "Design for the Coder's Mind."
So many things weren't quite right about it: the name I chose didn't have punch, I was just okay at expressing my ideas, and my presentation skills were also just okay. Most importantly, not many developers were interested in learning about design.
It should have been harder to let go of that idea. I had loved design as long as I could remember.
I might have decided to continue working on that idea. To plow through the things I wasn't so good at, and to persevere through the lack of market interest.
But I was still thirsty to try other things. So I did the presentation, and let the idea go.
Two years passed before I gave that idea more thought. Lots of things happened not only to bring the idea back to me, but to improve my chances of pursuing that idea successfully. I wrote about other things on my blog and got better at writing and expressing my thoughts; and I messed around in improv and sketch writing classes at Second City, which improved my presentation skills. I freelanced just enough to support myself while I built passive revenue streams.
I was pursuing lots of other ideas: I had a roommate-meeting service, I built a food photo-sharing app with some friends, and I started making YouTube videos. I was learning how to better articulate myself, how to create things that were appealing, and how to navigate my own curiosity.
While I was doing these other things, though, my idea was maturing. More people started sharing my presentation, and more people were asking me about learning design.
---
When love is strong, it's easy
One day, the idea came back to me in full force, and I was ready. The name didn't have enough punch: "Design for Hackers" it would be. The concepts needed that special something: a compelling topic to open the mind to deeper ideas.
I wrote one blog post and had a book deal.
When the idea came back to me, I was ready. Ready for the writing, the marketing, the speaking.
When I was asked to drop everything to write a book, there wasn't much to drop. I was free to pursue it, and the idea had persisted enough that I felt as if I had no choice but to do so.
Most importantly, the idea was now ready. People wanted this and there was little question it would succeed. Everything fell into place.
---
I've always operated this way somehow, but I've learned to trust it. Heck, this blog post sat in draft form for months until I woke up this morning – the concepts suddenly clear in my head – and finished it.
But it will work for you, too. The mind can't be open to making creative connections when it's too focused on producing a result. Like Archimedes's famous bath, you need to wait for your Eureka moment.
If you love your idea, let it go.
If you love your idea, let it go http://t.co/LzV8U22w3j

— ? David Kadavy (@kadavy) June 13, 2013
Thinking of writing a book?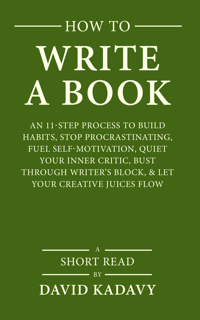 Download your FREE copy of How to Write a Book »
(for a limited time)