Subscribe to blog updates via email »
The possessions that by far take up the most space in my self-proclaimed lifestyle of minimalism are my books and my records. Until now, I just had a crappy WAL-MART (yes, I went shopping there, but only once, I swear) shelf for my books, and a bunch of cardboard boxes for my records. Besides looking bad, this system also wasn't very space-efficient, so, since I'm not going to convert my vinyl to CD anytime soon, I decided to search for something much less crappy.

One of the benefits of living in a major metropolitan area is the availability of an IKEA store. For years I have drooled over the elegant and affordable furniture in IKEA catalogs. I never had enough motivation to rent a UHAUL and drive from Omaha to Chicago and back just to own some IKEA furniture, as some people I knew had. So until now I had to settle for either a) wannabe modern furniture or b) midwestern traditional, pardon my English, rubbish – either way from Nebraska Furniture Mart since they pretty much monopolized furniture in Omaha.
Another great benefit of living in a major metropolitan area, especially The Bay Area, is there are more than enough people to make Craigslist useful. So once I had decided on a piece of IKEA furniture I wanted I searched Craigslist and luck had it that there was some guy in Cupertino selling his old one for half the price of new.
The shelf system I got was IKEA's Tunhem Bookcase. As I could tell from the dimensions, it had the perfect depth for records and plenty of height for all of my most prized possessions. When I went to pick it up, I was amazed at how lightweight it was, yet it had the appearance of solid wood. Assembly was easy: I put it together without any instructions within about forty minutes and didn't even make any errors that required backtracking, as usually seems to be the case when I'm assembling furniture. Once I was loading my stuff onto it, I was impressed by the flexibility of storage on the unit. The shelves can go on countless increments, and always have the appearance of being solidly tacked into the sides. After experimenting a little, I found a configuration that allows the Tunhem to be a book shelf, an entertainment center, and a record shelf all at once – with room to grow. Isn't it grand?
Thinking of writing a book?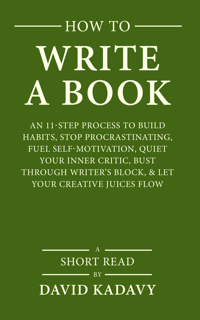 Download your FREE copy of How to Write a Book »
(for a limited time)