Subscribe to blog updates via email »
Productivity is less about time management than it is about mind management. Sometimes you can get a ton of stuff done in a 10-minute burst, while other times you may be totally distracted and unproductive all day long.
The key to really making good use of your time is to master your mental energy. If you can do the right kind of work for your current mental state, or get yourself into the right mental state to do the work you need to do, then you'll be well on your way to a more effective existence.
---
This is a topic that has fascinated me since before writing my book, and (because mind management was so important to writing that book) has continued to fascinate me. Here are my top thoughts on mind management:
Don't let a hyper-awareness of the most tangible things in front of you get in the way of making the most out of your mind.
P.S. I'm teaming up with some all-stars to make something that will help you manage your mind. Stay tuned. You'll learn about it in early 2014.
9 Great Ways to Manage Your Mind (Instead of Your Time) http://t.co/yT4OA6XGLC

— ? David Kadavy (@kadavy) November 8, 2013
Thinking of writing a book?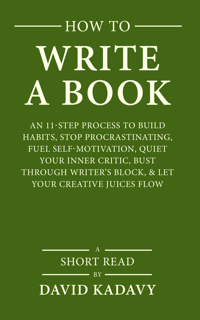 Download your FREE copy of How to Write a Book »
(for a limited time)