Subscribe to blog updates via email »
As a society we are obsessed with goals. Searching on Amazon for "goals" will bring up over 400,000 books. People are paying thousands of dollars for life coaches to help them achieve these goals. We want to get married, we want to have kids, we want to lose 20 pounds, we want to become millionaires. Imagine if we focused only on achieving these goals, regardless of the means. Our miserable marriage, resultingly screwed up kids, low blood sugar, and the stress of our high-paying job wouldn't have us very happy in the end.
Some good reasons to completely rethink goals:
Achieving goals doesn't make you happier. Achieving goals can be a bit like eating Chinese food: your hunger is sated for a half an hour, and the next thing you know, you're hungry again. Your happiness is more dependent upon how you percieve your goals than if you achieve them or not.
If you achieved it, it was probably too easy. I remember when I was in grade school, they told us to always do the "five finger" exercise when deciding whether to read a book. They told us to read a random page in the book, and count on our fingers how many words were new to us. If it was five, the book was too hard; one, the book was too easy. We could have been encouraged to read books that we could breeze through, but where would that have gotten us? It's okay to have things you'd like to achieve, but getting too bent out of shape about achieving those things encourages you to set goals that are too easy.
You can miss the forest for the trees. If you're too focused on your goals, you can often miss opportunities that are right in front of you. Imagine you're a monkey swinging through the forest; and you have your eyes set on a bunch of bananas way across the forest. You may have to swing – from branch to branch – across some pretty wide gaps to get to those bananas. But if you're mindful, you may notice some branches that are a little easier grab that may lead to other, perfectly good, sets of bananas. You may have your heart set on becoming a Partner at your current company, and meanwhile your best friend from B School is begging you to start a firm with him. Everything around you is constantly changing; and altering the priorities of you, and everyone around you. You can't decide whether to RSVP "yes," "no," or "maybe" to your friend's evite for next week's BBQ, and you think you can plan what you'll be doing in five years?
You know what's good for you better than you think. Why spend your evening working late for your boss when you really want to be writing on your blog? Sometimes our goals come from outside factors that we might not recognize. We might be clinging to a childhood dream about being an astronaut; there may be societal factors that have made us decide it's prestigious to become a lawyer. We often hold onto goals that aren't in line with our actual desires, talents, and social context. Do you think there was any kid 20 years ago who wanted to be a Web Designer when they grew up? No, and it's a good thing that some people didn't clutch onto their childhood dreams of being artists or mad scientists, because then we wouldn't have any Web Designers. Constantly asking yourself "is what I'm doing right now in line with my goals?" sounds like a great idea, but it can be destructive. If you listen to your desires, you'll probably find there's something at least as beneficial to your well-being – whether you know it or not – that you'd actually rather be doing right now. If you take time to listen to yourself and doing those things, eventually you'll find yourself being successful at something you truly enjoy, and what could make you happier than that?
So should you just forget about having any goals? Of course not. Just think twice next time you're beating yourself up for not achieving a goal. Either that goal wasn't sensitive to your personal situation and desires in the first place, or something has changed about your personal situation and desires that makes it infeasible. Focusing on goals without mindfully evaluating the ever-changing landscape that is your life and your desires is a recipe for misery. If you take the time to ask yourself what it is that you really want, relative to what opportunities lie in close reach of yourself, you may find yourself with a perfectly good bunch of bananas.
Photo by Flickr user ppdigital.
P.S. I'm teaming up with some all-stars to make something that will help you manage your mind. Stay tuned. You'll learn about it in early 2014.
Thinking of writing a book?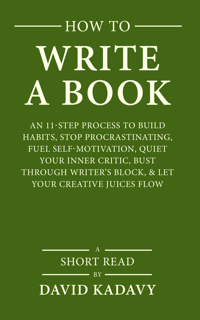 Download your FREE copy of How to Write a Book »
(for a limited time)