Subscribe to blog updates via email »
About 10 months ago, after five years with MailChimp, I switched to ActiveCampaign for my Email Service Provider for most of my emails. The whole migration took me about three months, and I researched ESPs for at least a few years before finally making the switch. Hopefully this record of my thought process comparing ActiveCampaign vs MailChimp (and Drip, ConvertKit, AWeber (check out my AWeber vs ActiveCampaign comparison), and Infusionsoft) will be helpful for others trying to decide on an email marketing platform.
(Yes, I have an affiliate relationship with ActiveCampaign, and I would appreciate – if you decide to use them – if you use the 14-day free trial I have set up with them. I also have affiliate relationships with just about every other service I mention in this post, and no, AC does not have the best rewards. Sign up with ConvertKit if you just want to be generous to me.)
A MailChimp features comparison vs. ActiveCampaign: What was wrong with MailChimp?
Email marketing is an emotional thing when it's the core of your business, so it's hard to be totally rational talking about this. I had a long relationship with MailChimp, that was full of frustration. ActiveCampaign, on the other hand, I love.
MailChimp was like a dramatic college relationship, and ActiveCampaign is like a more mature relationship, where I've learned what to expect. It's not that ActiveCampaign doesn't frustrate me sometimes, it's just that I've learned that every email marketing platform is going to have something about it that's frustrating.
So, I'll make a MailChimp feature comparison, explaining what I didn't like about MailChimp, and what I love about ActiveCampaign.
For MailChimp, those things were:
The automations are very, very simplistic. I have an email course that starts every Monday. I couldn't do this with MailChimp. I had to start my automations manually. I also couldn't remove a user from a sales sequence after they bought. On ActiveCampaign, I can do almost anything with an automation.
User management is very simplistic. There is no tagging in MailChimp. If I wanted to keep detailed data about a products someone had bought, or test groups they had been in, I would have to use their "groups" feature. I can tag with ActiveCampaign, and lead scoring is available (though I am on their Lite plan).
Segmentation is very simplistic. Want to make a segment of all users who opened this email AND that email OR clicked in this other email? Forget it. You can't mix operators when segmenting. I was told by their User Experience team that their Engineering team just says this is nearly impossible for them to implement, and that it will probably never happen.
Redundant contact counts in multiple lists. This is the most common "WTF?" complaint I hear about MailChimp. I have a list for Design for Hackers, I have a list for my book recommendations, and I have other lists. With MailChimp, if the same contact is on multiple lists, they count multiple times toward your contact limit. I was exempt from this since I bought prepaid credits from them (rather than a monthly fee), but it was still aggravating before that, and hindered my thinking once I was on a prepaid account. By the way, you can't compose a message that you can send to multiple lists at the same time.
Hard to send multiple "bonuses" If you want to send one bonus PDF to people who sign up over here, and a different one to people who sign up somewhere else, you'll have a bad time. You can either do the multiple list thing, then migrate them over manually, or you can just shoot yourself because it's impossible. And if there's a bonus someone who is already on your list wants, they'll just get an error message that they're already signed up for the list.
So-so support. I had plenty of excellent support experiences with MailChimp and their team, but towards the end, it became common for me to get copy-and-paste responses where the support representative clearly hadn't tried to understand my question. When you imagine a chimp on the other end of the email, this is more frustrating than usual.
The caveat is that some of this stuff may have changed in the past 10 months. MailChimp definitely does not rest on their laurels, and works to improve their product very rapidly. (For my needs, usually in the wrong direction.)
---
I understand why it's hard for MailChimp to meet the needs of an email marketer who wants more sophisticated automations. MailChimp was very early to the email marketing game, and has every type of customer you can imagine.
I don't know which customers they're focusing on. I'm inclined to say they're great for a bakery or an independent band that just wants to send an email blast from time-to-time, but that doesn't explain MailChimp Pro.
Given my stance on A/B testing, it should be no surprise that I think MailChimp Pro is useless – and that it even angers me to think about it. Anyone with a big enough list to get utility out of MailChimp Pro should have switched to a more sophisticated email marketing platform a long time ago. I'm left to believe that it's pure marketing hype, and it saddens me to think of the human ingenuity (and money) that will be wasted running multivariate tests on campaigns that have no hope of reaching statistical significance, and that will even mislead the people who run them.
What was good about MailChimp?
I doubt MailChimp could be as popular as they are without having some good things about them. Here are parts that are good:
MailChimp has a great email editor: They make it extremely easy to upload and edit (such as crop) images right there in their interface. This hasn't been the case with ActiveCampaign. I think AC's editor sucks, but the automation is so good I think it saves me time and energy in the long run.
MailChimp's emails are responsive: They look good across a wide variety of devices. I don't think ActiveCampaign has paid enough attention to this. I prefer my emails to look as plain as possible – and thus naturally "responsive" – so this doesn't really matter to me.
MailChimp makes testing easy: You can run tests in ActiveCampaign, but it's a little more involved. I almost never run A/B tests, so this doesn't matter to me.
MailChimp has decent out-of-the-box lead scoring: I liked the five-star rating system MailChimp had for leads. ActiveCampaign has an even more sophisticated lead-scoring system available in their Small Business plan, however.
MailChimp integrates with everything: They're so big and popular, if there is some hot new piece of software out there, MailChimp will be one of the first email marketing platforms they integrate with. I ran into this issue initially with my payment processor, SendOwl, but Zapier made it easy to work around. (SendOwl now integrates with ActiveCampaign, but I still use Zapier for more control.)
Does MailChimp have horrible deliverability?
While researching, I met many experienced email marketers who were convinced MailChimp had terrible deliverability. I didn't see anything to indicate this. My open rates and click-through rates were about the same between MailChimp and ActiveCampaign.
Is MailChimp right for me?
I think MailChimp is right for you if:
Your email marketing is simple: If you are a band or public figure who just wants to blast out an announcement from time to time. You don't care about automations, nor having multiple bonuses you can send to new sign ups.
Quick editing of well-designed emails is important to you: If it's mission critical that you be able to compose responsive emails in attractive templates, really fast, MailChimp may be a good option. They have the best email editing interface I've seen for these kinds of emails.
If you think MailChimp is the right email marketing platform for you, sign up here to use it for free for up to 2,000 contacts.
Why do I think ActiveCampaign is better than MailChimp?
I spent years investigating other email marketing platforms before I switched to ActiveCampaign. I had to find an email marketing platform that was promising enough that it would be worth the pain of switching. The moment I used ActiveCampaign, I knew I had found "the one."
The feature that stole my heart was their drag-and-drop Automation editor. I had drooled over the visual editor in Infusionsoft before, but had been warned it was too expensive and complicated for my needs (the nickname "Confusionsoft" didn't inspire confidence). I had resigned myself to the fact that I would just have to feel like my hands were tied whenever I tried to build an automation in MailChimp.
ActiveCampaign's automation editor just fits the way my brain works – it's so much better than MailChimp's! It immediately felt like slipping on a comfortable pair of pants after wearing a pair from the kids' section. You can do just about anything with it.
Here's the automation for leading up to my weekly email course.
You may have just had a braingasm like I did the first time I saw this editor, but if not, let me explain what this automation does.
The deadline to sign up for my email course each week is Friday night. If a new sign-up comes in, and it's not yet Friday, they get sent a "welcome" email. Then, when Friday comes along, they get an email reminding them that it's the last day to sign up, and that they should invite their friends and coworkers.
It's my marketing flywheel, and it was impossible to build with MailChimp.
---
Even if it had been possible, I would have had to either visualize it in my head, or draw diagrams to understand how it needed to work. Then, I'd have to translate that diagram to MailChimp's interface.
With ActiveCampaign, building automations is totally intuitive, and I can build automations based upon website activity, tags, sign-ups, time (either local time for the user, or global time), and much more.
It's worth noting that Drip – who I almost signed up with before I discovered ActiveCampaign – has since built a similar visual automation builder. I really like Drip, and I really like their founder, Rob Walling, however they would have been considerably more expensive for my list.
What else should I know about ActiveCampaign?
There are other good things about ActiveCampaign, and like every other email marketing platform, there are shortcomings.
ActiveCampaign's email editor is not very good. Their visual email editor is not nearly as easy to use as MailChimp's, and I end up using their clunky, more bare-bones editor. I have to edit images with Skitch. None of this is the end of the world, since automation makes it so much easier to build an email and forget about it.
ActiveCampaign's support and product team are excellent. ActiveCampaign uses UserVoice to manage feedback. You can submit and upvote features you'd like to see. On multiple occasions, I've upvoted something, then gotten notified a few days later that they had already implemented it.
ActiveCampaign's search queries are slow. I have over 80,000 contacts, and if I run a search on those contacts to build a segment, it is sometimes very painfully slow – sometimes a couple of minutes.

They are aware of this, and have been improving it bit by bit, but it still happens sometimes.

 This has improved considerably.
ActiveCampaign sends emails slowly. If I have an email scheduled for 9am, it's not unusual for me to not get it until 9:38am. I don't know if that's a function of sending out to 35,000 people at once, but I don't recall having that issue with MailChimp. If your emails are really time-sensitive, and going out to a large list, you may want to test a bit to see if AC is right for you.
ActiveCampaign has three plan tiers, with different features. I'm on the "Lite" plan (which you have to hunt for), and it works great for me. There's also the "Small Business" plan, which adds CRM features, lead scoring ("this person seems interested, let's call them"), and SMS marketing. You can mix these things up with automations to notify a sales rep when a lead visits a page on your site, for example. They also have an "Enterprise" plan with higher-touch services like a dedicated account rep. Of course, you can start with a free trial of ActiveCampaign, and see what works for you.
If you'd like to learn even more about ActiveCampaign, check out my ActiveCampaign review.
How did you migrate from MailChimp to ActiveCampaign?
Figuring out how to make the migration without causing a mess was a lot to process. I proceeded with these principles in mind:
Try little pieces of the new email marketing platform with small numbers of contacts.
Be sure that I understand the pros and cons as I go, to minimize surprises.
Something as critical as an email marketing platform can be really emotional for some entrepreneurs, myself included. I wanted to be sure I wasn't making assumptions, based upon emotions, about what my new ESP could and couldn't do. It would be terrible to go through making the full migration, only to find out I was wrong.
I played with multiple email marketing platforms before switching. Sometimes I'd be very excited about an email marketing platform, only to run into a deal-breaker during one of my tests.
---
I started by taking all new sign-ups that came in through SumoMe's Welcome Mat through my email course, Design Pitfalls. This way, all I had to do was copy over 5 emails, build an automation, and see how it went with the new sign-ups that came through.
The drawback to this was that if I wanted to send out an email blast to the whole list, the people on ActiveCampaign weren't getting it, unless I replicated the email. I decided to just live with that fact.
I gradually migrated other automations, and I eventually had all new sign-ups coming into ActiveCampaign.
Once I was comfortable with ActiveCampaign, and had a good feel for the compromises I was making, I finally migrated my entire list from MailChimp. The whole process took about three months.
One issue I stressed out about was unsubscribes: if someone unsubscribed on MailChimp, how could I be sure they would be unsubscribed in ActiveCampaign, too? You could spend an unlimited amount of cognitive resources worrying about this, but I tried to keep it simple. I periodically exported new unsubscribes from MailChimp, and imported them as unsubscribes into ActiveCampaign. It's possible that someone who had already unsubscribed on MailChimp at some point got an email from ActiveCampaign in the interim, but CAN-SPAM laws provide 10 business days of wiggle room on this.
Is ActiveCampaign right for me?
If you just want to send out a simple email blast every once in awhile, MailChimp is a fine choice. If you have visions of automations that keep your business running while you sleep (or work on other parts of your business), I emphatically recommend ActiveCampaign.
If you have a high-touch sales process, too, I think ActiveCampaign would be incredible. I don't know much about that kind of business, but the features in their "Small Business" tier look like they could turn a sales force into a selling machine.
If you have found my analysis helpful, sign up with my ActiveCampaign free trial coupon by clicking here (you don't even need a credit card), and see for yourself. I have an affiliate relationship with AC, and everyone else.
What other email marketing platforms did you consider?
I spent years researching before I discovered ActiveCampaign, so I definitely happened across some promising email marketing platforms. Here's some of them.
---
AWeber: When I first started my email list back in 2010, this would have been a good choice. I don't know what stage ActiveCampaign would have been at at that point, but AWeber is a giant that integrates with everyone. My impression is they make it much easier to have multiple sign-up bonuses for your list, and that I would have been happier with them than with MailChimp. But, I quite foolishly didn't want to pay at all, and MailChimp had a free plan up to 2,000 emails.
I have a friend who switched from AWeber to ActiveCampaign, and told me it was "literally the best thing I had ever done for [him]" recommending ActiveCampaign. AWeber still looks good to me, but apparently its quirks are still numerous. If you want my detailed analysis, check out my AWeber vs ActiveCampaign comparison.
---
Drip: I was just about to switch to Drip, and was even playing with a trial account, when I discovered ActiveCampaign. Drip makes it very easy to build and manage email courses. At the time, they didn't have a visual drag-and-drop interface, but now they do. They would, however, cost me about 50% more than ActiveCampaign.
Drip is started by Rob Walling, who runs MicroConf, and is a serial Software-As-A-Service entrepreneur. I think it's no mistake then that Drip feels like it caters itself to a SAAS business, with lots of emphasis on goal tracking.
---
ConvertKit: If you are an author or information marketer who wants to quickly and easily host lead magnets, with pre-designed landing pages, and quickly and easily put together email courses, ConvertKit is a great option. It would actually make sense for me to use ConvertKit given how my business works (and I've written a comparison of exactly how my email marketing would work in ConvertKit vs. ActiveCampaign), but I just love the control of ActiveCampaign – it's more up-front time investment to build lead magnets and email courses, but I can build exactly what I want. If you're curious, you can try a ConvertKit free trial.
ConvertKit is run by Nathan Barry, who is an author, and who caters to authors, so it makes sense that ConvertKit caters to authors.
---
I hope you've found my analysis helpful, as it's several years in the making. I'm happy to answer what questions I can about MailChimp, ActiveCampaign, or any other email marketing platform I might have encountered.
Thinking of writing a book?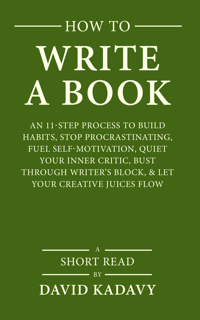 Download your FREE copy of How to Write a Book »
(for a limited time)