Subscribe to blog updates via email »
I recently advertised my book on a billboard in Times Square. It was cheaper than you think, and was up for less time than you might expect. But it's still paying dividends.

Listen to the Podcast
Times Square is a big deal (duh)
Times Square is the epitome of mainstream success. The biggest brands have locations there, and any big brand you can name advertises there. 350,000 people walk through Times Square on a typical day.
It's also one of the most-photographed places on Earth, with many of those photos and videos being shared on television shows such as Good Morning America, and on TikTok or Instagram.
A lowly self-published book advertised next to the biggest brands
When my friend, Robbie Abed, told me you can advertise in Times Square for cheap, I knew I had to run an ad for Mind Management, Not Time Management. A book about a new approach to time management, in a city obsessed with time management, in a place with "time" right in the name? It was a match made in heaven!
The very thought of my lowly self-published book advertised on the front of Forever 21, above a Sunglass Hut, across from the Disney store, next to McDonald's, in Times Square made me laugh the maniacal laughter of an evil villain plotting to take over the world – in some Disney movie, of course.
Will a billboard sell books?
Before I explain how I advertised in Times Square for cheap, I'm sure some of you are thinking, "Will advertising on a billboard sell books?"
You're right to think that since people are walking or driving through Times Square, even if they noticed my billboard in this place that is nearly all billboards, they're not going to stop what they're doing, take out their phones, and order my book on Amazon.
The making of a pseudo-event
But that's not the point. By advertising my book in Times Square, I was creating a "pseudo-event". I talked about pseudo-events in my summary of Daniel J. Boorstin's The Image on episode 257.
A pseudo-event is a reality constructed just so it can be covered in media. By being covered in media, the constructed reality becomes reality.
Pseudo-events can be funny, or horrifying. They can be based upon truth, or lies. But our media is full of them. Most "leaks" you see, every talk-show interview, and every planned event are pseudo-events. Instagram is one pseudo-event after another. Reality is constructed for media, and media constructs our reality.
My book really was advertised in Times Square. My lowly self-published book really is a "big deal."
How much does a Times Square ad cost?
People want to know, how much does it cost to advertise your book in Times Square? Some people guess five-thousand dollars. Some guess twenty-.
I advertised my book on a Times Square billboard with Blip Billboards. Blip is a platform that lets you buy short displays of an ad on electronic billboards across the U.S. Each "blip" lasts fifteen seconds. I paid about nine cents per blip in tests I ran in Chicago, and had a blip run in Times Square for as little as twenty dollars.
"As little as" twenty dollars? I'll get into my exact costs in a bit. But first, was my pseudo-event worth it? Here are some of my wins from this fifteen-second ad so far.
Win #1: A retweet from Tim Ferriss
My first big win from my Times Square billboard was a retweet from Tim Ferriss.
Tim Ferriss asks his podcast guests what message they would advertise to the world. I've always thought if I were asked that question, my answer would be the title of my book, Mind Management, Not Time Management.
So, I made sure one of my billboards was as plain as possible. It just said, "Mind Management, Not Time Management."
Then, I shared a video of the billboard on Twitter, making sure to tag Tim (whom I've never met nor talked to).
.@tferriss asks podcast guests what message they would put on a giant billboard.

I put my message in Times Square. pic.twitter.com/Cebd1TO3Vu

— ? David Kadavy (@kadavy) April 6, 2022
It was a long shot, but it worked. Tim retweeted it.
Tim has 1.8 million followers. I did see a decent spike in sales. Hard to know if this was the cause, but I didn't have competing promotions.
Win #2: Speaking for the New York Public Library
My second win was speaking for the New York Public Library.
When I emailed my readers to let them know my book was advertised in Times Square, it turned out one reader organizes events for the New York Public Library. This reader was excited to hear about my book being advertised in Times Square, and this prompted them to invite me to speak over Zoom to the library's audience.
They promoted the event to their email list of one million subscribers, and the day before the event, my new friend there informed me that:
The video of my speaking event is now listed on the library's CEO series page, along with talks by Marie Forleo, Seth Godin, and A.J. Jacobs. I also got a couple links to my website from nypl.org, high-authority links which boost my site in search rankings.
Win #3: Advertising that paid for itself
My third win is that some of my advertising paid for itself. And I don't mean through book sales.
If you sign up for Blip, you'll get $25 free advertising credit. Some people have already used that link, and apparently spent enough for me to also earn a couple $50 credits, which reduced the price of my ads!
Win #4: ?
My Times Square ad came and went in a flash, but it continues to pay dividends I can't predict. For example, in May I was telling someone at a conference in Phoenix about advertising in Times Square, and it turned out they had already seen one of my posts about it.
There's no telling who is reading this article, and what effect it will have on them. Like I talked about on episode 280, hidden complexity makes simple actions very powerful. Fun pseudo-events like this breed positive Black Swans.
A pseudo-event lasts a moment, but lives on forever. A Times Square ad lasts a moment, but the photo, video, and story lasts forever.
What did this cost?
I advertised on a Times Square billboard for as little as $20, but what did this all cost in the end? Here's the breakdown:
This was a really fun campaign, and though the ROI isn't as clear as the Amazon ads I talk about in my income reports, I think it's safe to say it has been paying off, and still is.
Join the Patreon for (new) bonus content!
I've been adding lots of new content to Patreon. Join the Patreon »
Subscribe to Love Your Work






Listen to the Podcast
Theme music: Dorena "At Sea", from the album About Everything And More. By Arrangement with Deep Elm Records. Listen on Spotify »
Thinking of writing a book?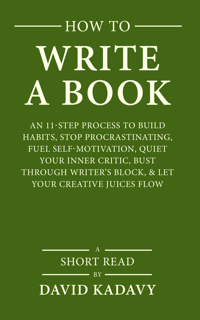 Download your FREE copy of How to Write a Book »
(for a limited time)