Subscribe to blog updates via email »
December's revenues were $6,187.11, up from November's $5,155.55. Profits were -$773.45, down from November's $2,854.07.
As I warned in November's report, December was a very low-profit month. And I did, in fact, lose money. This is primarily because I try to pay yearly memberships for as many services as possible in December.
Big year-end expenses
It's a common technique in business to try to load your expenses toward the end of the year. If you pay $1,000 for a service at the end of the year, that essentially means that you had that $1,000 to work with and try to grow your business throughout the year. It's not literally true, but it's somewhat true.
So, in December I paid for an entire year of ActiveCampaign, Dropbox, Zapier, Quickbooks Online, and Hootsuite. (Unfortunately I'll be paying for a year of WP Engine in January, rather than December. I forgot to ask them to manually bill me in December, since they can't change my billing date.)
Cleaning house
In addition to intentionally having the end of my year loaded with expenses, the end of the year is also a great time to come up for air and clean house in the business – which typically means spending some money you wouldn't normally spend while on autopilot.
Since I spent much of December living with my parents in the Phoenix area – thanks to some of the visa drama described in places such as the November income report – it was an even better opportunity to tie up loose ends and straighten things out. It turns out it's very difficult to maintain your habits and routines and be productive in the same way when you're living with two 70-year-old retirees, especially when you're already in a distraught mental and emotional state.
Something about that disruption made it easier to do the piecemeal work that comes along with tying up loose ends. Your attention is fragmented in these situations, so while it's hard to focus, you're in a state that's conducive to attending to one random thing after another.
So, after fretting over the decision, I replaced my Apple Trackpad, which had been cracked for three years. My forearm is currently thanking me. The new one is much less of a strain to use.
Got it. Sometimes you just want something and aren't sure why. pic.twitter.com/uEXZMOrDSj

— ? David Kadavy (@kadavy) December 15, 2018
I also bought a new microphone. I hope to use it for crisper audio in videos, and I think I can also use it for in-person podcast interviews. It's cheap, but it's a test of the "boom" form factor.
Software updates galore
I updated my Mac from El Capitan to Mojave, and was subsequently forced to pay for software upgrades of 1 Password and Scrivener to keep them functioning.
I had put off updating my OS because I didn't want to break my Adobe CS5. I use Adobe software infrequently, and if I end up having to upgrade to Creative Cloud, then I'd have to pay about $50 a month. So, I've been searching for alternatives.
Fortunately, I found that I could get Adobe CS5 to work with Mojave. However, I know that some day my Adobe CS5 will stop working. It already doesn't have retina display compatibility, so I need to find an alternative.
Electronic device ownership is becoming as much of a time suck as owning a car or having a lawn.

Change the oil/rotate the tires/mow the lawn is being replaced with update the software/troubleshoot the bug/pay for the upgrade for the thing that worked just fine until now.

— ? David Kadavy (@kadavy) December 22, 2018
After polling on Twitter, I settled on Affinity Designer and Affinity Photo. I like them a lot so far. The one strange limitation being that there's no export preview for Affinity Photo, an issue that has been present for years and years, and which makes compressing images a little more cumbersome. It also seems you get lower-quality JPEGs for a higher file size. I'll be looking for a solution to that, as you pay a delivery fee to deliver Kindle books, based upon their file size.
I will also need to eventually come up with an alternative to using InDesign for page layout on my paperback books. Affinity now has a Publisher app in beta, however I haven't had a chance to use it. Vellum seems like a viable alternative, but I'm skeptical I can get the typographic control that I would want.
I also freed up space on my almost-full terabyte hard drive and followed the advice from my recent digital security podcast to button up my security.
Don't know what to do with those print-outs of backup two-factor authentication codes? Store them in one of these "pill case" keychains. https://t.co/TcxloP1e88 pic.twitter.com/KprGTV5ZTi

— ? David Kadavy (@kadavy) December 14, 2018
And I did some experimenting with finding a notebook/pen combination with a pocket form factor. I found a winner: the Zebra SL-F1 pen with the Moleskine Volant notebook. Many people swear by the 3.5″ x 5.5″ size, such as Field Notes, but I found that to be way too big. I don't need to write much prose in these – it's more of an inbox of items I can later triage into various other places in my system.
My new favorite gadget. pic.twitter.com/bRfjHRkWXK

— ? David Kadavy (@kadavy) January 14, 2019
The final project was replacing the screen on my 2014 MacBook Pro – which still works beautifully. I noticed the anti-reflective coating was coming off, I discovered this was a known issue for which Apple was running a replacement program. I took it to the Apple Store to discover that I had about a week of eligibility left! (!!!) What would have been a $500 repair – that I would have simply lived without – was free. Apple Store employees even encouraged me to buy a laptop to use while mine was being repaired, and to return it when I got my laptop back. The repair took about three days.
Trying Overcast advertising again
In addition to end-of-year membership expenses, if there were any other expenses I was considering, December was the time to incur them.
I dabbled in Overcast advertising a couple of years ago, and found it the most reliable way to gain listeners for the podcast. Now that I more consistently fill my advertising inventory, thanks to partnering with an agency, and now that I also have a small amount of profit from Patreon supporters, I figured I'd give it another shot.
I ran some numbers and figured that if I could acquire subscribers at the same rate as I did before, I could turn a profit on the ad within 2019.
However, it seems performance of Overcast ads has dropped, at least for me. In 2017, I earned 474 subscribers for $299. So I paid 63¢ per subscriber. In late December, I paid $400 for an ad. The ad has three days left, and has earned only 125 subscribers. There's still time for more subscribers to come in, but it's not even close. So far, I'm paying $3.20 per subscriber. Still better than what Overcast projects, which is to earn only 75–95 subscribers.
On the bright side, my ad was on the cheaper side of current rates. Just days before I bought my ad, ads in the Business category were around $700. Currently, they're $600. I paid only $400.
It's hard to imagine how any podcast makes it worth the money to spend $8 per subscriber. There's a bubble in trying to grow podcasts.
From 2018 to 2019
Now I'm back in Colombia – with six months of tourist-stamp eligibility – and I have things much cleaner and more organized than I did a month ago. I've been spending the first couple weeks of 2019 reflecting on the past year and trying to get the New Year on a focused start.
I'm not big on setting out concrete goals a year in advance. Things change so much, it seems bonkers to do so. This is especially true considering I can't guarantee that I won't need to find a new home six months from now. Still, I do like to spend time thinking at a high level and setting out a road map.
2018: Plans vs. reality
In 2018, I earned $68,623.95 of income, with $31,985.02 in expenses, for $36,638.93 in profit. Ouch. That's a lean year – and it was even leaner with the unexpected expenses of emergency travel. I did manage to keep my head above water, thanks to living in Colombia. I do hope to do better in 2019.
Here's the breakdown of that income:
Book Sales: $26,508.75
Affiliates: $17,042.64
Digital Products: $12,371.34
Writing: $4,218.70
LYW Podcast: $8,168.92
I think that's a pretty diverse mix of income streams, which I think is good. Here's how those played out throughout the year.
You can see that passive affiliate income is a steady source of financial padding. And the podcast is reliable income, too – however the expenses are high for that. The podcast brought in more than $8k, but monthly expenses are at least $280, so that would be a little shy of $5,000 profit. Book income rose throughout the year, just as I would have hoped. But with more than $18,000 in ad spend over the year, books brought in just over $6,000 in profit.
---
For 2018, I planned to write books, and feed other elements into the writing of those books. For example, to test out ideas on social media, and to be strategic about podcast guests that would feed into ideas I was thinking about.
I did in fact release two short books in 2018. Not as much book publishing as I would have hoped.
I also aimed to do some content marketing. I wanted to write content that would bring new email list members through search. I also wanted to create videos and have lead magnets. I do have a lead magnet that has been bringing in new list members. I didn't do any SEO-focused content marketing at all, relevant to books such as The Heart to Start.
I also wanted to engage more with readers, for the sake of product development, through Q&A's small group coaching, and even developing new courses. I didn't do small group coaching, nor did I develop new courses. I simply don't gravitate toward those activities.
In the first quarter of 2018, I brainstormed a few different ways the year might play out. The one that I came the closest to following involved creating some email marketing affiliate content, building systems to run webinars more efficiently, and ending out the year focusing on book marketing.
Not as much email marketing content as I planned
Once again, there are other things on that scenario that didn't happen – such as partnering with affiliates on my webinars, and launching a new full-length book. But I did create a nice Aweber review blog post and video. The plan was to use it as a template to create more content about email marketing platforms, and thus bring in more passive revenue.
After all of the work I put into that video, I didn't have much steam leftover to produce others. It hasn't helped my motivation that I haven't earned any affiliate income from Aweber, and while the video is well-received on YouTube, it's not getting many views. However, I know organic traffic takes time.
I do still want to produce a similar blog post and video as an ActiveCampaign review. They are in fact my favorite email marketing platform and I'm already bringing in about $1,000 a month from my referrals. Many of those are probably driven from my ActiveCampaign vs. Mailchimp comparison, my ConvertKit vs ActiveCampaign comparison, or my ActiveCampaign free trial page. Promoting their service is a good way to build up a passive revenue padding and free me up to be creative.
New webinar systems saved the day
I did also formalize my webinar systems, which I'm quite proud of. I have checklists I can follow and email automation sequences I can quickly modify to set up a webinar. A killer ActiveCampaign feature for this is their message variables, which I use in my automations. I can change a few variables, such as time, date, landing page, and countdown timer, and be ready to promote a new webinar. Once I have a webinar scheduled, I can run the webinar easily with a setup checklist and a script I can follow.
All of this became a lifesaver when, in October, I returned to Colombia only to discover that I needed to leave again within 24 hours. I had a webinar the following afternoon. Thanks to my systems, I was able to conduct that webinar without a problem, then head to the airport immediately after.
2018: Unplanned planning
While there were many things in my 2018 roadmap that didn't happen, there were things I didn't plan that did happen. The best unplanned thing that I did in 2018 was to formalize my creative productivity system, including formalizing my podcast production.
I broke down podcast production into a repeatable system, and I also started organizing my tasks by mental state, a method that was covered by Lifehacker this month. I hope to expand on that system in my next book.
---
I'm tempted to blame the things I didn't accomplish on the chaos that was going on in my life, but it's ultimately an excuse. However, it's those unexpected things that jostle out ideas and bring about opportunities that you might not otherwise be able to follow.
I still have yet to know exactly what great things will come as a result of the chaos. I did write a first draft of a short memoir documenting most of what happened. It was cathartic and therapeutic for me, and maybe I'll even publish it. Let me know if you'd be interested in reading it.
My overarching accomplishment for 2018 was systems. And those systems saved my butt. I still released the podcast every Thursday, which I'm proud of.
By the way, I think I'll take December off the podcast in 2019. Listenership is low in that month, so nobody wants to advertise. That low listenership isn't very fair to the guests either. Given that I tend to want to work less and to reflect on the year in December, that makes it an even better reason to take the month off the podcast. One option is to re-run some good episodes from the archive.
Writing income reports was a good choice in 2018
Another highlight of 2018 was these income reports. My first income report was January 2018, and I wasn't sure if I would continue doing them. At times I've felt embarrassed about my poor financial performance, but writing these reports is so far worth it. It forces me to do focused thinking about my business with more rigor than I would bother to otherwise. I often have great realizations come to me as I write these reports.
I still don't know that I'll always do these reports. I continue to ask myself what I get out of them. They do take a lot of work and time to write, and I can't say that they've been an incredible marketing win.
Like Lincoln (is mistakenly believed to have) said "Give me six hours to chop down a tree and I will spend the first four sharpening the axe." Reflecting upon your activities is a form of axe sharpening. It takes time, but I find you can then move forward with more confidence and efficiency. This reflecting activity pays compound interest as the thinking that was once slow starts to happen quickly, making way for even more sophisticated decision making.
However, writing these reports takes up a lot of time and effort. It's possible that the improvements in my thinking will reach a point of diminishing returns, and I'll no longer be able to justify putting them together every month. I need to be open to the idea of quitting.
2019: More systems, more books
One thing that worked well in 2018 that I'd like to carry over into 2019 is the idea of systems. My most valuable lesson from running my podcast has been the power of producing content on a repeatable and set schedule. The old me would bristle at the idea, pleading that you shouldn't create unless you're inspired. The new me sees the creative energy that's freed up by having a set process to follow. It helps that I've also solidified how best to harness and optimize that creative energy as a resource.
I'm trying to take that lesson of having a repeatable system and extend it to other repeatable content creation. One thing I haven't focused on as much as I think I should is my email list. Yes, I have one lead magnet I promote very often, but I don't have much for content after that. So, I'm working on a set content creation schedule for my email list.
In my notes for 2018, I wanted elements of my business to feed into the writing of books. I have done that to some extent, and I want to keep making that a more efficient system.
Toward more synergistic genius
I have long envisioned a system through which my consumption of information, and my digestion of that information, feed into the creation of books. Right now, I read books, have podcast conversations, write articles, tweet, and all of that feeds into writing books.
There are synergies between these elements: Reading books helps me discover podcast guests, my highlights from those books feed into ideas for articles, and I've started more regularly sharing my favorite highlights on Twitter. "Synergy" in creation
Now I'm seeing ways to make those synergies even tighter. One loose end is my reading email list, which was inspired by Ryan Holiday's reading email list. I wrote several emails in which I reviewed books I was reading. But I haven't stuck with it. It was a very worthy experiment, but it ultimately doesn't fit the way that I work.
So I'm working on phasing out the reading email list, and integrating my reading and learnings in a different way. The basic idea is to share highlights and thoughts on Twitter. Then I see what resonates with people. Then I share some of the winners (or things that I still find interesting, even if they aren't popular) on my email list in a weekly email. I've already sent out several, and eventually I'll refine my process until I have a system for creating these emails, complete with Todoist project templates that keep me on schedule, just like with podcast production.
After I have a refined process for consistently delivering email content, I may have space leftover to bring that content into other forms, such as video or Instagram posts. However, I think it's a higher priority to have more reliable ways to monetize any attention that content receives.
HTS part of a trilogy?
In a perfect world, I'd be able to do the following in 2019: A companion workbook or journal for HTS, and two more books to follow up HTS, to create a complete trilogy. The titles I have in mind for that trilogy are: The Heart to Start, The Habit of Genius, and The Fuel to Finish. The Habit of Genius would be about my creative productivity system (essentially a retitling of the idea that was the seed to all of these, Getting Art Done), and The Fuel to Finish would be my own personal handbook for getting myself to finish stuff, which is a struggle as a Myers-Briggs "P." Ideally, I would right HOG before FTF, but maybe I need to write FTF to help myself finish HOG!
If I have a more complete catalog of books, then it becomes easier to justify expanding my content into more videos.
But, I know myself too well to expect to get all of that done in 2019. There are still other whacky projects I'd like to finish, and I really am missing out by not having an ActiveCampaign review video and blog post.
BookBub Australia and Canada deal
On the third attempt, The Heart to Start was accepted for a BookBub featured deal! However, only for Canada and Australia. I paid $318 to have the book sent to an estimated 140,000 Advice & How To readers in these countries.
The promotion lost money, as I have outlined in the one-year income report of The Heart to Start, but I still think HTS would do very well as a U.S. deal. HTS recently received its third rejection for a U.S. deal (I also applied one other time, only to find HTS was ineligible due to pricing issues). I plan to apply again every month. With 180+ Amazon reviews, a 4.8-star average, and positive editorial and author reviews, I still feel it has a good chance of being accepted, if only eventually.
The Heart to Start one-year income report
The Heart to Start has been out for a year now! I've sold 11,000 copies (3,000 free), and made $19,000 in royalties. Yet I only brought in a little more than $3,000 profit. I'm thrilled to have sold that many books, but I'm disappointed in the profit. However, I think the future is bright. Learn all about it in my one-year income report.
I'm getting some good feedback in response to my report. I'm currently running some experiments to consider changing the subtitle and cover of HTS.
San Francisco trip coming up
I'm taking a trip to San Francisco in February, to appear on a big podcast, and to conduct some interviews myself. I'm planning a meetup, which I'm hoping will be a small meetup of only superfans. If you're subscribed to my GAD email list or my Love Your Work email list, you'll hear about it.
Income
Book Sales
Digital Products
Affiliates / Advertising
Love Your Work Podcast
| | |
| --- | --- |
| Patreon | $338.08 |
| Sponsors | $70.00 |
| Total LYW Podcast | $408.08 |
Writing
Expenses
General
Advertising
| | |
| --- | --- |
| Amazon AMS | $2,990.85 |
| BookBub | $326.77 |
| Facebook | $30.79 |
| Overcast | $400.00 |
| Prestozon | $80.00 |
| Total Advertising | $3,828.41 |
Hosting
Thinking of writing a book?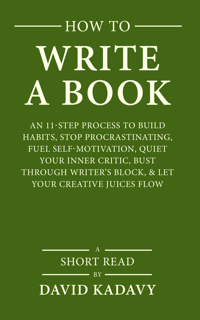 Download your FREE copy of How to Write a Book »
(for a limited time)