Subscribe to blog updates via email »
An audio version of this income report is available to Patreon backers of certain levels »
December's revenues were $10,130, up from November's $9,949. Profits were $5,008, down from November's $7,322.
Record book revenue
This is only my fourth month on record with over $10,000 in revenue, and a huge portion of that is from December's record-high book revenue. I made $9,179 in revenue from books. This breaks my previous record of $7,290 – set in August – by a pretty wide margin. Since December was not a month in which I received a Design for Hackers payment, all that revenue was from self-published books.
Record book profits
I also had record profits on books. I made $4,766 profit on books. This barely breaks my previous record of $4,755, set in June. Considering how much revenue I made, that's not a super high ROI. But with that much advertising spend cutting into my profits, it speaks to what a great month I had in book sales.
Record twelve-month book revenue
I also beat my record for book revenue over the course of twelve months. In the past year (in other words, during 2021), I made $58,039 in revenue on my books. That beats last month's record of $51,600.
Record twelve-month book profits (for the seventh month in a row!)
I don't have much of a streak for record book revenues, but I do have a good one going for book profits. My book profits over the past twelve months (in other words, during 2021) were $31,241. That's the seventh month in a row I've broken my record. This time, I broke it by a substantial margin: In November, my twelve-month book profits were $27,914.
Record average book profits
As always, when you break your twelve-month record for book profits, you also break your record for average book profits over the previous twelve months. I now average $2,603 in book profits each month. Since I keep breaking that record, the average profit keeps climbing.
Record Mind Management, Not Time Management revenue (and profit)
This streak of record-breaking has been helped primarily by the surprise success of Digital Zettelkasten, but it turns out, Mind Management, Not Time Management is doing excellent as well! I made more money than ever on MMT in December. $6,349 which blows away my previous record of $3,494, which I set in July.
When I set my previous record for MMT revenue, I actually lost more than $2,000, because that's when I had my BookBub Featured Deal. However, this month, I also had record profits for MMT. The $3,703 profit I made blows away my previous record of $2,099, which I set in August.
MMT is turning out to be a bigger hit even than The Heart to Start. My highest-profit month for HTS was just shy of $1,200, set way back in December of 2019.
Lots of physical book sales
December isn't always an amazing month – you might think so with the holidays – but this one was. I attribute this huge boost in MMT sales to the fact that it was unexpectedly shared on an Instagram account with more than a million followers. Notably, this helped me sell nearly $4,300 in physical books – though December was the first month of hardcover sales, which I'm sure also helped. I made more than $3,400 on Amazon MMT paperback sales, which is triple the previous record of $1,090, set in September. These are the kinds of positive Black Swans you hope your book will have.
By the way, this record profit for MMT has a chunk taken out of it: $800 paid in advance for some influencer marketing which hasn't yet been delivered, and so doesn't affect the December numbers. If I were to take that out, for a somewhat-accrual-based accounting method, profits were about $4,500 for MMT alone, and more than $5,500 across all books.
10,000 copies sold of Mind Management, Not Time Management!
My sales numbers for MMT got a boost in December. I sold 1,298 copies! (The record is 3,086, in July, when I had my BookBub Featured Deal.) Last month, I showed you how my sales after one year compared to my projections, and that I had sold a bit more than 9,000 books. So, this takes us over 10,000! 10,249, to be exact (well, probably approximate).
MMT is doing better than The Heart to Start
For comparison, The Heart to Start has been out four years, and has sold 24,000 copies. After thirteen months – which is how long MMT has been out – I had sold about 8,500 copies, so that does indicate that the trajectory of sales slowed down. Then again, I did give away 3,000 free copies upon launch, so that does make it look like MMT is performing better.
Then there's the profits. I spent a lot to get my first self-help book off the ground. Though I've made $78,241 on HTS, I've spent $57,938 bringing it into the world and promoting it. So it's made a little over $20,000 profit in four years.
MMT is already catching up to HTS. While I've only made $38,337 on it, I've also "only" spent $19,559. So it's already closing in on the $20,000-profit mark. Profits so far are $17,194.
I tried my best to build a "viral engine" into MMT, by carefully-choosing a memetic title, and testing passages in the book on social media before publishing. I think it may be working, as I think I see it shared on social media more often than HTS – though HTS gets its fair "share" of shares.
Accounting error on past income records
I noticed an error in the spreadsheet I've been using to calculate my twelve-month income numbers: At some point in the past few months, I started including thirteen months in my formula, instead of twelve. Oops!
Last month, I told you I had made about $60,000 in profit over the previous twelve months, and it turns out that was wrong! I've only made $55,910. That's still a record, and that's still a streak of seven months of record income, but my numbers got off at some point. I won't bother going back to fix it in these reports, but it is fixed in my spreadsheet.
That also means my average-profit numbers were incorrect. Alas, I have not yet broken the $5,000 per-month threshold. I've averaged $4,659 profit per month the past twelve months.
By the way, I of course double-checked my formulas for my book-income numbers, and they're correct. Then again, I'm not a spreadsheet wizard, so who knows what other mistakes I'm making.
MMT hardcover production errors
There have been at least several copies of the MMT IngramSpark hardcover sent out without dust jackets. I got one that looked like this:
Which means it shipped without a dust jacket. To make up for it, IngramSpark sent me a stack of dust jackets. Which is actually not a good solution – they aren't particularly easy to fold right and put on. Besides, the point of ordering the book again was to see how production turned out. It was worrying, but I hoped it was an isolated incident.
Then, an influencer who had bought the book for an upcoming promotion also received a copy without a dust jacket. I contacted IngramSpark, and this time, they insisted the person should report a problem through the retailer from whom they bought. Even after two reports of missing dust jackets, Ingram refused to provide any insight into why it was happening, or assure that something had been done to prevent it from happening again, besides reports through retailer channels.
So this influencer reported the problem, and at least this time a replacement book was sent instead of a stack of dust jackets. But, when the replacement book came – wait for it: It didn't have a dust jacket. Again. FML. IngramSpark's solution: have them report it to the retailer. No visibility whatsoever into what happened, what they'll do to prevent it from happening again, or any direct line to anybody who handles quality control. Just customer service platitudes.
I get it, IngramSpark is a gigantic company with printing and distribution operations all over the world, and what they do is hard. But this is infuriating.
Did you get a hardcover without a dust jacket?
I've sent out an email to my list, telling my readers that if they received a book without a dust jacket to please report it – and let me know as well. As of yet, nobody else has told me they've received a book without a dust jacket. So hopefully by some random coincidence the vast majority of books I've had personal knowledge of have shipped without dust jackets, and the rest are just fine.
Oh, I wish hardcovers worked
I would love to one day launch a book in hardcover, instead of in paperback. But hardcover production and distribution continues to be too unreliable to feel confident in doing that.
Amazon KDP has started offering a hardcover option, but it's still in its early stages, and doesn't have the case-laminate-plus-dust-jacket option that looks so great – when the book arrives with a dust jacket.
Another option would be to print hardcover books myself from a printer, but that sounds like a nightmare. It would cost a lot up-front, and I guess distribution would just be Amazon FBA warehouses.
Low ActiveCampaign revenue
It's saying something that I had a $10,000 month with low ActiveCampaign revenue. I've averaged $1,811 per month in affiliate revenue over the past twelve months, and this month, I only had $659, in large part because I "only" had $478 in revenue from ActiveCampaign.
I mentioned in a previous report that I saw a drop off in commissions reported through ActiveCampaign's affiliate dashboard. There's about a two-month delay from when you see these commissions and when you get paid for them, so I knew this was coming.
It looks like I'll start earning around $500 per month from ActiveCampaign pretty regularly. However, there is one giant account which shows up sporadically, which often brings an injection of about $2,400. The last time I saw that commission come through, I thought they had paid yearly. But, I just saw it come through again.
I have no idea what is up with that account, but when I contacted ActiveCampaign about it, they said some customers skip a month here or there. My fingers are crossed that the commission will be confirmed, and I'll have a big ActiveCampaign payment again in a couple months.
I do keep considering updating my ActiveCampaign review blog post and video. I still have the scripts from the last time I did it, so I would have a head start. But then again, I'm making good money from my books, which is the best kind of money. And time and energy spent trying to get affiliate revenue is time and energy I could be spending writing my next book (or enjoying life). At some point it's time to burn your boats on a revenue stream that doesn't come from your core. I'm on the fence as to whether the time has come to forget about trying to boost my ActiveCampaign affiliate revenue.
Digital Zettelkasten now on Audible! (Listen free)
It's been a pretty long road to get Digital Zettelkasten on Audible. If you recall from earlier reports, someone was trying to produce an unauthorized audiobook for it, and Audible blocked anyone from producing it – including myself. I had to get a copyright certificate for the book, which took a few weeks. Then, my editors had some final technical difficulties meeting Audible's specs, and that set it back a couple weeks. Then I submitted the audiobook, and after a couple weeks, it's now live!
Listen free
If you're new to Audible, you can listen to Digital Zettelkasten free. Sign up through this link and pick it as your trial book. I think I get a nice bonus if you do. If so, I'll let you know in a future report.
2021 in review
Here are my profits from 2021, versus 2020:
| | 2020 | 2021 | Difference |
| --- | --- | --- | --- |
| Income | $64,847 | $92,253 | $27,406 |
| Expenses | $27,144 | $36,343 | $9,199 |
| Profit | $37,703 | $55,910 | $18,207 |
You can see the numbers went up in all of these. Fortunately, expenses only went up about 34%, while profits went up 48%!
Here's how that breaks down across categories:
| Category | 2020 | 2021 | Difference |
| --- | --- | --- | --- |
| Book Sales | $32,399 | $59,447 | $27,048 |
| Affiliates | $22,193 | $21,732 | -$461 |
| Digital Products | $5,704 | $5,226 | -$478 |
| Services | $1,248 | $2,281 | $1,033 |
| Podcast | $3,303 | $3,566 | $263 |
Category breakdown
As hoped, I saw the most growth in income from my book sales. Affiliate sales took a small hit, but still added some nice padding to my revenue.
If I Recall Correctly, I spent almost no time at all on Digital Products in 2021, aside from running a Black Friday deal. I thought I had spent a little more time on it in 2020, but I might be wrong. In any case, to still make about $5,000 in the year is a nice bonus.
It's also nice to see that I made a little extra money on the podcast in 2021. That's from some growth in the Patreon, probably thanks to the special I ran – but the ROI wasn't worth it for that effort.
I also had some growth in Services income. Looking at my Quickbooks, I'm surprised to see that I made more than $500 from Medium. I also made about that much from calls on Superpeer and Clarity. Hasn't been much activity on those channels lately, but maybe with the New Year upon us, that will change.
What did I want to do in 2021?
I didn't make a lot of predictions or resolutions at the start of the year. The one thing I did want to do was "think more about how to take my email list from flatline to a bit of growth." I've done that, just barely. Instead of losing subscribers, I'm now slightly gaining subscribers. I lost 4.68% of active subscribers on Love Mondays in 2020. In 2021, I gained 3.85%. I think much of this was thanks to 100-Word Writing Habit.
What do I want to do in 2022?
Last year, I wanted to take a breather after many years of building my business as a writer, and releasing Mind Management, Not Time Management. One way of doing that was by starting my golf project, which has been a lot of fun.
In a way, I still feel like I need to take a breather. Or maybe it's a sigh of relief. Relief to finally be making enough money doing exactly what I want to be doing. In 2022, I'll reach my fifteenth year on my own, and eighteenth year since starting this blog.
I still want to keep writing, but it's just a nice feeling to not be quite so scared anymore, and not be quite as driven by a desperate hope that I can someday make this work. It is working! (When I write that, a little voice inside me still says "for now.")
New book on the way?
If there's anything I'd like to accomplish in 2022, it's adding a third and final book to the Getting Art Done trilogy. I've already done a lot of writing on my typewriter, and have workshopped ideas on Twitter, in Love Mondays newsletters, and on the podcast.
I want the book, in some manner, to be about finishing projects. I have some general ideas, but I'm still on the "uphill" part of the project, meaning I don't quite see the lay of the land, and so don't really know how much longer it will take.
So, honestly, if I don't finish this book on finishing in 2022, I'm okay with that. It's possible I'll reach a point where The Foundation Effect takes over, and the book just appears. Then again, maybe not.
Enjoy success
Mostly, I just want to enjoy my present feeling of "success." I've sacrificed so many normal comforts the past couple decades. I'm finally playing golf again after fifteen years, I just bought my first car in fifteen years, I'm in a happy relationship, and I may even be on the cusp of gaining permanent residency here in Colombia.
I don't want to get complacent, but I also trust that if I keep doing what I want to be doing, I'll keep adding to the nice-sized snowball I've packed together, and it will keep growing exponentially.
This is a good place to be. I just hope to be lucky enough to have many years ahead of enjoying this comfortable spot. Then again, if my past is any indication, I'll get restless and yet again become hungry in coming years to do something insanely hard. For now, I'm taking it easy.
Thank y0u for having me on your podcast!
Thank you for having me on your podcast! Thank you to Andrew Skotzko from Make Things That Matter. As always, you can find all podcast interviews of me on kadavy.net/interviews.
Income
Book Sales
Digital Products
Affiliates / Advertising
| | |
| --- | --- |
| Patreon | $284 |
| Total LYW Podcast | $284 |
Services
Expenses
General
| | |
| --- | --- |
| Accounting | $219 |
| Outside Contractors | $0 |
| Podcast Editing / Publishing | $123 |
| Quickbooks | $45 |
| Total General | $387 |
Advertising
| | |
| --- | --- |
| Amazon | $3,109 |
| Influencer Marketing | $1,250 |
| Product Samples | $4 |
| Prestozon | $50 |
| Total Advertising | $4,413 |
Hosting
Thinking of writing a book?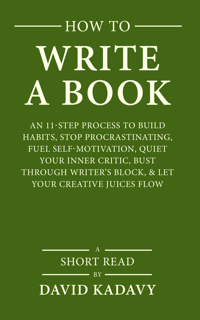 Download your FREE copy of How to Write a Book »
(for a limited time)