Subscribe to blog updates via email »
February's revenues were $5,105.48, down from January's $6,774.97. Profits were $2,782.83, up from January's $1,636.14.
I'm back into a decently profitable month after the very high expense months of December and January. Ad spend was much lower for the month, as I'm trying to optimize The Heart to Start to make more efficient use of that ad spend.
New optimized subtitle for The Heart to Start
After looking back on my first year of self publishing, I decided I wanted to make better use of my ad spend. One way to do that is to optimize the subtitle, cover, and description of The Heart to Start.
HTS was my first self published book, and I've learned a ton since publishing it. I figure that if I can increase the conversion rate of its Amazon page just a tiny bit, that will probably have an exponential impact on the effectiveness of my ad spend. Amazon is a winner-take-all marketplace, so I figure that making their algorithms happy probably has a higher payoff than increasing conversion rate on a page with a fixed amount of traffic going to it.
Settling in on Bayesian analysis for A/B tests
Last month, I told you I was trying to find reliable ways to test concepts for subtitles. I'm skeptical of A/B testing, so I'm careful about methodology. I was struggling with reaching significance in my A/B tests, attempting to do them by first calculating sample size with Evan Miller's sample size calculator. Testing was getting expensive.
But then I came across an article on Evan Miller's blog about the Bayesian methodology of determining winners in tests. It's a good method for when budget and time are of the essence, because you don't ruin it by "peeking" at your results, and you don't have to wait for your test to reach an exact sample size.
Finding finalists for a new subtitle
After trying out a lot of different potential subtitles as ad headlines, I had homed in on "end aspiration procrastination." Targeted at a large group of related authors, it was beating other options. For example, it had a 1.14% CTR, vs a .19% CTR for "achieve creative nirvana," and .54% for "make your inner critic sorry." It had a 97% chance of beating those options, according to this Bayesian calculator.
My plan was to mix "end aspiration procrastination" with some other high-performing phrases I had mined from the Amazon reviews to make a longer subtitle. My favorite was "get out of fear mode, redesign your creative routine, and end your aspiration procrastination." I thought I had a winner.
Picking a winning subtitle
Then, I was talking to a copywriter friend of a friend at dinner about my search for a new subtitle. He suggested that I make my subtitle ridiculously simple. After asking me a few questions about the book, he said "stop procrastinating, and start creating." My brain exploded in that moment. THAT was my subtitle. Or so I thought.
When I got home, I immediately set up a test. I knew it was a winner, but I wanted to make sure.
But it lost. Big time. "stop procrastinating & start creating" had a .12% CTR, and "end your aspiration procrastination" had a .49% CTR, with a 97% chance of winning.
(I always come up with new questions when writing these reports. I just noticed that "end aspiration procrastination" had more than double the CTR of "end your aspiration procrastination" (emphasis added), although those tests were run at different times. That might be worth investigating.)
Testing by audience
There was still something about "stop procrastinating & start creating." It was that it was simply a better fit for the content of the book. Sure, the content of HTS lends itself to being a subset of the idea of overcoming "aspiration procrastination," but it's ultimately about creative aspirations.
So I decided to test the phrase against different audiences.
Next, I tested those same two options, along with the control ("win the inner war & let your art shine"), but this time I targeted only readers who were interested in Julia Cameron, the author of The Artist's Way.
I've noticed in my Amazon ads that readers searching for The Artist's Way convert at a very high rate. That book also has a lot of search volume. Why not see what those readers think?
This time, "stop procrastinating & start creating" killed. .91% over .27% for "aspiration procrastination," and .39% for the control. It had a 97% chance of winning, by Bayesian analysis.
Next, I tried the same combination on Steven Pressfield's audience. The CTR was .64%, .32% and 0%, respectively. I ended the test early with only a 69% chance of winning. Not terribly scientific, but I felt confident that "…start creating" wasn't going to perform worse for Steven's audience.
New subtitle: "Stop Procrastinating & Start Creating"
On March 5th, I changed the subtitle of the Kindle version of The Heart to Start to "Stop Procrastinating & Start Creating."
In the eight days of reporting I have since that date, my ad clicks convert at a rate of 7.91%. In the eight days previous to making this change, the conversion rate was only 3.08%.
That sounds like an incredible boost, but I don't trust that it's actually that dramatic, if a change indeed exists. I may be getting higher-quality traffic coming from my ads. I was a bad scientist and boosted the bid on my Automatic campaign right around the time I changed the subtitle.
It will take more time to get a better idea of what impact this change has had. I'm currently working to optimize the description and the cover, and who knows – maybe I'll even change the subtitle yet again.
Next steps in optimization
I'm currently actively testing cover concepts and descriptions. I'll share more about my methodology as I progress.
Once I have made changes and feel satisfied with them, I can propagate those changes to the paperback and audiobook. (It's worth noting that the KDP dashboard won't allow me to change the subtitle, claiming that I would need a new ISBN to do so, however, Bowker claims that I wouldn't need a new ISBN, so I'll try my luck with support when the time comes).
As much as I hear someone like Chris Fox talk about the importance of testing, I have yet to see a good case study on the numbers of tweaking a subtitle, cover, and description – how did each component affect conversion rate, and what secondary effects did those conversion rate changes have on profitability of ads and organic sales? As I discover these things, I hope to continue to report.
All of this testing is going to result in inflated ad spend. The ads I run for these tests aren't very profitable. However, it looks like my Facebook and BookBub ad expenses didn't register in February, so that distortion will appear in March's report.
Self Motivation Webinar next week
My main focus going into March has been on running a webinar this month. I held my Self Motivation for Solopreneurs Webinar around this time last year, and netted around $5,000 on pitching my beta course, Blog 2 BLING!
I don't aspire to build an online business teaching online business, but the fact remains that I owe what success I have to my own motivation-driven technique of business building.
The idea is that you start with the things that you're motivated to work on, you collect market research from the act of creating those things, and you double down on the winners. Early on, you want to focus on passive revenue streams, so you can gradually invest more exploratory time in creative endeavors, allowing those ideas to mature to be profitable themselves.
In the webinar, I teach a few of my best motivational tactics, and in the course that I pitch at the end of the webinar, I go more in-depth with exactly how I individually isolated all of the skills required to develop and sell your own products: First blogging, then building passive revenue streams, then building an audience, and eventually your own products.
Iterating on my webinar systems and processes
Holding webinars is a tremendous amount of work, but I'm getting better at it, now that I've dedicated to having systems and processes in place. With each iteration, I improve my process, and am able to add things on.
This time around, I'm throwing in some Facebook retargeting ads to try to increase the attendance of the webinar, I have a new landing page, and I made a warm-up video that shows on the registration confirmation page. With so many things already set in place, including automations I built in ActiveCampaign, I have more creative energy leftover to write emails to get my list interested in the topic.
By the way, if you're trying to make it as a solopreneur, but you struggle to find the time and motivation, sign up for next week's webinar!
Awaiting the fruits of the San Francisco trip
It still remains to be seen what will come of my appearance on The Jordan Harbinger Show. As of this writing, my episode hasn't yet debuted.
ActiveCampaign review available as ebook
I'm glad to have my ActiveCampaign review out in the world. You may notice higher revenue from ActiveCampaign this month, but that's not due to the review. As commissions come in, it takes a couple of months for them to lock in and process, so this spike is from the tendency of businesses to purchase their entire year's worth of email marketing in December.
Now that I have started tracking my commissions, I have a better understanding of this. You can see that payouts lag a bit behind referral earnings that come in.
The review is only getting started. It will take time for it to rank and bring in new referrals.
I turned the review into a permafree ebook, by the way. At least it's supposed to be permafree. It's my first time trying PublishDrive instead of Draft2Digital for publishing a wide ebook.
However, Amazon is still pricing the book at 99 cents, and won't price match at my request, since I'm not publishing through KDP. PublishDrive is supposedly communicating with Amazon about it. It may be better to go direct to Amazon, and use PublishDrive or Draft2Digital for permafree books.
In the meantime, I've earned $2.03 on this ebook. Which I don't have reported below.
PublishDrive looks promising. Their reporting is miles ahead of Draft2Digital's.
Income
Book Sales
Digital Products
Affiliates / Advertising
Love Your Work Podcast
Writing
| | |
| --- | --- |
| Medium | $46.91 |
| Total Writing | $46.91 |
Expenses
General
| | |
| --- | --- |
| Accounting | $400.00 |
| Coworking Space | $74.49 |
| Outside Contractors | $94.99 |
| Podcast Editing / Publishing | $240.00 |
| Misc. Software | $19.59 |
| Total General | $829.07 |
Advertising
| | |
| --- | --- |
| Amazon | $1,307.84 |
| BookBub | $33.65 |
| Facebook | $8.09 |
| Prestozon | $80.00 |
| Total Advertising | $1,429.58 |
Hosting
Thinking of writing a book?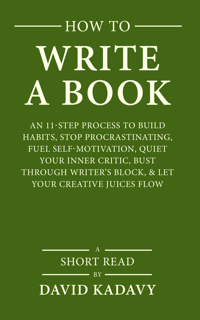 Download your FREE copy of How to Write a Book »
(for a limited time)