Subscribe to blog updates via email »
I recently started blogging a bit more on the official Kadavy, Inc. blog, Cost Per Wow. It's a really simple Tumblr blog, and it's been surprisingly simple to discern what thoughts and content are more appropriate to post there vs. here on kadavy.net. Cost Per Wow is more for business-related thoughts and observations. Kadavy.net is now, more than anything, about Being Yourself For a Living.
Additionally, I've started publishing some more focused how-to content on HeyHowTo.com.
This is just the type of behavior that I tend to exhibit that elicits the response "David, you need to focus." Presumably, if I would just focus all of my energy towards one of these endeavors, I would see much more success. And faster. Even with the content that I produce, if I were to just keep it all on kadavy.net, I would see more immediate benefit (in the form of a higher Google PageRank) from the age and authority of kadavy.net. Additionally, all of this cognitive gear-switching is supposedly not an efficient way to get things done.
But I just can't do that. Sure, I try to keep myself in check here and there. Dozens of ideas sit in various moleskine notebooks, and still more don't even make it onto paper. With each of these fresh starts, some which become false starts, new pathways are stimulated in my brain – and some old, less sharp, pathways are closed. My ability to recognize the strengths and faults of a particular idea is strengthened as time goes on.
I enjoy the process of following my curiousity, and trust that it will bring a more complete life than trying to cram my actions into neat little blocks. With the new pathways that are opened with each fresh start, fresh ideas come for my more established endeavors. It's liberating to start a new blog – to not think so much about whether a post is right or wrong, or whether it will be right for my modest readership. It's interesting to see a layout free of clutter. Maybe these characteristics can be incorporated into kadavy.net?
My advice: don't be afraid of fresh starts. Seek out fresh starts. When you free yourself from your already-established patterns, you invite serendipity. Invite serendipity.
What's the fresh start you're starting?
Flower photo by tapperboy
Thinking of writing a book?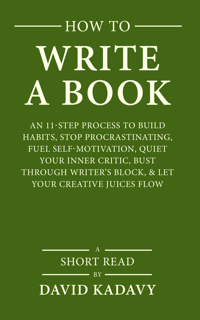 Download your FREE copy of How to Write a Book »
(for a limited time)