Subscribe to blog updates via email »
An audio version of this income report is available to Patreon backers of certain levels »
July's revenues were $6,481.57, down from June's $7,182.77. Profits were $1,609.65, down from June's $4,551.83.
Self-published book sales at an all-time high (and low)
The most notable thing in July's report is that revenue from self-published book sales was high. $4,156.93 is an all-time high, in fact, over August 2018's $4,097.76.
Revenue from self-published book sales was an all-time high, but profit self-published book sales was an all-time low. Only $44.03.
What happened? Well, after investing in optimizing the subtitle, cover, and description of The Heart to Start, I've been ramping up ad spend. I've especially been placing a lot of Amazon Lockscreen ads. The spending on these ads can really take off suddenly, and many ads that I had sitting and waiting to activate turned on in July.
I'm still experimenting with these ads. In addition with trying different creatives and categories in which the ads run, I'm also experimenting with bid sizes. Meanwhile, I'm trying out different "rules" for how to manage these ads once they are running – at what point do I know the ACoS is too high, and I should turn off the ad?
Amazon Advertising spend at an all-time high
My ad spend was at an all-time high. I spent more than $4,000 on Amazon ads. My previous high spend on Amazon ads was $3,200, in January of 2019.
Will optimization ever pay off?
So far, it doesn't look like all of that effort I put into optimizing my subtitle, cover, and description hasn't led to a big increase in sales. Though, it's possible that sales have increased somewhat. Maybe more of my ads are running because of better conversion rates. Additionally, summer isn't necessarily a hot season for books. I need more data to have a clear picture.
Response to The Heart to Start continues to be positive
However, I do feel a little more motivated to drive sales of the book, even if it means roughly breaking even on ad spend. I continue to be amazed at the response to the book when people do read it. With the higher ad spend, five-star reviews continue to roll in.
It doesn't matter what the platform, wherever people review HTS, the response is overwhelmingly positive. I even got a personal message on Instagram from someone who had bought the book through a Lockscreen ad.
Even someone whose three-year-old accidentally bought HTS – due to a Lockscreen ad – had their interest piqued enough to read it. Four stars isn't a bad review in that situation!
With a response like this, I feel like The Heart to Start is "validated" as a book with the potential to take off. I'll continue shoveling money into getting it into people's hands. Once I have a related full-length book to complement it, I'm confident profits will come.
At least more ad spend means 3x credit card points. I need them!
All of this ad spend is of course earning me a lot of miles on my 3x points credit card. If you recall when I first got the Chase Ink Business Preferred, I was excited that I could use the points for travel I could use to grow my business.
Unfortunately, the unexpected happened, and I spent most of the points I earned over the past year on emergency travel due to my Colombian visa woes.
Well, now that my mother has passed away, I'm finding that I'll probably have to spend most of the points I earn on flights between Medellín and Phoenix. In fact, I'm still in Phoenix right now, six weeks after making an emergency trip. I had a flight planned late last week, but ended up having to cancel it. The shrapnel from this bomb is still affecting our tiny family, and I had to stay to support further.
Still on auto-pilot
Thanks to the chaos of my mother's sudden death, there hasn't been a lot of activity in the business throughout July. Thanks to the systems I have in place, I was able to keep podcast episodes and Love Mondays newsletters coming as scheduled.
I don't have much bandwidth for front-burner creativity. Part of that is from the post-death logistics and support of family members. Part of that is from being thrust into a different environment, and struggling to keep the same habits going. Another part of it is the sheer mental fatigue and stress of the grieving process, and other stressors that have arisen as a result of Mom's death. I find that I can get the basic back-burner tasks I have set up in Todoist, but once I'm done with those, I'm simply more tired than I would normally be.
250 words a day on my next book
Even though I don't have much bandwidth for front-burner creativity, I'm still eager to make progress on my next book. Though intense multi-hour writing sessions are a near impossibility, I don't want to "Inflate the Investment" (a la The Heart to Start).
I once heard Todd Henry, on Chase Jarvis's podcast, say that when he is working on a book project, he often has an upper limit on the number of words he can write per day. That upper limit seemed incredibly low – only 250 words. So, I've decided to dedicate myself to writing a mere 250 words per day on my book. Now, that's not a hard upper limit, but I have at times noticed that I was on a roll – at about 330 words – and forced myself to stop.
So far, it seems surprisingly effective. I find that I'm able to write much cleaner. I sense that I get more incubation done in between writing sessions, and so it seems easier to get some words written the next day. I also find that I can put more care into the words. If I need to quickly look something up or dig into my past writing to get something right, I feel more free to do that.
One reason I think I'm able to do this is I'm now much more confident in my identity as a writer. Previously, I would be anxious about not making quicker progress, for fear of never getting it done. But I feel more comfortable with the slow process than I would have in the past.
Now, 250 words a day doesn't get you very far very fast. With about 20 working days in a month, that's only 5,000 words a month. A 50,000 word book would take ten months. I've already been working on this book for years, so I do hope to pick up the pace again soon.
It also helps that I'm writing what must be about the fifth draft of this book. Much of what I'm writing is something I've written in one form or another before – though not much of it has been published. I've had a lot of time to incubate it. That makes crisp writing come much more easily.
New writing tool: Wired keyboard for iPad & iPhone
I mentioned last month that since I don't have much front-burner creative energy available, it's a good time to take care of loose ends. The basic idea being to just work on what I'm curious about or to spend more time working on whatever comes to mind in a given moment. It's kind of like a Week of Want.
One of the projects I've been working on is adding another distraction-free writing form factor to my arsenal. I have my AlphaSmart, I have my moleskine notebook, and I can jot down things in my phone, or on a smaller notebook. Then, I of course have my computer.
But what about using a keyboard on an iPhone or iPad? I've seen people do it and know friends who have tried it, but for some reason I hadn't tried it myself. It seems like an obviously-good tool for writing with less distraction. It's harder to switch from one app to another, and thus harder to wind up surfing the web, after all. And I don't keep Twitter or Facebook apps on my iPad.
So, I set out to find a keyboard setup that works with my iPad or iPhone. The main challenge I ran into was that I insisted on finding a way to wire such a keyboard directly into the device.
Why wired, instead of Bluetooth?
Bluetooth keyboards don't reliably register every keystroke, in my experience, and after reading an excellent book on the effects of Electromagnetic Frequencies, I've discovered that I'm quite sensitive to them. If I spend too much time using a bluetooth device, I get fatigued more quickly – especially if that device is also connected to WiFi. Additionally, I figured that maybe I wouldn't have to charge a keyboard that I wired directly into a device (I'm still unsure if that's the case).
After a lot of research and a few returns to Amazon, I settled on the following setup:
Got a wired portable keyboard setup working on my iPad!

– Jelly Comb Dual-Mode USB/Bluetooth keyboard (Con: trackpad takes up extra space & doesn't work on iOS): https://t.co/vAx2r2Qy4x
– HENKUR USB-Lightning adapter (enough power for keyboard) https://t.co/WYktZNZAnk pic.twitter.com/m2lrJqwoE6

— ? David Kadavy (@kadavy) August 13, 2019
So far, I've only done a small amount of writing this way, but I like it. It's good for writing a first draft of Love Mondays emails. I'm still unsure how often I'll use it for more serious or longer stretches of writing. The keyboard is pretty small, and easy to make mistakes on.
If this form factor grows on me, I may pick up a more standard-layout keyboard from Pluggable. But, that keyboard is larger, so I'm reluctant to pick it up. I fantasize about strolling down to a cafe with just my iPhone, this keyboard and adapter, and this compact iPhone stand – once I'm back in Medellín – which I hope is sooner, rather than later.
Now with Scrivener for iOS
While I was picking up this hardware, I also picked up some new software. I already love Scrivener for desktop, but I hadn't yet invested the extra $20 for the iOS app. You can use Dropbox to sync documents, so you can always work on your bigger writing projects. I just bought the iOS version, but haven't yet seen whether using it on my iPhone and iPad will become a habit.
Congratulations, winners! (I gave away some books)
I took advantage of being in the States to gave away some books that had been sitting at my parents' house for quite awhile. I gave away three signed copies of The Heart to Start, and nine copies of Stephen Pressfield's The War of Art. Some winners also got little drawings I made of my surroundings. Congratulations, winners!
https://twitter.com/rizwanjavaid/status/1158937899808612352
Income
Book Sales
Digital Products
| | |
| --- | --- |
| Blog 2 BLING! (Beta) | $235.00 |
| Logo Mastery | $49.00 |
| Summer of Design | $28.00 |
| Total Digital Products | $312.00 |
Affiliates / Advertising
Services
| | |
| --- | --- |
| Medium | $21.43 |
| Coaching | $0.00 |
| Total Services | $21.43 |
Expenses
General
| | |
| --- | --- |
| Accounting | $215.00 |
| Outside Contractors | $213.17 |
| Podcast Editing / Publishing | $240.00 |
| Misc. Software | $10.53 |
| Total General | $678.70 |
Advertising
| | |
| --- | --- |
| Amazon | $4,023.20 |
| BookBub | $9.70 |
| Prestozon | $80.00 |
| Total Advertising | $4,112.90 |
Hosting
Thinking of writing a book?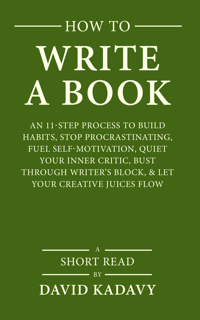 Download your FREE copy of How to Write a Book »
(for a limited time)