Subscribe to blog updates via email »
Mind Management, Not Time Management is a Kindle Monthly Deal! It's only $2.49 on Amazon.com, and Amazon.ca. That's 75% off the regular price.
On a self-publishing note, Kindle Deals are hand-picked by Amazon, so this is a huge honor. Unlike the BookBub Featured Deals, this promotion costs me nothing. And even though $2.49 is below the 70%-royalty-rate threshold, my previous experience with a Kindle Daily Deal indicates I'll still earn 70% royalties. You win, I win.
If you haven't yet, buy Mind Management, Not Time Management on Kindle for just $2.49. For just $5, you can buy a copy for yourself, and for that friend you know would love the book.
MMT recently passed the 10,000-copies-sold mark, so I'm excited to see how this promotion boosts sales.
P.S. This is just on Amazon.com and Amazon.ca. Sorry, I have no control over the price in this case!
Thinking of writing a book?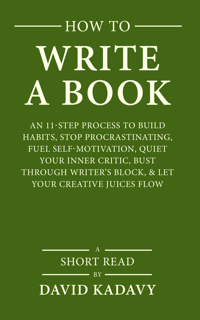 Download your FREE copy of How to Write a Book »
(for a limited time)