Subscribe to blog updates via email »
Noah Kagan is a close friend of mine who has been one of my secret weapons in my own battle as an entrepreneur. Years ago, when I first started out on my own, and I was wandering from cafe to cafe in San Francisco, working on a Facebook app, Noah Kagan invited me to bring my laptop to his office space. He was building his own Facebook app empire at the time.
We'd get burritos in South Park, in SOMA, and Noah always had fresh ideas. Ever since then, whenever I've struggled with motivation, whenever I've felt overwhelmed in my business, I've asked myself "What Would Noah Kagan Do?"
---
Noah is now best known for AppSumo, which is a daily deals site for digital goods, and also SumoMe, which is a little toolkit you can install on your website to grow your audience with email sign-ups, a share widget, click heatmaps and a bunch more tools.
You may have also heard of Noah because he's missed out on some big exits. He was #4 at Mint, which sold to Intuit for $170 million, and he was #30 at Facebook, which is currently valued at more than $350 billion, but he got fired after 8 months.
---
So, Noah potentially missed out on easily more than a hundred million dollars. Most people hear that, and it sounds totally devastating. But, I know Noah, and I don't think he would change a thing.
That's because Noah has injected his own personality and his own unique way of doing things into his business. And he's found success his own way. He's done that better than anyone I know. He works really hard, but he always makes it fun. In fact, I sat down during a retreat he organized with his company in Chicago. The retreat even had a t-shirt, and Noah was of course wearing it.
I can recall many different 2-minute conversations I've had with Noah that have lead to big breakthroughs, and – wow – we have more than an hour here.
---
Listen to this Noah Kagan podcast interview and learn about continuous improvement:
How does Noah keep improving in his business – specifically when it comes to running webinars?
How do you incentivize others to be selfish and get them to share?
How do you balance the art of a business with the operations?
How do you find complementary team members?
How do you pick your battles to have the biggest impact with the least headaches?
Why is discomfort your compass?
Why might you want to read the same book over and over again?
If you've been wondering: should you make your bed?, Noah shares his philosophy.
and more…
Note: I have another Noah Kagan podcast interview, several months after this one, about how he manages his mental energy.
Sponsors
WP Engine: Save mental energy managing your WordPress site with easy-to-use DIY features from WP Engine's managed WordPress hosting. Visit wpengine.com/loveyourwork for up to 4 months free.
ActiveCampaign: Want to maximize your email marketing? You should try ActiveCampaign. I switched last year from MailChimp and I LOVE it. With email marketing, marketing automation, AND a sales CRM – it's a powerful, intuitive, and complete platform. Claim your 14-day free trial of ActiveCampaign at activecampaign.com/loveyourwork
Audible: Choose from over 180,000 audiobooks on any subject you can imagine. Claim your free audiobook at https://kadavy.net/audible
Subscribe to Love Your Work






Listen to the Noah Kagan podcast interview
Show Notes
Thinking of writing a book?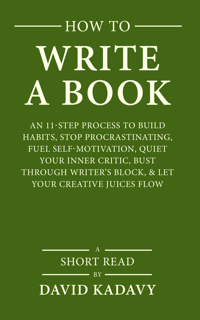 Download your FREE copy of How to Write a Book »
(for a limited time)