Subscribe to blog updates via email »
An audio version of this income report is available to Patreon backers of certain levels »
November's revenues were $9,308, up from October's $8,279. Profits were $4,570, up from October's $1,366.
The first thing you might notice: All of my numbers are now rounded to the nearest dollar. The purposes of these income reports are to give a general overview of the performance of the business, and so exact numbers aren't necessary.
It also gets unnecessarily tedious to read off the exact number of cents of each category when I record the audio version of these reports for my Patreon members. So, for the foreseeable future, I will round all numbers to the nearest dollar. (Heck, maybe I should be rounding to the nearest ten or hundred dollars.)
Rest of Blog 2 BLING! Sales reported
November was a solid month in terms of total profits. I'd be in good shape if I earned $4,500 every month. But, much of this profit is due to the remainder of Blog 2 BLING! sales reporting from the October webinar.
A little more than $2,500 of the revenue landed in November. I probably won't open B2B again for at least six months, and none of the students are on the monthly payment plan, so I can't expect more revenue from B2B for awhile.
I quit! All Amazon ads are OFF!
I continued to lose money on Amazon ads throughout November, despite the fact that in October I disabled many ads that seemed to be inefficient.
I still don't know for sure why I lost money in October, but in November, the holiday shopping season was an undeniable factor. More retailers are running ads, the click costs get higher, and many shoppers hold off on buying things, waiting for the deals of the holiday season.
On November 25th, the date on which I disabled almost all Amazon ads (aside from a couple of automatic ads for short reads, which had almost no activity anyway), I was down $63 for November, on $3,390 Amazon U.S. ad spend. On a rough accrual basis, I ended the month up $539, on $3,397 Amazon U.S. ad spend.
Black Friday/Cyber Monday deals
Some of that recovery was probably from sales that came through from prior ad spend. People had downloaded Kindle samples, and finally pulled the trigger.
Much of that recovery was certainly due to the Black Friday/Cyber Monday deal that I ran on all of my self-published books.
My books were marked down 70%–100%, officially from Black Friday (November 29th), through Cyber Monday (December 2nd).
Adventures in marking down prices
While my books were only officially marked down during those days, I had to mark them down in advance of those dates. It can take time for prices to change sometimes, and the last thing I wanted was for a scheduled email to go out, advertising a deal, and for the pricing change to not have come through yet.
Some platforms make it easy to schedule promotions. It was easy to schedule promotions with Kobo, Draft2Digital, and – surprisingly – Google Play. It was also easy to schedule promotions for any books that I have enrolled in KDP Select (Kindle Unlimited).
The rest, I had to do manually. PublishDrive recommended changing my prices at least five days (!!!) before the scheduled promotion, and to send them an email so they could see that the changes went through to all platforms (in reality, the prices were all changed within about 24 hours).
Amazon KDP says that it takes up to 72 hours for prices to change, but they usually change within hours.
I should have made some projections about the pricing promotion, but I ran the promotion on a whim and frankly lacked the motivation to think through projections.
Results of the promotions
The reason I mention that some prices were marked down in advance is that this had a lot to do with the recovery from being in the red on ad spend, despite the fact that much of my promotion occurred during December. As soon as The Heart to Start was marked down, for example, sales jumped.
This lift began on November 27th, despite the fact that my promotion didn't officially start until November 29th. I wonder if Amazon may have alerted any readers who seemed interested in the book, or gave it more prominent placement somewhere on the site?
Here are the sales numbers during the official duration of the promotion:
The Heart to Start
Amazon: $459.97
Kobo: $5.56
Draft2Digital: (estimated $5.94)
Apple Books: $4.24
Google Play: $0
How to Write a Book
Amazon: $76.60
Kobo: $0
PublishDrive: $0.60
In Defense of Papyrus
Amazon: $6.97
PublishDrive: $0
Ten Passive Income Ideas
Amazon: 339 free copies given away
Make Money Writing on the STEEM Blockchain
Amazon: 172 free copies given away
Total Income: $560
Since I had no ads running, all of this is pure profit! It would be great if I could do promotions such as this more often, but since my email list was my main promotional channel, it would start to get pretty predictable if I had something like this going more than once a year or so.
(I suppose I could mitigate this effect by only promoting to new subscribers. Hmmm…)
Reviews coming in
One thing I wanted to accomplish with this promotion was to get more reviews. Specifically, I need reviews for In Defense of Papyrus and Ten Passive Revenue Ideas. I put a review request at the end of both books.
I did get some new reviews for Ten Ideas, but not yet for Papyrus. As it happens, the reviews for Ten Ideas are underwhelming. I may un-publish the book and keep it as a lead magnet.
Since my unprofitable ad spend seemed to coincide with releasing Ten Ideas, it would be interesting to see what effect that has on my overall Amazon performance and ad spend (if I reinstate ads). Of course, this factor would be impossible to isolate.
Why bother being "wide?"
The results of this promotion, and the experience of running it, once again give me pause over my decision to be "wide." If all of these books were in KDP Select, it would have been less work to run the promotion, and I probably would have gotten sales ranking lifts from KU borrows, and my promotions being official "Kindle Coundown Deals."
Of course, this is what Amazon wants authors to think, "It's 90% of sales, and it's easier to manage."
One of my main motivations for being wide was that I hoped it would increase the odds of HTS being accepted for a BookBub featured deal. After eleven straight rejections for a U.S. deal, maybe I should reconsider that strategy?
Once again, it makes no sense for me to be "wide," but I simply hate the idea of giving Amazon even more power. It doesn't help my cause that Kobo has declined to promote HTS for promotions.
Results in for Creative Blocks Webinar / D4H Video promotion
The results are in for the Creative Blocks Webinar I did on December 3rd. This webinar coincided with a discount promotion that lasted the whole week.
In last month's report, my 70%-confidence revenue range was $1,506.24–$2,037.86, with a midline of $1,772.05. In actuality, the promotion booked $1,106 in revenue (some of that is in the form of expected monthly payments.)
So, that's waaaay off. $666 short, for a "score" of 0.624, if I score by percentage from midline.
Where did I go wrong in my prediction?
This time vs. last time
As a review, the last time I ran this webinar was October 2018, when I booked $1,216 in revenue. The promotion ran to 18,941 people, for a total of 9 sales, at a 0.048% conversion rate, at $135 per sale.
This time, the promotion went to 15,075 people, and generated 7 sales. That's a nearly identical conversion rate of 0.046%, at $158 per sale.
Last month, I reported that the first email in the promotion had a 32% increase in open rate. By the second to last day, the open rate was still 24% higher than last time. It's not clear that any of that increased engagement led to increased sales.
The previous webinar was the first in six months, rather than over a year for this one. I expected a 15% increase in performance for this. It's possible it had the opposite effect. Maybe there wasn't as much of a backup of people who didn't buy last time, who then wanted to buy this time.
Why was my Cyber Monday projection wrong?
One area where I suspect I went wrong is that I expected a 20% increase in sales because the promotion was happening during the week of Cyber Monday. Just after making this prediction, I was listening to an episode of Sean McCabe's podcast, wherein he happened to comment that there is no point in trying to sell online courses between Thanksgiving and Christmas. He essentially said nobody is paying attention then.
I know that January is a popular time for online courses. People are getting back to work and are looking to upgrade their skills. But maybe there's the opposite effect between Thanksgiving and Christmas. I know I'm personally always trying to step back from my day-to-day work and think bigger picture during this time.
Plus, this theory would track with what I tend to see in podcast downloads in December. They're low enough that I don't think it's worth it to put out new episodes during that time. I'm running "best of" episodes this year, and I may skip December entirely next year.
Assuming all of my other factor predictions were right, how much of an effect would there have to be in order for me to end up with the performance I did?
Overall, I expected 146% of last time's revenue. In reality, I had a 91%. Take the 20% projected increase out of that 146%, and you get 117% (146 x 0.8, hope I'm doing that right). So it's possible that the seasonal effect was in fact a 22% decrease, instead of a 20% increase.
This of course assumes all of my other factor predictions were correct. Performance probably would have been better if the email sequence was fresh (many contacts had seen it before), and if the list was kept warm with regular content.
Should I go back to a windowed launch?
I still struggle to resist going back to a windowed launch with D4H Video. If I could wave a magic wand, I would make it hosted on Teachable, I would stop the auto-webinars I have in the sequence, I would restrict enrollment to two live webinars per year, and I would raise the price of the course. (While I had magical powers, I would also change the name and re-record everything).
I could probably get an extra couple thousand dollars a year by making these changes. But the opportunity costs of doing that work feel too high to justify that. I'm better off moving forward with the other projects I have planned.
HTS Hardcover
Notice that there's a $125 line item in the report this month for a new ISBN from Bowker. This is for a hardcover edition of The Heart to Start.
I ordered a proof to my parent's house in Scottsdale, and I'll see it when I arrive this weekend. I'm hoping to launch the hardcover edition in January.
New book moving along
More than anything, the hardcover edition of The Heart to Start is so I can go through the process of producing a hardcover. For my next book, I may skip the paperback edition, and go straight to hardcover (along with ebook, of course). I'll especially be interested to see if print-on-demand hardcovers from IngramSpark have Prime shipping on Amazon, or not.
I'm past the halfway point in my draft of the next book. I'm still waffling over what to call it. Long ago, it was going to be Getting Art Done, for awhile I was excited about Passive Genius, Murder the Muse, then Perpetual Genius.
I realize that I sometimes do a poor job of following up on things I put out there which clearly resonate. One of my Big Ideas over the past ten years is the idea that productivity is about mind management, not time management.
I also realize that I often try to make my book title's too clever. I have yet to try publishing a book with a nice, simple, turnkey title – the type of book that you really only need to hear the title of in order to get value.
Thus, I'm currently planning on calling the book, Mind Management, Not Time Management.
What do you think?
Significant ActiveCampaign affiliate revenue
I had my biggest payment ever from ActiveCampaign: $1,764. It takes a couple of months for payments to come in, so I happen to know that my payments will be lower over the next couple of months, but then a payment likely over $2,000 will come in.
Considering that this is passive income, it's starting to feel ridiculous that I don't spend more time and effort promoting ActiveCampaign. Yes, I have a detailed comparisons for ActiveCampaign vs MailChimp, and ConvertKit vs ActiveCampaign; and I have an ActiveCampaign Review – all of which promote my ActiveCampaign free trial coupon.
But there's more potential there. I could be doing more to build the SEO performance of these properties. I could be making more ActiveCampaign content, to lift my relevance for the "activecampaign" keyword, for example. I could also be making more content, such as an ActiveCampaign tutorial or an AWeber vs ActiveCampaign comparison (which my AWeber Review does a good job of anyway).
Actually, just as I was typing that last sentence, I went and re-optimized my AWeber Review to be an AWeber vs ActiveCampaign comparison. Another idea, thanks to writing income reports.
Income
Book Sales
Digital Products
| | |
| --- | --- |
| White Hot Course "Pro" Package | $99 |
| Blog 2 BLING! (Beta) | $2,520 |
| D4H Video | $76 |
| Summer of Design | $3 |
| Total Digital Products | $2,698 |
Affiliates / Advertising
Services
Expenses
General
| | |
| --- | --- |
| Accounting | $205 |
| Outside Contractors | $98 |
| Podcast Editing / Publishing | $240 |
| Misc. Software | $22 |
| Bowker ISBN (for HTS hardcover) | $125 |
| Total General | $689 |
Advertising
| | |
| --- | --- |
| Amazon | $3,820 |
| BookBub | $31 |
| Comped books | $7 |
| Prestozon | $80 |
| Total Advertising | $3,938 |
Hosting
Thinking of writing a book?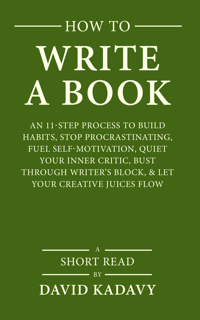 Download your FREE copy of How to Write a Book »
(for a limited time)