Subscribe to blog updates via email »
If you're a podcaster, you probably want more listeners. You keep working steadily, and your downloads keep growing steadily. You keep hoping for your "big break," and you think getting your podcast featured on the front page of iTunes (or Apple Podcasts) is your best bets.
I had my podcast, Love Your Work featured on the front page of iTunes a couple of months ago. It was not the "big break" I had imagined it to be.
Since many podcasters have been curious, I'll share what it did for my podcast, and how it happened.
How does an iTunes / Apple Podcasts feature of your podcast affect downloads?
I dreamt about having Love Your Work featured on the front page of iTunes, and I put quite a bit of effort into trying to make it happen (more on that later). I figured it was one of the few "big breaks" that could make my podcast profitable.
I had already turned down a chance to join a podcast network, I had already spent hundreds of dollars advertising on Overcast, and I had already landed big guests like James Altucher, Dan Ariely, Steve Case, Jason Fried, and many more. These things brought tiny bits of growth, but I figured an iTunes feature would finally bring the explosive growth I had been hoping for.
So, is it worth all of the longing, and all of the effort?
Here's what the feature did to my downloads:
Some notes:
This abrupt drop in downloads is from when ProductHunt's Podcast discovery section shut down.
This spike is from a guest who shared a direct MP3 link to about 1 million Facebook followers. I suspect most of those downloads aren't real.
This gap is a month-long break I took for the holidays.
As you can see, during the feature, my episode release spikes went from about 1,600–2,000, up to a bit over 2,500 (the second spike during the feature period is an interview with Seth Godin, which has been uncommonly popular).
Here's a closer look at the spike, with some time included before and after.
At the time of the feature, the average episode of my podcast was getting about 3,700 downloads per episode. Now, I'm maybe getting about 3,900 downloads per episode. (I don't count episodes that were released during my week-long feature window, as their downloads are inflated).
So, my downloads have grown about 5% since having my podcast featured on the front page of iTunes. It was not my podcast's "big break." There's no way to know how much of that growth would have happened anyway.
Your mileage may vary. Rob Walch of Libsyn, who has access to the stats of many podcasts that get featured, told me over email one can expect about 200 to 2,000 extra downloads per episode.
My podcast was already roughly in the top 10% of podcasts in terms of downloads. So, maybe I've saturated my market. If your podcast has fewer downloads, you would probably see a larger gain.
It's also possible that my content just wasn't engaging to the general Apple Podcasts audience. However, when I advertised on Overcast, my prices per subscriber acquired was way below average – which suggests that my content appeals better than average to Overcast listeners.
How does an iTunes / Apple Podcasts feature of your podcast affect rankings?
When you get new subscribers, your podcast climbs in the Apple Podcasts rankings. Rob Walch of Libsyn says that it's a function of total subscribers, combined with how many new subscribers you've had recently.
Before the iTunes feature, Love Your Work was jumping around in ranking between #50 in Careers, and not being in the ranked in the category at all – so sometimes worse than #200.
During the feature, my podcast's rankings jumped a lot, climbing as high as #5 in Careers, and #32 in Business (of which Careers is a subcategory.)
Lately, I've been encouraging my listeners to subscribe on Apple Podcasts – on as many devices as possible – even if they don't listen there – because I have an overwhelmingly high share of my listeners using Overcast (25%–30% compared to Libsyn's average of 1.5%).
Even with the iTunes feature, and encouraging listeners to subscribe on the Apple Podcasts ecosystem, Love Your Work still ranks somewhere around #50 in Careers.
The feature did not have a clear, overwhelming, and lasting effect on iTunes rankings.
How long does an Apple Podcasts / iTunes feature last?
It depends. I monitor the iTunes features closely. Some shows have a large banner for what seems like a month (The Gary Vee Audio Experience was featured for at least a month). At a minimum, your large banner will last for a week.
I had a large banner for a week, which looked like this on iTunes and the Apple Podcasts app, respectively.
I also had a smaller banner which lasted another week, which looked like this iTunes:
And it looked like this on the iOS Apple Podcasts app:
Does having your podcast featured on Apple Podcasts / iTunes bring other opportunities?
Having your podcast featured on iTunes is cause to celebrate. I made sure to say a few words about it in the intro of my show when we were featured, I sent a "thank you" to my email list, and I also shared my excitement and experience with other podcasters in the Podcast Movement Facebook Group, and the Podcasts sub-Reddit.
I'm also sharing it here. You're a podcaster. You're probably fighting to find a deeply satisfying way to make a living. You also probably listen to podcasts. You should listen to Love Your Work. Did you know it was featured on iTunes?
There are probably numerous other ways you could toot your own horn and take advantage of the event. It depends upon your audience and what you want to accomplish. Maybe a press release? Do people do that still?
Getting my podcast featured on iTunes did help me get my podcast included in the Spotify directory. I had previously submitted through Libsyn, but after the feature, a listener actively complained to Spotify that my show wasn't included, which prompted Rob Walch of Libsyn to re-open the application with my nudging.
I've tried. @podcast411 any hope to revisit this?

— ? David Kadavy (@kadavy) May 30, 2017
Looks like it's happening in the next 2 weeks. Thanks for that Wolf!

— ? David Kadavy (@kadavy) May 31, 2017
Spotify is still very selective with the podcasts they allow in their directory, so being featured likely sped this along. I'm still processing how being included in Spotify is impacting my podcast, but it currently looks like I'm getting an additional 15%–33% streams on Spotify on top of the regular downloads in my Libsyn stats.
Here's a quick look at my Spotify streams (Libsyn tells me these are counted separately from downloads). There's quite a climb here, and I'm told it's unusual, so it's possible that the iTunes feature was a "little break" that led to the "big break" of being in Spotify. However, I still don't know how engaged listeners on Spotify are, so I haven't been including these numbers in pitches to advertisers.
How do you get your podcast featured on Apple Podcasts / iTunes?
Being featured on iTunes was not the big break I expected it to be, but it's still validation, (and it certainly boosts downloads for some shows). So, how on earth did I manage to get featured in the first place?
The bare minimum requirements posted on Apple's website are:
New episodes posted regularly
A clear and complete author listing
A 3000 x 3000 pixel JPEG or PNG artwork file with 72 dpi in the RGB color space
Attractive, original artwork that does not include Apple-branded content
A robust and accurate description of your podcast and all related episodes
Proper tags regarding language, category, and explicit language or content
General comments about your podcast in the podcast description, not in episode descriptions
I'd add that Apple will not feature you if you have "spam" in your author tag. I had many keywords in my author tag – mostly guests who I considered co-authors, and Apple requested (through Rob Walch of Libsyn) that I remove those extra keywords, saying it was required to be featured.
I wanted to suggest that they make podcast search that isn't absolute dogsh*t, but I bit my tongue, removed the keywords words, and thanked them instead.
I'll also add that having proper explicit tags is not necessarily a requirement, as there is a certain loudmouth from New Jersey who had his podcast featured for a month, and who cusses like a sailor who just stubbed his toe, and who has his podcast marked as "clean lyrics," and who hasn't marked an episode as explicit for nearly a year.
What does Apple look for in podcasts they feature on iTunes?
To get featured, you're going to need a show or episode that Apple wants to promote. Think about what Apple wants: Apple wants more people to listen to podcasts. Period.
This does beg the question: Why does Apple want more people to listen to podcasts? It gets people spending more time on their Apple devices, and it currently differentiates iOS from Android in that Android doesn't have a native podcast-listening app. There also could be other reasons Apple features podcasts, but I'll move forward with the hypothesis that Apple just wants more podcast listeners.
So to get featured, you need a show or episode that will help attract podcast listeners – especially people who haven't listened to a podcast before. Apple describes it as "compelling, new, or unusual content." Here are a few situations where Apple might want to feature your show or episode:
You have a famous guest who is rarely on podcasts, or has never been on a podcast. If you have Tom Hanks, or you get Oprah to spend two lousy minutes on the phone, you're a good candidate for being featured. "Early adopters" already listen to podcasts, so episodes like this get the "Early Majority" (the mainstream) listening to podcasts, maybe for the first time.
You have a show that is about current events or topics. Liz Covart's Ben Frankin's World was featured during the week of 4th of July – what with Ben Franklin being a founding father, it was very timely.
Your show or episode appeals to a demographic that doesn't yet listen to many podcasts. An underrepresented demographic is an opportunity for Apple to get more people to listen to podcasts.
You just have an interesting show or topic. That's pretty vague, but if you can't pull off any of the above, it's a reminder to embrace whatever strange interests you might have.
I tried a few of these, and it was this last category that ended up surprising me.
The first episode that I submitted (more on that below) was with famous latin dancers Ataca y La Alemana. Since I dance, I'm a big fan of them. I flew to one of their conferences, paid extra to take a small-group workshop with them, and took the opportunity to invite them to be on the show.
It wasn't until after I recorded the interview that I realized: If I were Apple, I would want to feature this episode. This couple is huge in the Latino community. They have a YouTube video with nearly 100 million views.
Since Hispanics supposedly listen to radio more than any other group, that's a bunch of people who are listening to audio. You can't too well listen to a podcast while you're also listening to the radio, so there's a good chance that's a whole bunch of people who could be won over into listening to podcasts.
Apple ended up passing on that episode, but the episode they featured was the one I least expected them to feature. It was an interview I did with a friend of mine who also lives in Colombia. I walked around his chocolate factory, we talked about making chocolate, and building a company to positively impact a struggling region of Colombia.
I don't know why they chose to feature it, but I like to think it passed the interestingness test. It was about chocolate – something everyone loves; it dug deep into the chemistry of chocolate – it was a little geeky; it was about social impact – a hot topic that makes Apple look good. I suppose it was also interesting that it took place in Colombia – a place with a troubled past, but a bright future.
I had been so focused on trying to get featured in other ways (by getting someone notable on my podcast, like Seth Godin), I wasn't sure I should do the interview with Danny. But, I figured he was interesting to me, so I did it anyway. Turns out it was interesting to Apple, too! Like I say, embrace whatever unusual interests you have in programming your content.
Submitting your podcast to be featured on Apple Podcasts / iTunes
It's possible that Apple will find your podcast and reach out to you to be featured. You'll have better chances if you able to get in touch with someone from Apple. There are a couple of ways to do this:
Social engineering: You can try to track down a curator at Apple, and convince that person to feature your podcast.
Ask your podcast host to submit: Many podcasting hosts such as Blubrry or Libsyn have contacts at Apple.
I tried both of these. Before I went to the Podcast Movement conference in Chicago, I did some sleuthing to see who worked at Apple, and followed one particular person on Twitter.
I still had an apartment in Chicago, and was in the process of selling all of my stuff to move to Colombia. Sitting on my couch the night before the conference, I searched for "Podcast Movement" on Twitter, and stumbled across a pre-party.
While an apartment full of junk begged to be organized and sold off, I mustered the will to go to that pre-party. As I turned around to go get a drink, there was the person from Apple. I'm sure I surprised them when I recognized them. I connected shortly, and saw that person several more times throughout the conference.
Several months later, I asked Rob Walch of Libsyn, my podcast host, to submit my podcast for consideration (with my pitch for why Ataca y La Alemana would make a great feature).
I filled out the questions he sent me, and sent this artwork, which I made according to Apple's guidelines, and with the Photoshop template they supply. I felt glad that I gone to design school.
I then sent an email nudging my Apple contact, basically giving that person a heads-up that Libsyn was submitting.
The launch date of the Ataca y La Alemana episode came and went. The week after it launched, Rob forwarded a message from Apple asking how much longer it would be the newest episode (answer: just a few days more). I heard nothing after that.
---
Weeks passed, and I spiraled into hopelessness. I would regularly open iTunes just to cuss about all of the shows from NPR and Gimlet, and all of the celebrities that were being featured.
I emailed Rob telling him I had a Seth Godin interview coming up. He said that since Seth already had a podcast, it wouldn't help.
Then, I got another email from Rob. "Apple is asking about your schedule – that is a really good thing." They wanted to know my schedule for the next 6 weeks of long-form interviews.
I didn't really have my schedule planned out quite that far in advance, but I typed out my upcoming guests, and just pretended like the tentative ones were for sure. I bolded Seth Godin, thinking that's what they'd pick.
I tried to think of a short description that would appeal to Apple for each one:
5/11: Sean Stephenson, motivational speaker, osteogenesis imperfecta survivor
5/25: Danny Michelwicz, chocolatier working to help Colombia's Darién region
6/8: Seth Godin, author of Tribes, The Dip, Purple Cow, Permission Marketing, etc.
6/22: William Mougayar, author of The Business Blockchain (a discussion about the blockchain's implications on business, especially social media) [This episode never ended up happening.]
Rob then relayed that Apple wanted to know if I had any photos from my session in the chocolate factory with Danny Michlewicz of Tilín Cacao.
All I had was this terrible iPhone photo. To boot, Danny had suggested we put on hairnets for the photo.
I sent the photo along, saying that I could arrange to take a better photo. I also mocked up quickly what I might be able to do with the photo to make it look better.
I followed up with Rob. I followed up again. And again. I asked him to follow-up with Apple to find out what was happening. He advised against it. It was a mysterious process, encumbered further by not being able to communicate directly with Apple.
And by the way, my contact at Apple hadn't responded to my nudge either.
The Monday evening after the Thursday debut of Danny's episode, I opened iTunes. Since most of the featured podcasts get changed out on Mondays, I figured there'd be a fresh new batch of shows for me to cuss at and beat myself up over. Another f*cking pro athlete. Another f*cking movie star. Another f*cking NPR show.
And there it was. It seemed so out of place between RuPaul and Mark Zuckerberg.
I cringed at the artwork, but hey, Love Your Work was featured!
I sent a note to my contact at Apple, saying "If you had anything to do with Love Your Work being featured on Apple Podcasts, then thank you!"
I didn't hear back.
So, what's my advice if you want to get featured on iTunes?
I had a head-start on this journey that most podcasters don't have. When I started my podcast, I had already built my platform for more than 11 years. I had already written a best-selling book. I already had over 30,000 email subscribers. I had already taken classes in improv, acting, voice, storytelling, and sketch-writing, in large part to prepare to have a podcast one day.
I went to great lengths to try to engineer this breakthrough. I changed international travel plans to be in Chicago for Podcast Movement and try to connect with the right person. I flew back to the U.S. just to connect with potential podcast guests. I wracked my brain for the right angle that Apple might like, and beat myself up every Monday as I saw another batch of big names featured.
Even after all of that, I have no idea how to get your podcast featured on iTunes. Even with all of these efforts, I did get lucky. Even with that lucky break, I still struggle hard as a creator. Yes, I've landed advertisers here and there, and yes the Patreon backers are trickling in (and I do mean trickling). But getting featured on iTunes did not suddenly make my podcast sustainable.
The only definite benefit is that it took away a little bit of the sensation of being punched in the stomach that I tend to feel when I think about growing my podcast. That's not because I'm now satisfied. It's more because there's one less milestone, one less green light across the bay that I imagine to stand between myself and being able to comfortably make this show as good as I want to.
But here's my advice anyway:
Getting featured is probably not your "big break." Maybe you'd see more long-term growth than I did. It won't necessarily take you from throwing money in the podcasting pit to sitting on a pile of money – or even sitting on level ground.
There's no sure way to get featured. Try social engineering, and brainstorm angles for episodes that Apple might want to feature. If you think you've really got something, then (and only then) see if your hosting company can advocate for you getting featured.
Stick with what interests you. I thought I'd need to land a big celebrity guest to get featured. Actually, it was the guests that didn't make practical sense that piqued Apple's interest. As Seth Godin always says, if you're saying to yourself "this might not work," you're onto something.
If you aren't getting featured, you aren't necessarily missing much. If you want to go for it anyway, remember breakthroughs like this involve a lot of luck. The best you can hope for is to increase your odds.
Thinking of writing a book?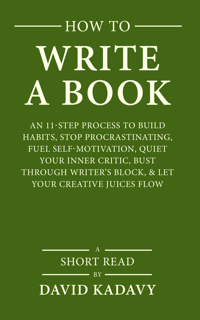 Download your FREE copy of How to Write a Book »
(for a limited time)