Subscribe to blog updates via email »
An audio version of this income report is available to Patreon backers of certain levels (at a discount in the True Fan tier – which closes soon!) »
April's revenues were $5,007, down from March's $6,782. Profits were $3,059, down from March's $3,762.
A solid month just under average profit, helped along by a BookBub International Featured Deal.
Results of 6-month predictions for Mind Management, Not Time Management
When I launched Mind Management, Not Time Management, I made some predictions about sales. Book sales numbers can vary wildly, so I predicted potential ranges of copies sold within certain timeframes, along with my percent confidence I would fall within those ranges. Thus, inspired by the work of Phil Tetlock, I created a method that would make it possible to calculate the Brier scores of my predictions, much like in the avocado challenge.
I had predicted the following for the 6-month mark:
90% confidence: between 1,000 and 50,000 copies sold.
70% confidence: between 1,500 and 12,000 copies sold.
50% confidence: between 2,000 and 7,500 copies sold.
Actual copies sold: 2,176
So, all three predictions were correct, as were my one-month predictions. All predictions so far have been on the low side of my least-confident range of 50%. Here's what that looks like plotted on a graph:
This prediction was helped last-minute by my BookBub International Featured Deal (more on that in a bit). If it weren't for that deal, I would have been incorrect on my 50%-confidence prediction.
Other predictions in Predictionbook
I had not entered my 6-month predictions into Predictionbook, but I have entered my predictions for 1-year and 3-year, so I'll get reminders to rate them.
I have also been entering predictions into Predictionbook for some of my content-marketing efforts. For example, I predicted, as reported by Google Search Console:
98% confidence my Understanding Media summary would drive fewer than 20 clicks within 3 months of publish.
70% confidence my How to Take Smart Notes book summary would drive at least 20 clicks within 3 months of publish.
30% confidence my How to Take Smart Notes book summary would rank 10 or better for the keyphrase "how to take smart notes summary" during the 3 months of publish.
I was right on both counts for the How to Take Smart Notes summary. It averaged in the top 10 for the first 3 months, and it brought in 54 clicks, more than the threshold of 20. My prediction about the ranking wasn't very high, at 30%, so in a way I was wrong!
But I was incredibly wrong about Understanding Media. In the first 3 months, it has in fact brought in not fewer than 20 clicks, but rather more than 500! The fact I said I was 98% sure it would bring in fewer than 20 makes me almost as wrong as I could be.
The joys of being wrong
Being wrong is part of the point of this exercise. I used to just write something and not have a way of telling whether it did well, or how well I predicted how it would go. And traditional benchmarks are too Mediocristan when I'm working in Extremistan. I'm trying to breed Black Swans, and the response to my Understanding Media summary is at least a black cygnet.
Looking at that 98% confidence the summary would do so poorly, I'm trying to remember why I bothered. I think it was because I just really liked the book. I also think I made the prediction after most of the work was already done. I think I also looked at it as a likely failure, with a small chance of big upside.
I have a few more predictions in Predictionbook, but haven't been disciplined in putting in more. I at least have improved my decision-making feel through this exercise.
BookBub international Featured Deal for MMT
As I said, I hit my predicted sales range thanks to an international BookBub Featured Deal. It went very well.
My previous international Featured Deal
In December 2018, I paid $318 for an international deal for The Heart to Start. The deal ran in Canada and Australia, but I was disqualified from running the promotion in the UK because Amazon had matched a low price I had accidentally set in Google Play's confusing-as-shit-at-the-time pricing dashboard. BookBub promoted my book to 140,000 subscribers and estimated 300 sales.
In this The Heart to Start international deal, I sold 272 copies for revenues of about $220. I also lost an estimated $200 in opportunity costs because I had to switch from the 70% to the 35% royalty plan in the U.S. to make the price change to $1.99 CAD and AUD (I kept the U.S. price at $9.99 so as to remain eligible for near-future U.S. deals.) So, I lost about $100 on my first BookBub international deal. $300, if I count opportunity costs.
My latest international Featured Deal
I had an international deal for MMT go live on April 27th, and wow was it different. This time I paid the same $318, and the deal ran in Canada, the UK, and Australia. Since BookBub recently started running deals in India, I got that, too. This time, they sent to 250,000 subscribers and estimated 460 sales.
I sold at least 740 copies, and made at least $600 in royalties (I still don't know Kobo sales). I also saw a slight lift in sales of HTS and How to Write a Book, both which I marked down to their lowest-possible 70%-royalty price points. This time, there were no opportunity costs to the price change, as MMT has already been in the 35% royalty plan for several months. (I hadn't planned this, but it was nice. Though I'm sure there are big opportunity costs for having the book priced at $14.99 for so long.)
Instead of having fewer book sales than BookBub had projected, I had 65% more. One confounding factor was that my appearance on The Creative Penn podcast went live the day before the deal. However, my book was already priced at $1.99, and I made only 25 Kindle sales that day, as compared to the day BookBub promoted the deal, on which I made 249.
Sales breakdown
Here's the breakdown of my sales, by market:
Canada: 323 copies, about $226
UK: 242 copies, about $255
Australia: 156 copies, about $104
India: 19 copies, about $13
Total: 740 copies, about $598
Here's that broken down by channel:
Amazon: 569 copies, about $417
Apple: 123 copies, about $129
Google: 48 copies, about $53
Kobo: unknown
Still waiting on Kobo numbers from PublishDrive
I'm still waiting to see how many sales I made on Kobo. PublishDrive claims to report Kobo sales within a couple business days. However, I still see 0 sales for this time period in my reports.
I know I made Kobo sales, because my book reached #1 in Business on both the Canada and Australia Kobo stores. I was ranked above Bill Gates, and I bet he sold more than 0 books.
I'm sorry to say, PublishDrive's support for this issue has been disappointing. They first acted as if the "0 sales" number was right. They've since said they're looking into it – but there's been little communication for the past couple weeks, and what communication there has been still indicates they aren't seeing missing sales.
I have made few sales on Kobo, historically, but there were some reported earlier in the year. I switched all my wide publishing to PublishDrive from Draft2Digital because PublishDrive has better reporting, so too bad PD's reporting isn't giving me the info I want.
In my U.S. deal for HTS, I only made 7 Kobo sales, but in my international deal I made 43. When I compare the sales ratios between Kobo and Apple and Google from my HTS international deal, I feel 70% confident Kobo sales were between 48 and 123 copies, which would mean this promotion may have sold upwards of 800 books!
Ranking effects
In the UK, Mind Management, Not Time Management was #1 in Business on Apple.
That also brought it to #48 overall on Apple. It also ranked #20 in Business on Amazon, and #1 in Creativity on Kobo.
The high ranking helped it be featured in Apple's "Bestsellers for £1.99 or Less" on UK Apple.
In Canada, it made it to #11 overall on Amazon!
Needless to say, that made it the #1 Business book. It was also #11 overall on Apple, and #1 in Business on Kobo.
In Australia, it made it to #69 overall on Amazon.
It was also #1 in Business on both Apple and Kobo.
India had very little activity, but the book made it to #511 overall on Amazon.
Google Play rankings were slow to update, but two days after the promotion, I did see the book at #2 in Canada for the Time Management category (behind Getting Things Done).
Rejection #2 for BookBub U.S. deal
I made a second application for a $1.99 U.S. Featured Deal, and MMT was rejected a second time. I was surprised, because clearly it had done much better on its international deal than did HTS, and HTS has had a U.S. Featured Deal.
I will keep applying, but I hope I don't have fourteen rejections like HTS did. I mentioned earlier that I planned to alternate between the $1.99 and $2.99 price point in my applications, but I noticed in the rejection email they encourage you to apply for a lower price point. As much as it would help my hopes of hitting the WSJ best-seller list, I can't bring myself to offer the book for 99¢. I still plan to alternate.
How much longer at $14.99?
I'm not sure how much longer I can hold out at the $14.99 price point, as it's suppressing sales and leaving royalties on the table for the sales I do make. Then again, that price point will probably help with foreign-rights deals that may come along.
At some point it may be worth deciding my plan to go from $14.99 to $1.99 for a BookBub Featured Deal and WSJ run didn't pan out for this book, at which point it would make sense to hold strong at $9.99 and start making more royalties.
Chirp Deal?
I'm left waiting another four weeks before I can apply again. If $2.99 really has less a chance of being accepted than does $1.99, that kind of leaves me eight weeks before I get another shot.
In the meantime, I have applied for a Chirp deal for the MMT audiobook – and I just got a rejection email.
Golf experiment in motion
When I had my visa snafu a few years ago, I took the opportunity of staying near a golf course to research an experiment I couldn't get out of my head: I wanted to see how good I could get at golf.
The passion I let go
When I was in high school, there was little in the world I wanted more than to become a professional golfer. I worked hard at it, but I had no talent, less-than-ideal resources, and little guidance. I was not even close to having a chance.
I kept playing for several years after high school, but in 2005, when I moved to California, I stopped. It was clear I wasn't going to succeed, and pursuing golf would only deter me from finding something else to excel at. It was too expensive and too time-consuming. It was a dead-end.
A different perspective
Now, I have excelled decently at something else, and have a pretty solid business that lets me pursue whatever I'm curious about. And I'm still burning with curiosity about the true potential of my golf game.
I've learned so much about setting and achieving goals, deliberate practice, decision-making, and behavior over the past 15+ years. Even though I've hardly played, I still love golf. Additionally, new technology and statistical methods have emerged in the game, and it's clear I was focusing on the wrong things so many years ago.
I want to apply everything I've learned, in the context of new golf technology and statistics, and see just how good I can get.
Different challenges
I face a different set of challenges than I did when I was previously serious about the game. I'm 42, thanks to chronic illness it takes a long time for my body to recover from exertion, and it's not easy to get access to a golf course, nor decent equipment and instruction, in Colombia.
But, an opportunity recently presented itself for me to finally have access to a golf course and practice facilities. I've been slowly collecting information and brainstorming this project for the past few years, and I think it's time to give it a shot.
Becoming a "pro" golfer
Realistically, I have no chance of becoming a pro golfer. Being the best in the world at one single skill is a tough game to play for anyone, and it's not my style. But with everything I've learned about writing and running a business, I'm hopeful there's some way for me to become a "pro" golfer – by that I mean building my business so that I essentially get paid to play and practice golf.
I have to try it. I mean, what kind of hypocrite would I be to have a podcast called Love Your Work, and not try to make a living at my one passion that just won't die?
Searching for my niche
I'm not ready to announce anything yet, but I am already doing a small amount of activity online, in stealth-mode. I'm getting a clearer picture of who is making a living online in the golf world, and what they have to offer.
I've also played a few times and practiced as much as I can with as-of-yet little-to-no access to equipment and facilities. And I'm worse at golf than ever. But, I have a clearer path in my mind toward progress than ever.
I still have little idea what I have to offer the golf world with my abysmal skill level, but I'm feeling things out. It will probably begin with a project of documenting my progress toward a goal, and I may see what may emerge from that.
I do know that golf is full of mysteries relevant to things I've been thinking and writing about. It's an Extremistan game where success lies not in breeding positive Black Swans, but killing negative Black Swans. It's full of perceptual distortions that will sabotage you if you're not careful, and it's full of endlessly-multivariate decisions. And, of course, mind management is crucial to success in golf.
Watch this space
So, watch this space. I hope to share my experiment with my audience once it takes fuller form. If you don't give a damn about golf, I'll try not to clog this channel with talk about it – trying to keep it separate.
Zettelkasten book ready!
I just submitted a new book to Amazon. By the time you read this, it may be live! Digital Zettelkasten: Principles, Methods, & Examples aims to help aspiring Zettelkasten practitioners navigate the myriad decisions they need to make as they build their digital Zettekästen.
Coming together… pic.twitter.com/KsZIn29IIF

— ? David Kadavy (@kadavy) May 24, 2021
The book has ended up at about 13,000 words, with about a dozen illustrations. It comes in at around 100 pages in print, which may make it a little too long to call a "short read" and a little too short to call a book. We'll see.
The paperback version only needs a cover before it's ready.
I don't plan to do any big fanfare for this book release. I'll just drop it when it feels like the right time – that's fun an exciting.
Patreon membership drive ending
I'll be closing new sign-ups to the "True Fan" Patreon tier May 31st. At the time of this writing, it looks like the drive boosted Patreon revenues about 15%, or $40. Ten people have signed up for the True Fan tier, but at the same time, some patrons have dropped off – as they sometimes do.
Pretty much anything you offer with a deadline, most people take action just before the deadline. I'm not sure if that will apply to this Patreon deal as it's a little more about supporting my work than it is about getting a deal on a product, but we'll see.
If you've been on the fence about joining the "True Fan" tier, join before I shut it down.
Vietnamese rights payment coming next month
In May, I got the advance payment for the Vietnamese translation of The Heart to Start! I'll be reporting that in next month's report. So, my first DIY foreign-rights deal is confirmed. I have a couple different agents trying to strike deals for MMT in Asia, so I'm hopeful there will be more deals to come. It feels great to make once and sell twice, as Jack Butcher would say.
Podcast editing now $123
My podcast editing bill was $80 a month, and is now $123. I've been working without an assistant for several months now, and I like it. My assistant used to syndicate upcoming podcast episodes to Patreon, and I was doing it myself for a while. I handed that task off to my podcast production team.
It's a simple task but as you can see it has increased my bill by over 50%. I decided that was okay, as it's not added complexity from a management perspective. It saves me a task switch and a handful of minutes every month, and I really get a great deal on podcast editing anyway, so I'm glad to give my team a little extra work.
Thank you for having me on your podcast
I continue to be invited to appear in interviews at a decent clip. Thank you to Dan Pierce at Mentally Fit, Chris Sparks at The Forcing Function, and Joanna Penn at The Creative Penn.
Income
Book Sales
Digital Products
Affiliates / Advertising
Services
Expenses
General
| | |
| --- | --- |
| Accounting | $216 |
| Outside Contractors | $0 |
| Podcast Editing / Publishing | $123 |
| Quickbooks | $36 |
| Total General | $375 |
Advertising
| | |
| --- | --- |
| Amazon | $864 |
| BookBub | $378 |
| Product Samples | $0 |
| Total Advertising | $1,242 |
Hosting
Thinking of writing a book?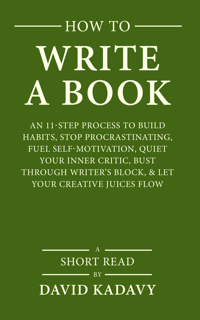 Download your FREE copy of How to Write a Book »
(for a limited time)