Subscribe to blog updates via email »
You are what you surround yourself with. When your environment changes, your mind changes with it. We recently talked about how your environment can put you in a creative mental state, when we talked to Donald M. Rattner, on episode 201.
But what about the objects you surround yourself with? They're a part of your environment, too. The devices we use are a part of our environment, and the devices we use affect our mental state, too.
We're already pretty intentional about how we change our environment for the exact activities we're doing. You cook in your kitchen, and you sleep in your bed.
You wouldn't sleep in your kitchen, so why do you meditate with your smartphone?
Image: View Across the Bay, Juan Gris
Thanks for sharing my work!
Thanks to the 80,000 Hours podcast for syndicating my conversation with Rob Wiblin to their podcast. Thanks to the Traction Growth & Income podcast for interviewing me. Thanks to the Big Gay Author podcast for mentioning my interview with Robbie Abed.
On Twitter, thank you to @mrlacey, @giftedguru, @LWCvL, @dbarrant, @kierantie, and @thepixelgrid.
On Facebook, thank you to Sean Corbett. On Instagram, thank you to @jamesonbairesq, and @realba88.
Our Weekly Newsletter: Love Mondays
Start off each week with a dose of inspiration to help you make it as a creative. Sign up at: kadavy.net/mondays

Join the Patreon for (new) bonus content!
I've been adding lots of new content to Patreon. Join the Patreon »
Sponsors
Offgrid Mindfulness: Get 10% off the The Awake Mindfulness Clock when you use the code LOVEYOURWORK at https://offgridmindfulness.com. Purchase by December 16th, and get a free travel case.
Subscribe to Love Your Work






Listen to the Podcast
Theme music: Dorena "At Sea", from the album About Everything And More. By Arrangement with Deep Elm Records. Listen on Spotify »
Thinking of writing a book?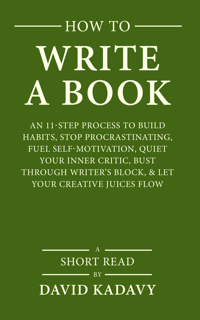 Download your FREE copy of How to Write a Book »
(for a limited time)