Subscribe to blog updates via email »
An audio version of this income report is available to Patreon backers of certain levels »
July's revenues were $9,891, down from June's $10,301. Profits were $2,877, down from June's $8,453.
I was just shy ($109 shy) of a second month in a row above $10k! However, profits were below-average thanks to high ad spending for a BookBub Featured Deal.
Record-breaking profit trends
Profit for July was lower than the 12-month average of $3,891. But, that average in itself is a record. Over the past twelve months, my profit has been $47,773. That's the highest twelve-month profit on-record, beating last month's $44,896.
The past two months are the only months during the 3.5 years I've been doing these reports that number has even been above $40,000. One reason the twelve-month average has skyrocketed is June was a high-profit month. The other reason is June of 2020 is now more than twelve months in the past, preventing it from being a part of the average. June of 2020 is when I had BookBub Featured Deal results $4,000 in the hole, resulting in a profit of only $516.
This month, I also had a BookBub Featured Deal, but as I'll explain in a bit, the results of that deal didn't drive down profits quite so much.
In any case, it's good to be close to making $50,000 a year, especially with the mix of revenue I have. We'll see in coming months if I can break through that $50k barrier.
Record-breaking self-publishing profit trends
It's great also to have much of that record-breaking profit come from self-published books. I had the highest-ever revenue from self-published books in July, with $8,052.
The previous record was $7,015, in August 2019. However, at that time I was spending a ton on ads, and only brought in $837 self-published profits for the month. This month, my self-publishing profits were $1,812.
Despite spending a lot of my revenue on ads for the BookBub Featured Deal this month, the 12-month total profit for self-published books hit a record level: $20,383. The previous high was last month, at $19,814. The all-time low was in November of 2019, at $5,829.
That makes the 12-month average profit for self-published books almost $1,700 exactly. The trend keeps going up!
BookBub Featured Deal for Mind Management, Not Time Management
The highlight of the month was the U.S. BookBub Featured Deal for Mind Management, Not Time Management. If you recall from last month, my plan was to go no more than $2,000 in the hole making a run at the WSJ best-seller list.
Sales and sales rankings
The day of the promotion, I sold more than 1,100 Kindle copies of MMT.
The book climbed to #56 overall on the Kindle store.
That quick jump put it at #35 in Movers and Shakers.
It also made it to #1 in Business & Personal Finance on the Apple Books store.
And it was #54 overall on Apple Books.
Did sales meet expectations?
I was 70% confident I would sell between 2,500 and 5,500 ebook copies in the U.S., Sunday–Saturday. I was short of that, selling only 2,293 within that time period. In fact, even including the extra couple days the promotion ran, I was still short of 2,500 copies in the U.S., with 2,472.
However, I was 90% confident I would sell between 2,000 and 8,000 copies, so I was correct on that estimate.
I was also 70% confident I would sell, on Apple Books, between 200 and 450 copies. Again, I was wrong on that estimate. I sold only 187 copies in the U.S., Sunday–Saturday.
However, I was 90% confident I would sell between 150 and 800 copies, so I was correct on that estimate.
Overall, I was 50% confident the book would make the WSJ best-seller list. I was wrong on that prediction. My sales numbers didn't break any of my sales thresholds for predicting my confidence the book would make the list, so I can't rate those conditional predictions, such as 40% confidence, if 3,000 or more copies are sold.
Why were sales short of expectations?
So, overall, sales didn't meet expectations for this promotion. There's a few reasons my expectations were higher, which apparently didn't pan out.
Pent up demand did not create a "slingshot" effect. I thought this being the first pricing promotion for the book, especially after pricing it at $14.99 for so long, would create a "slingshot effect," wherein pent-up demand would be released. That didn't appear to be the case.
Awareness was not built up from the BookBub Featured New Release. I did a BookBub Featured New Release when MMT first came out, in October, and it went very well – especially compared to the negative experience most authors had reported with Featured New Releases. I thought that would have built up awareness for the book, thus improving response to this Featured Deal, but that didn't seem to happen.
A better book idea didn't increase sales. I thought MMT was just a better book idea than HTS. I thought it was a more compelling offering that would just be easier to sell. I thought that would make this Featured Deal perform much better than the previous. That didn't seem to be the case.
I was mostly surprised at how almost identical the results of this deal were to my previous BookBub Featured Deal results.
Shockingly similar to the previous deal
In my The Heart to Start Featured Deal, I sold 2,541 copies overall.
In this deal, I sold 2,715. Slightly more, but this deal ran two days longer.
Apple Books sales were important to my goal of hitting the WSJ best-seller list. I was shooting for at least 500. In my deal for HTS, I sold 204 copies on Apple, across all markets. In this deal, wherein I put more focus on Apple sales, I sold 257.
It helped to have a plan – and to change it
Thanks to all I learned in the previous Featured Deal, and the budget calculator I built, I had more of a plan going into this deal. I had my supplemental ad budget planned out for various channels, and sales targets I wanted to hit.
PublishDrive – a rocky start
The deal got off to a rocky start when PublishDrive failed to change the price on all channels, except for B&N. (I had changed the price manually on Amazon with no issue).
This meant I couldn't get off to a head-start on Apple sales. My promotion started on Sunday, and PublishDrive's support was non-responsive. The prices did change finally on Monday, but by that time it was too late to get any Sunday sales for the promotion.
This also meant that some of the BookBub ads I had set to begin on Sunday ran with incorrect pricing. BookBub rightfully banned those ads, but not before money was wasted, and patrons misled.
When PD support did respond, they said their system was set to start the pricing change on Monday, not Sunday, and that B&N prices typically change a day early anyway. Well, the promotions in my dashboard were clearly set to start on Sunday. I think there may be a discrepancy between their front-end and back-end, but I haven't heard back from their support on this. They didn't/don't care.
PublishDrive – a strategic mistake
Yes, PublishDrive dropped the ball. But if it was important to shoot for the WSJ list, it was a strategic mistake on my part to have PublishDrive handling publishing to all channels outside Amazon, especially Apple. This meant, for an entire day, I was helpless to control the pricing of my book on Apple Books. Since PublishDrive's reporting is delayed a couple days, it also made it difficult to monitor my sales on Apple Books, to see whether I was anywhere near hitting my sales targets.
It especially should have been apparent to me not to rely on PublishDrive for critical functions after the trouble I had with their Kobo reporting from the international deal. PD is fine to use as an aggregator to make sure you're in a lot of channels, and their reporting is better than Draft2Digital's, but if it's really important, you're better off publishing direct to a channel.
If hitting the WSJ list is important, it's wise to publish directly to the non-Amazon channel on which you hope to shoot for 500 sales – in my case, Apple Books.
At least I had set my prices to change a few days before my BookBub Featured Deal was to be sent out. I set for prices to change on Sunday, they changed on Monday, and the BookBub email went out Wednesday. If prices hadn't changed by then, those channels wouldn't have been promoted through BookBub, and a good portion of my spending would have been wasted.
Wasted money on Facebook ads
In my retrospective of results of my first BookBub Featured Deal, I resolved to spend less money on Facebook ads, specifically. But after running a few ads on Facebook, I got excited at the results I was seeing.
I couldn't see if my ads were resulting in ad sales, but I could see that I was getting much cheaper clicks. On BookBub, where I had planned to spend 50% of my ad budget, I was paying something like $3 per click to Apple Books. Yes, $3 just for a click to a book selling for $2, for which I was earning about $1.40 per sale. And I had already previously optimized the audience and creative.
Meanwhile, on Facebook, I was getting clicks for more like $1. So, I took much of my BookBub budget, and re-allocated it to Facebook ads.
Again, I couldn't see whether this was leading to sales – in part because I couldn't see Apple Books sales until two days after the fact (it still would have been a day delay if I were publishing direct). But, I should have taken a closer look at the quality of the clicks I was getting.
64% of all clicks for one ad turned out to be from women 65 and over. Now, I don't care at all what demographics do or don't ultimately buy my books, but I can tell you this is not representative of my audience. Given that I optimized for clicks, I realize Facebook probably just showed the ad to people who click on a lot of ads – which, it turns out are women 65 and over.
Surely some of these led to sales, but based upon the sales numbers that did come in it wasn't commensurate with what I spent. I probably still was better off paying $3 for clicks on BookBub than $1 for clicks on Facebook.
Ad budget plan
I originally planned to spend the following on supplemental ads for the BookBub Featured Deal (in addition to the $1,008 fee for the deal itself):
BookBub: $1,996
Amazon: $1,597
Facebook: $399
Total: $3,992
The plan was for 30% of that advertising to be spent before the official start of the campaign, 30% on the day of the campaign and the following day, and 40% on the last day of the campaign.
I ended up spending like so:
BookBub: $894
Bookraid: $12
Amazon: $1,114
Facebook: $1,535
Twitter: $359
Total: $3,914
As you can see, I was pretty close to hitting my projected budget, but the allocation was different. Mostly I spent a lot more on Facebook ads than I had planned, a lot less on BookBub ads than I had planned, and I also spent on Twitter ads and Bookraid ads (a PPC service), which weren't in my original plan at all.
I ended up spending a little more than 30% of my budget before the campaign officially started, I spent nearly half the budget on the day of and day following the official campaign, and I spent not even 20% of the budget – instead of 40% – on the final days of the campaign.
Changing strategy
Why did I spend so little toward the end of the campaign, when I had planned to do most of my spending then? Because I pulled the plug on ad spend completely toward the end.
Referring to my ad budget plan, I monitored my sales and ad spend throughout the campaign. I was most closely watching the sales on Apple Books, since AFAIK, I would need 500 sales in the U.S. on that channel to have a shot at the WSJ list.
As I said, Apple sales got off to a slow start, since the price didn't change on Sunday, as scheduled. Additionally, I couldn't see my sales until two days after the fact.
So, I had to plan my ad strategy in the dark, making rough calculations of how many sales I could expect per click, based upon the sales I had made and the clicks I had driven so far. As I say, these were very rough, and didn't turn out to be terribly accurate.
Pulling the plug on ads
But once I saw that the sales numbers from the day of the BookBub deal weren't terribly different from the previous deal, (84 sales, versus 88), I pulled the plug on supplemental advertising completely. I think I did this at some point on Friday morning, the day when I was supposed to spend the most on ads.
I felt a bit of relief once I stopped spending on ads. I don't enjoy monitoring sales and ads actively for a week straight, and I don't enjoy trying to hit certain sales numbers for external validation.
Giving up on WSJ
So, as I gave up on my WSJ run, I felt fine. Just after I did so, I saw an acquaintance had just successfully made the WSJ list. I had seen how omnipresent they had been during the previous week, and can only imagine how much work it had been. I was happy for them, and didn't feel jealous. It made me wonder if I want it badly enough to match an effort like that. I don't.
But, it would still be good for business to hit the WSJ list at some point. I now have more data to go off if I want to make that happen in the future. Perhaps I'll try again with a future book.
If I do make another WSJ run, it would make sense to offer a new book at 99 cents, and to publish direct to Apple Books, to better monitor sales. It pains me to think of pricing a book that low, but that would better serve that goal – if I decide it is a goal.
Supplemental help
Not all of my help came in the form of ads. I of course sent to my own email list, but I also went down a checklist of around 60 influencer friends, asking them to like my tweet announcing the deal. Most of them did, and many added a retweet, too.
The tweet attracted more than 80,000 organic impressions, and 450 link clicks. Through Twitter ads, I also attracted another 36,000 impressions, and 120 link clicks.
Did I lose $4,000 again?
Having an ad budget to start with, and adjusting according to performance helped me prevent losing as much money on this WSJ attempt as on the previous.
Across all channels, during the life of the promotion, I earned $2,166 in royalties. Including the fee for the BookBub deal itself, I spent $4,910. That's a loss of $2,744.
That's more than the $2,000 that was my original limit. However, I did reduce the price of other books this time, to attract sales at a 70% royalty rate.
Across all self-published books, across all channels, throughout the life of the promotion, I earned $3,702 in royalties. Outside of the $4,910 I spent advertising the promotion, I also spent another $376 promoting other books.
That comes out to an overall loss of $1,584, which is less than the $2,000 loss I had planned for.
Lots of new readers
The greatest benefit of the promotion is of course that I sold more than 2,700 copies of Mind Management, Not Time Management. It takes time for those sales to have an impact, but that will increase word-of-mouth sales, driving more sales at the regular price.
Before the promotion, the book had 118 Amazon ratings. That's climbing rapidly, and is now at 143.
Kindle Daily Deal nominations
Not long after the promotion, I got emails from Amazon informing me that MMT has been nominated for Kindle Daily Deals in the UK and Australia. If that pattern follows as it did for HTS, it will eventually be nominated for a Kindle Deal in the U.S., too. These deals cost me nothing, and have so far been pure profit.
More BookBub Featured Deals on the way?
Yes, so far, BookBub Featured Deals have cost me money, but I still think they're worth it. Next, I'd love to try a deal on which I don't spend anything on supplemental advertising. It's now been more than a year since my last deal for The Heart to Start, so I will start submitting it, soon.
Digital Zettelkasten remains a hit
Digital Zettelkasten: Principles, Methods & Examples continues to sell incredibly well. It brought in nearly $3,000 in sales, with very little advertising. That's a wonderful revenue stream helping keep my business afloat.
Readers of this short read are notably price sensitive. I didn't see any difference in books sold when I went from $2.99 to $3.99, but any price jump beyond that is immediately followed by a drop in sales. I told you last month I had tried $4.99, and sales dropped. Now that I have over 100 ratings (133!), I thought I'd try $4.49, and that had the same response.
Ratings/reviews on the book are controversial. Most people love it, but it's getting more haters than most of my books do. Most 1-star ratings don't have reviews attached, but the ones that do are inaccurate, even suspicious. Oh well, such is publishing.
For now, the book has a 4.1-star rating, which means a "4-star" graphic instead of the more attractive 4.5-star graphic. I believe it's a good thing to have a controversial book, but it's better if the haters disagree with something, rather than spewing random stuff that makes you wonder whether they read the book at all.
I do wonder if there is a happy-medium price that wouldn't harm sales too much, while also keeping away tire-kickers who pick up the book on a $3 whim? (Exactly the kinds of readers who leave empty or lazy bad reviews). One of these days I'll try $9.99. As I think about it, it may be sooner, rather than later.
Anyway, the book is selling well. This is one "wildcard" that turned out nicely!
Digital Zettelkasten audiobook?
It would be foolish not to release an audiobook version of Digital Zettelkasten. Obviously, some visuals would go along with it, but that didn't stop me from making an audiobook for Mind Management, Not Time Management. I'd just have to refer listeners to an included PDF from time-to-time.
I currently have plans to review the text and see how it would work in audiobook form.
Golf project threshold
I continue to work on the golf project, playing or practicing three times a week. I currently have the goal of going from shooting 90 to shooting 70. However, it's been slower-going than expected, because the courses I have available to me in Colombia are some of the hardest I've ever played. So, I started out shooting scores like 115 or 111.
Well, I finally shot below 90 on my home course – an 87. Immediately after, I had a "breakthrough" case of COVID and had to take I had to take a week off, but now that I'm recovered, I can try to continue that progress.
So I felt like I hit a threshold by shooting the score that's at least supposed to be my starting score. I continue to quietly build an audience around the project on Twitter, while taking notes I can hopefully use to build more around the project, such as a blog or podcast. If I can hit my goal, I think there's a market at least for a golf book, and the lessons I'm learning may be applicable to a wider audience as well.
Thanks for having me on your podcasts!
Thank you to Kjell Vandevyvere of Coffee and Pens. As always, you can listen to every podcast I've been on on my interviews page.
Income
Book Sales
Digital Products
Affiliates / Advertising
| | |
| --- | --- |
| Patreon | $257 |
| Total LYW Podcast | $257 |
Services
Expenses
General
| | |
| --- | --- |
| Accounting | $281 |
| Outside Contractors | $0 |
| Podcast Editing / Publishing | $123 |
| Quickbooks | $36 |
| Total General | $440 |
Advertising
| | |
| --- | --- |
| Amazon | $3,148 |
| BookBub | $1,510 |
| Bookraid | $12 |
| Facebook | $1,206 |
| Product Samples | $0 |
| Prestozon | $50 |
| Twitter | $314 |
| Total Advertising | $6,240 |
Hosting
Thinking of writing a book?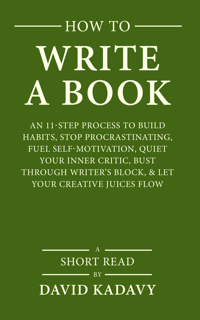 Download your FREE copy of How to Write a Book »
(for a limited time)