Subscribe to blog updates via email »
An audio version of this income report is available to Patreon backers of certain levels »
July's income was $10,434, up from June's $9,112. Profits were $7,744, up from June's $3,607.
As predicted last month, there's been a boost in revenue and profits, as some of last month's advertising expenses have born fruit.
Book sales records
This month brings records in twelve-month book revenue, and profit. Revenues from self-published book sales over the past year have been $78,275 – a nine-month streak of records. Profits have been $49,616. (Looks like it will take me much fewer than "20 books" to reach "50 K.")
Naturally, the average profit from books over the past year is also a record. I've made $4,135 a month in profit from books over the past year.
BookBub Featured Deal results
A big driver of revenue this month was my BookBub Featured Deal for Mind Management, Not Time Management, for which I spent $1,339 last month. During the promotion, I sold about 1,692 copies of MMT, across all stores – $1,312 in revenue.
Right out of the gates, that looks like a loss. Keep in mind, I spent money on other ads, as well.
BookBub deal ad expenses:
Amazon: $249
BookBub Ads: $92
Featured Deal: $1,339
Total: $1,679
With those expenses taken from my $1,312 in revenue, I lost $367 on this MMT featured deal.
But, I also marked down The Heart to Start and Digital Zettelkasten, both of which I already advertise, along with my other books, using Amazon Ads. Plus, aside from these very cheap ebook deals, I sell paperbacks, and some hardcover editions. When people buy these cheap ebooks, they sometimes upgrade to these formats, or other people who discover the books from their higher ranking opt for these formats from the beginning.
Across ebook and paper books on all channels, I made $1,013 profit.
Compared to previous BookBub deal?
How does that compare to the BookBub Featured Deal I did for MMT almost exactly one year ago?
One year ago, I sold 2,715 copies in my U.S.-only deal, versus this year's 1,692.
About 1,000 fewer books, but last year I spent $4,910 on the entire promotion, and this year, I spent $1,679.
That got me to an overall Amazon rank last year of 56, while this year, I only made it as high as 1,090.
But, last year across all books I lost $1,584. It's not clear reading my old report whether that included paper books or not, but either way, that's a bigger loss than the $367 I lost on ebooks through this promotion, and much less than than the $1,013 profit I made across ebook and paper formats.
During last year's deal, I was trying to hit the Wall Street Journal best-seller list, and was willing to lose up to $2,000 in the process. This time around, I just wanted to boost my sales, and not lose money. Given that I made over $1,000 and haven't yet seen the effect the promotion had on audiobooks, it looks like I made more than I do in a typical week, and sold way more books. Success! (If anything, I should have spent that $1,000 profit on ads.)
PredictionBook predictions
In last month's income report, I revised all my PredictionBook predictions related to this promotion, after learning that Apple Books wasn't included. Like so:
I didn't reach any of those thresholds. So, my initial prediction of at least 2,000 copies was in the direction of "wrong." Even if Apple Books had been included in the email, it would have been merely close.
PublishDrive's error (and solution(?))
As I mentioned in last month's report, as I was in the midst of the promotion, PublishDrive failed to change my prices for Apple Books. As a result, the BookBub Featured Deal email didn't include a link for Apple. It took a couple more days before the price was successfully changed, but without the boost from the email, I didn't sell many copies.
In my previous deal, Apple Books made up 17% of my revenue. I estimate about $227 of my BookBub fee went to waste, and that I missed out on about $194 in revenue, for a loss of about $421, due to PublishDrive's error.
I told PublishDrive this, and they agreed to recoup the $194 in estimated lost revenue. I was pleasantly surprised by this, but honestly, think they should recoup more. When I asked why they chose to only recoup that amount, they gave me a non-answer. Their communication isn't great, so I didn't pursue it further.
The $92 I spent on BookBub Ads was focused only on Apple Books, trying to get some sales to come in. So, really, the damages from this error were even higher. I ended up selling 44 copies on Apple Books, for an estimated $62 in revenue.
19,000 copies sold of Mind Management, Not Time Management
The boost in sales in July had brought MMT to within striking distance of the 20,000 copy mark. As of the end of July, I had sold 19,097 copies.
Here's what the graph looks like. The time between 5,000-copy milestones continues to shrink.
Looking at the preliminary numbers for August so far, I'm 20% sure I'll cross the 20,000 threshold in August's report, and 90% sure I'll cross it in September's.
How much profit on MMT so far? (vs. HTS)
Now's probably a good time to mention how much faster I've made a profit on MMT than HTS.
As I wrote about, the first year of The Heart to Start, I made $3,000 profit on $15,000 ad spend.
The following year, I did a little more than double that profit, after tripling the ad spend, reaching a lifetime total of $7,000 profit on $45,000 total ad spend.
The third year was the book's best year, reaching $16,000 profit on $52,000 total ad spend.
Now, four and a half years after launch, HTS, has made $23,000 profit on $59,000 ad spend.
By contrast, one year after Mind Management, Not Time Management launched, I had made $17,000 profit off of $19,000 ad spend.
Now, about one and a half years after launch, I've made $40,000 profit on $31,000 ad spend.
So HTS has an ROI of 139%, MMT, 229%. Part of this is probably due to having more books in my catalog when MMT launched, but I think a lot of it is due to MMT being a better book with a better title. I also worked a lot harder and longer on MMT. This doesn't automatically lead to success: I worked a lot harder on In Defense of Papyrus than on Digital Zettelkasten, but the latter has made more money, by orders of magnitude.
The Kirkus review is in!
One of the expenses that cut into last month's revenues was the $375 I spent on a Kirkus review. As I've said, there are many better ways to spend $375 in the early days of a self-published book, but since MMT has sold well in a variety of promotions, I figured a Kirkus review could give it an extra push.
Last month I said I hoped the $375 would at least get me a quote of somewhat-positive valence I could use to promote MMT, and I did get that! Most of the review, which you can read here, is a recap of the book, but the final two sentences are good:
"Kadavy's approach is likely to spark a new evaluation of conventional time management. An exhilarating but highly structured approach to the creative use of time." —Kirkus Reviews
I've already put it on the Amazon page. One of my hopes for it was to use it to get BookBub Featured Deals more easily, but since I just did one, it will be a while before I get to use it for that purpose.
It's also possible that it will lead to some sales through Kirkus, especially if they happen to choose to feature the review in their magazine or newsletter. Kirkus has a lot of traditional-publishing clout, so that would help get it stocked in some bookstores and/or libraries.
I noticed looking at Kirkus Review's sales page that they charge $450 for a review. I vaguely recall that I might have used a coupon code for $75 off, but if so, I don't remember from where.
Korean Digital Zettelkasten deal!
I've received payment for the Korean edition of Digital Zettelkasten. The total deal was $4,000, but something like 11% went to my agent, and 10% went to Korean tax – or the other way around. That payment hit my bank account in August, so you'll see whatever final number I attribute as earnings reflected in next month's report.
Still waiting on Saudi Arabia
I'm still waiting for payment for the Arabic translation of MMT. They tried to make the payment once, but mistyped my account number. Hopefully that will be resolved in August. I think that deal was around $1,800. If that deal ends up in the same report as the Korean ZET, it could be a record-revenue month! Unfortunately, the ActiveCampaign affiliate revenues will be low, so I won't get any help there.
More Alliance of Independent Authors revenue
I made $133 on referrals to Alliance of Independent Authors in July. That's nothing remarkable in itself, but I also made $279 in June, and I'm seeing traffic to my IngramSpark promo code page grow. This could be a source of new revenue from a highly-relevant source, so I'm watching with hope.
Prediction update: Chirp audiobook deal
Back in April's report, I predicted that the HTS Chirp audiobook sale would lead to at least $200 in earnings on the also-discounted MMT audiobook, with a confidence of 60%. It took a while for the numbers to come in, but this prediction turned out correct! I made $214.
PredictionBook is making me better at telling the future?
If you've been reading these income reports for years, you've seen me make a number of predictions in my business. I of course do that based upon a percentage of confidence, since I'm trying to predict uncertain events.
More recently, I've been recording these predictions in PredictionBook. I've made predictions on book sales within a timeframe, revenue during a promotion, or the amount of search traffic a new article will generate.
I'm happy to report that my predictive powers are improving!
I'm surprised I don't hear more interest in making predictions in one's business. Something about Bayesian thinking is unnatural to people (to learn more about it, read about my Avocado Challenge). I know when I posted in r/selfpublish my book sales prediction, not only was the community not that interested, some actively hated on the idea of making fuzzy predictions.
But this is a hill I will willingly die on. If you aren't making and rating predictions in your business, you're stabbing in the dark.
Livestream/AMA coming up!
I've scheduled a livestream in which I'll answer some of your questions. See the date and time and add to your calendar here. If you want a much better chance I'll answer your question, submit here.
Some good questions so far:
How should I market my children's books?
What's the most formative book you've read?
How can someone who isn't a natural at publicizing market their books?
Do you regret leaving Silicon Valley in 2008? It seems you could have made a lot of money.
How did you start building your audience, and how long did it take?
Have you made any more soap lately?
How can you stay motivated working in isolation?
How are you tackling fiction writing?
Any tips for coping with burnout?
If you especially want to hear the answers to any of these questions, say so when you submit your question(s).
Thank you for having me on your podcasts!
Thank you to Costa Michailidis at InnovationBound.
Income
Book Sales
Digital Products
Affiliates / Advertising
| | |
| --- | --- |
| Patreon | $197 |
| Total LYW Podcast | $197 |
Services
Expenses
General
| | |
| --- | --- |
| Accounting | $0 |
| Outside Contractors | $0 |
| Podcast Editing / Publishing | $123 |
| Quickbooks | $45 |
| Total General | $168 |
Advertising
| | |
| --- | --- |
| Amazon | $1,999 |
| Influencer Marketing | $150 |
| Total Advertising | $2,149 |
Hosting
Thinking of writing a book?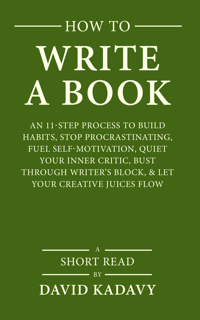 Download your FREE copy of How to Write a Book »
(for a limited time)