Subscribe to blog updates via email »
An audio version of this income report is available to Patreon backers of certain levels »
November's revenues were $9,949, up from October's $6,760. Profits were $7,322, up from October's $5,381.
Six months of record profit!
November marks six months in a row of record profit. For each of the past six months, the twelve-month total profit has been the highest ever. This month, that number is $59,979. It was just a few months ago, in August, that I broke the $50k barrier for the first time in the nearly four years I've been doing these reports. Now, I'm just short of the $60k barrier!
Since the twelve-month total profit is the highest ever, that of course means the monthly profit is the highest ever, too. The average monthly profit for the past year has been $4,998. Just two dollars short of breaking the $5k barrier for the first time.
Okay, I'm making about as much as a teacher. Not super impressive, but I'm making this from following my curiosity and writing books that are interesting to me. And $60k goes a long way in South America. So this feels great.
Record book profits!
In November, I also set another twelve-month profit record for my most-important category: Self-published books. This isn't a streak, as I barely failed to break the record in October, making that the only month in the past six that I haven't broken the record.
I made $27,914 in profit on self-published books in the twelve-month period ending in November. That's from $51,600 revenue, which is also a record.
Naturally, my monthly self-published book profits for the past twelve months are also a record, at $2,326.
Black Friday sale brings a spike in Digital Products revenue
I haven't pushed Digital Products at all over the past year, so when I ran a Black Friday sale, I got a better-than-expected injection of cash.
In the 2020 Black Friday sale, I made:
My 70%-confidence predictions for 2021, which I made internally, were:
B2B: $900–$1,300
D4H Video: $600–$1,000
WHC: $300–$500
My actual sales were:
B2B: $1,555
D4H Video: $1,188
WHC: $592
In other words, I beat my predictions for every one of those products! I also made revenue off the following products, which I did not make projections for:
The maximum revenue I projected was $2,800. My actual Digital Products revenue for Black Friday was $4,048!
This reminds me I'm probably leaving money on the table by not building courses, and by not pushing the courses I already have. One positive development I noticed while running this promotion is Teachable no longer requires you to pay a membership fee to sell your courses. If you don't have a membership, they simply take a much larger cut of each sale. So, when I'm not running such a promotion, my courses are still for sale.
Perhaps that will lead to a sale here and there. I'll look out for opportunities to promote my courses, though I don't have concrete plans to do so.
Self-publishing course?
Also, I have been slowly accumulating screencasts of processes I follow to self publish my books. Each time I do something, I try to remember to record it, and save it. The idea has been that maybe at some point I'd have some material ready for a course on self publishing.
Will I actually build such a course? I'm not sure. I don't want to distract myself from finishing the third book in the Getting Art Done trilogy. But, the opportunity is there, and this injection of revenue from Digital Products is a good reminder.
One-year of Mind Management, Not Time Management!
Mind Management, Not Time Management has now been out for a year! I recently got an email from PredictionBook, reminding me to evaluate the sales projections I made.
At the launch of MMT, after one year, I was:
90% confident I would have sold between 2,000 and 100,000 books.
70% confident I would have sold between 3,500 and 20,000 books.
50% confident I would have sold between 5,000 and 15,000 books.
Actual copies sold after one year: 8,947. That's within all of my ranges, and is a little short of the halfway point of my 50% confidence predictions.
This is closer to the middle of my predictions than at six months. I was 50% confident that at six months, I would have sold between 2,000 and 7,500 copies. I sold 2,802, which was pretty close to the low side of that range (I reported 2,176 copies at six months, but my current records show otherwise – not sure of the source of the discrepancy).
Sales velocity picking up
So, there's an upward trend in the graph, relative to predictions.
Sales of MMT have accelerated. In the first six months, I sold 2,800 copies, and the past six months, I've sold more than 5,000 copies. So, MMT is selling about twice as fast as before!
Some of this is due to more competitive pricing. I had kept the price at $14.99 for the first several months, in hope of producing a "slingshot" effect of pent up demand once I ran a BookBub Featured Deal. Some of this acceleration is also due to that Featured Deal, during which I sold more than 2,700 copies. Wow, that's more than half the copies of the past six months, in one week.
Is the word spreading?
But I hope some of it is due to the word spreading.
My next projections aren't due to be evaluated for another two years. Notice that the upper side of my predictions get further and further from the lower side as time goes on.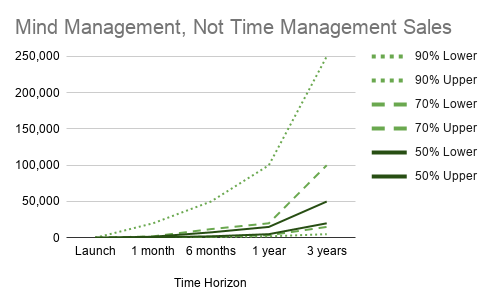 That's because the more time that passes, the more opportunities there are for the book to spread, and the more opportunities there are for positive Black Swans to occur.
I can sense from how much the book is shared on social media, that it's a decently sticky idea. With events such as the "great resignation," I can sense that the shortcomings of time management are seeping into the collective consciousness. As time goes on, I see more and more readers acting as ambassadors for the book, sharing passages on Instagram, or bringing up the book in conversations on Twitter.
For example, the book showed up on the incomefact Instagram page.
I hadn't heard of this page (I'm a Twitter person), but it has more than a million followers, and I was alerted of this post by a friend who follows the account.
This post brought a nice boost in Kindle sales, but more notably, paperback sales!
It takes months for people to buy, read, and be affected by a book, before they share it themselves. So the ripple effects of a share like this will keep it spreading for a while.
And if an idea is viral, it spreads – in a way we've witnessed with the pandemic. As long as there are people sharing a book with others, the book will keep selling.
Another good metaphor is that of a snowball. It can be tricky to get a snowball started – the snow has to be the right consistency. But once it does get started, and you roll it on the snow-covered ground, it grows at an exponential rate. That's what I hope is happening with MMT sales, and my revenue numbers.
Kindle Deal coming up
Shortly after incomefact's post, I got an email nominating MMT for a Kindle Deal. This is more likely related to July's BookBub Featured Deal than the Instagram post. Shortly after the Featured Deal, MMT was chosen for a Kindle Deal in the UK. That turned out to be a "Monthly Deal," rather than what I would have preferred, a Kindle Daily Deal.
Unfortunately, you don't get to choose what the terms of the deal will be, nor the price. The price during that deal was a price I swore I'd never sell the book at: 0.99£. The Kindle Deal for MMT should happen sometime in March. I still don't know the details, but it should add more readers to the snowball.
Digital Zettelkasten coming to Audible (soon)
I have now received the copyright certificate for Digital Zettelkasten. You may recall that someone had tried to make an unauthorized audiobook for the book, and Audible locked it from being produced at all. They required me to present a copyright certificate before they would allow me to produce it, myself. I have presented my copyright certificate to them, and they have unlocked the book.
But, then another problem arose. While the audio files were created according to spec by my audio editors, and have not had trouble being accepted at Findaway Voices, ACX's system keeps saying they aren't loud enough. My audio editors made an attempt to fix the files, but ACX's system is still rejecting them – then the winter holiday came. So, I'm just waiting for them to take another crack at the files, so I can upload them.
Once they're up to spec and uploaded to ACX, the audiobook will hopefully be accepted and taken live within a few weeks. I have heard horror stories of it taking months, but as of yet, that hasn't happened to me. Fingers crossed. I'm looking forward to the new source of revenue! And to re-coup the work and expense of producing the audiobook (which was $720, as you can see below). Of course, the audiobook is already available directly, through Apple Books, and on other audiobook platforms.
Income
Book Sales
Digital Products
Affiliates / Advertising
| | |
| --- | --- |
| Patreon | $320 |
| Total LYW Podcast | $320 |
Services
Expenses
General
| | |
| --- | --- |
| Accounting | $250 |
| Outside Contractors | $720 |
| Podcast Editing / Publishing | $123 |
| Quickbooks | $36 |
| Total General | $1,129 |
Advertising
| | |
| --- | --- |
| Amazon | $839 |
| Influencer Marketing | $178 |
| Product Samples | $55 |
| Prestozon | $50 |
| Total Advertising | $1,122 |
Hosting
Thinking of writing a book?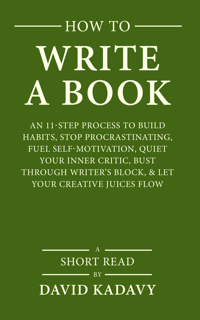 Download your FREE copy of How to Write a Book »
(for a limited time)